All Things You Need to Know about 4K Upscaling
Over the years, the image and video quality has been greatly improved. 4K resolution leads to a much more pristine view of movie videos than 1080p especially on widescreen UHD TVs when content sources rising steeply in the meantime. 4K movies can be downloaded online, 4K TVs can be found on nearly all online shops and physical stores, and even 4K Blu-ray of blockbusters is available now.
Despite it coming on like gangbusters, 1080p still plays the leading role, for sometimes the prevalence takes far longer than does the creation. So the problem would be, for example, that you purchased a 4K TV but only have 1080p videos to play on. Why not try to upscale HD video to 4K for playing on 4K TV? This article will let you have a deep understanding of 4K upscaling and guide you how to upscale 1080p to 4K easily.
Free Download 4K Upscaler to Enhance Video Quality on Your 4K TV
WinX HD Video Converter Deluxe - A professional 4K video upscaler, which adopts unique upscaling algorithm and allows you to upconvert 1080p to 4K, DVD to 4K, 4K to 8K with nearly no loss of quality at all for playback on 4K TV in higher resolution.
Part 1: What Is 4K Upscaling? How Does It Work?
To know much more about 4K upscaling, you'd better know what is 1080p and 4K resolution. A 1080p video has 1920 horizontal pixels and 1080 vertical pixels, while a 4K video has 3840 horizontal pixels and 2160 vertical. If you're playing 1080p on a 4K TV without upscaling, you only only see a quarter of the frame on the screen.
What Is 4K Upscaling?
Upscaling means that the resolution of a video is increased by a scheme for better quality and playback on higher resolution devices. 4K upscaling, for example, can be upscaling from 1080p to 4K, DVD (480p) to 4K, 4K to 8K, etc. In a nutshell, we usually mean the upscaling from 1080p to 4K.
How Does 4K Upscaling Work?
To get 1080p video all over the 4K screen, you definitely need to upscale 1080p HD video to 4K resolution. Usually, there are three ways to do that: nearest neighbor interpolation, bilinear interpolation and bicubic interpolation.
Nearest neighbor interpolation: Also called point sampling, is the easiest and most widely-used method for 4K upscaling. It determines the new interpolated pixel by the nearest neighbor point in the input vector or matrix instead of calculating the value by any weighting criteria or complicated rules. But in this way, it has a lot of blurriness and articfacts.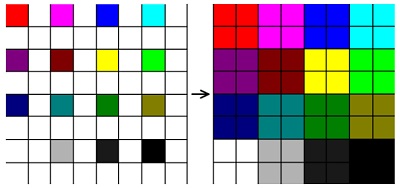 Bilinear interpolation: Bilinear interpolation is implemented in both X and Y directions, which used the distance-weighted average of 4 nearest known neighboring pixel points to determine the new pixel value. Though bilinear interpolation is better than neighbor interpolation, it still has visible artifacts and blurring.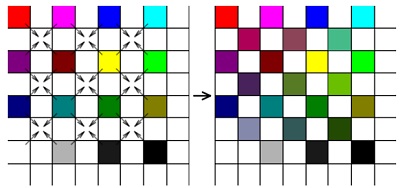 Bicubic interpolation: In this way, the interpolated pixel is calculated as the weighted average of 16 (4 x 4) nearest neighboring points. It's more complicated than the other two 4K upscaling methods. But relatively, it generates more fine details, which makes the image video smoother visually. Programs like Adobe Photoshop and Corel Photo-paint use Bicubic interpolation as the standard.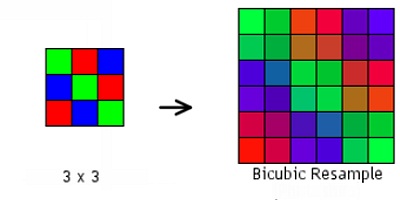 After 4K upscaling, you definetely get an enhanced video quality compared with original HD videos. But it's not good enough with real 4K contents, for example, the upscaling 4K video doesn't have the 4K HDR effects.
Part 2: Why Do You Need Upscale Video to 4K?
As for the reasons why you need to upscale video to 4K, on the one hand, everyone wants better image quality, on the other hand, the advanced 4K devices make it possible to play 4K videos.
But the problem is that no all the videos you have are in 4K resolution. For a long time in the past, you can only shoot videos up to 1080p, download HD videos from online or streaming HD videos from Netflix, YouTube or the like. On the other hand, even though many TV manufacturers claim that their TV are true 4K TV, there are still many fake 4K TV on the market, which works bad when playing HD videos on it.
Nevertheless, if the 4K TV cannot upscale video to 4K properly, you can also try to manually upconvert 1080p to 4K with a professional 4K video converter, like WinX HD Video Converter Deluxe.
Part 3: How to Upscale 1080p to 4K Easily?
As mentioned, WinX HD Video Converter Deluxe allows you to upconvert 1080p to 4K easily with high quality reserved. Besides, it also behaves well on converting 4K videos and basic video editing.
Convert HD/4K videos to MP4, MOV, AVI, MKV, FLV, Apple TV, Xbox, PS4/5, iPhone iPad, Android and more.
Reduce video file size by up to 90% without obviously video quality loss visually.
Flexible adjust video parameters, such as 1080p to 4K, 720 to 1080p, 4K to 2K, 60fps to 30fps, change bit rate, aspect ratio etc.
Edit video as you need: trim video length, crop video frame size, merge video, rotate or flip video.
Steps to Upscale 1080p to 4K with No Quality Loss
Here we will show you how to upscale video resolution from 1080p to 4K with WinX 4K upscaler converter on Windows 10 PC. To get started, please download and install the software firstly on your computer. After the installation, open it and do as the following steps suggest.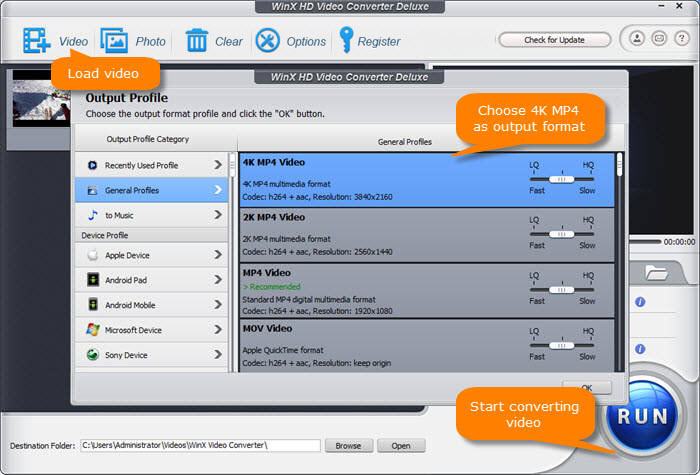 Step 1. Load 1080p video
Click "+ Video" button to load your source 1080p videos. Also you can just drag and drop the video to get it loaded. Batch conversion is allowed as well.
Step 2. Change resolution to 4K
There are two ways for your 4K upscaling:
1. When the window of Output Profile pops up automatically, choose "4K MP4 Video" under "General Profiles"
2. Or choose any format you prefer, click OK to get back to the main interface, and then click the gear icon to get into the Video parameter center. Find "Video Resolution" and choose 3840x2160 from the dropdown list.
Step 3. RUN the 4K upscaling
Set a destination folder and then press button "RUN" to upconvert 1080p HD to 4K.
Click to see the best video resolution changer >>
More Detailed Tutorial on YouTube: How to Upscale 1080p to 4K with High Quality
Part 4: FAQs about 4K Upscaling
Q: Does 4K upscaling really work? Is 1080p upscaled to 4K really better?
"I've been tempted to buy my Dad a new 4K flat screen around 70 inches. Does the upscaling really work well on 4K televisions? I remember a lot of the HD sets bragging about upscaling 7 or 8 years ago when they were starting to hit the market, but they really didn't make DVDs look any better from the 480p they were encoded at."
A: Generally, the results of 4K upscaling can be summarized in two lines as follows, if we watch a same source video on a same-size screen at a same distance. But note that still they are not 100% correct because of the different upscaling algorithms methods adopted by different TV sets, converter software, players, etc, which will be explained in the answers for Q3.
720p downscaled from 1080p < 1080p ≤ 1080p downscaled from 4K < Blu-ray 1080p
Blu-ray 1080p ≤ 4K upscaled from 1080p < native 4K ≤ 4K downscaled from 8K/10K
Q: What matters for 4K upscaling on TV?
A: 4K sources are vastly popular yet so you need to make sure you have got 4k sources down the line. Then an Ultra HD Blu-ray Player or 4k set-top box is in demand. The UHD Blu-ray players have a bitrate of 128Mbps and can output 4k content. A TV with HDCP 2.2 is needed to play from UHD Blu-rays.
As you can see, unlike the past, 4K upscaling is not all about bragging and marketing gimmick. It really works. 1080p can be upscaled to 4K and does look sharper. But that's it. There is improvement but miracles won't happen. 4K upscaling can't equal to True 4K. The picture quality after being upscaled to 4K is, at best, crystal clear than standard 1080p, and at worst, comes with weird grainy texture, looking even worse than before. This is decided by the 4K upscaling tools you use.