Digitize DVDs and Save Movie Library to OneDrive for Storage/Streaming
Streaming has become the big player these days accounting for its convenience and instant playback. Does this shift mean the final death knell for physical DVD discs? The answer is NO. If you own a big collection of movies and TV shows on DVDs that clutter your house, get scratched or fingerprinted, and restrict your viewing option to devices with disc drive only, just give your physical media a rebirth - digitize your DVD collection and put them onto Microsoft OneDrive. Why?
As one of the main cloud services, Microsoft's OneDrive is regarded as a securer way to store your precious data, with 5GB of free storage and 1TB for $6.99-per-month subscription. This is especially great if you have a trove of DVDs to be stored. As long as you upload DVD to OneDrive, you can back up the cherished ones without worrying about unexpected scratch or damage to your DVDs, and access to your movie library on PC, iOS, Android, Windows Phone, Xbox, etc wherever you go. Since OneDrive doesn't support DVD format, you will need a DVD ripper to get movies off DVDs and save them as digital format that the OneDrive can recognize.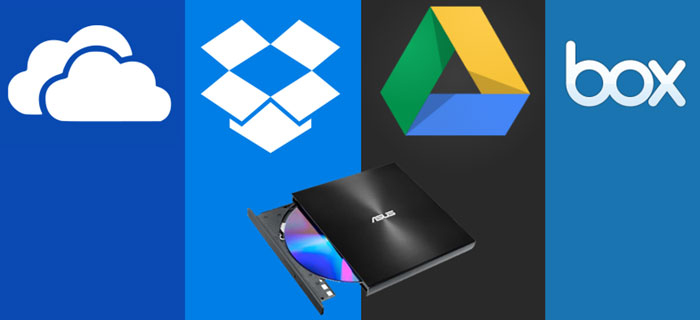 Best DVD Ripper to Digitize DVD to OneDrive Format with Best Balance in Quality, Speed and Size
Generally, ripping a full-length DVD takes up to 30 minutes, depending on computer hardware. It takes you too much time if you own a large collection of DVDs. Incapable DVD rippers want you finish the whole ripping process at a faster speed and output a relatively smaller file size, but this comes at the expense of great video quality loss. Consequently, after you upload the DVD movies to OneDrive, they are blocky and unwatchable, which is the last thing you want to see.
To address the issue, WinX DVD Ripper Platinum manages to strike a perfect balance in speed, size and quality. By leveraging Level-3 hardware acceleration, it finishes ripping a DVD to small-sized movie file within 5 minutes only but delivers a crisp image quality. Additionally, you can rip any CSS, regional, 99-title or other protected DVDs to MP4, MOV, AVI, WMV, MP3, AAC, etc that One Drive or other cloud storage services can recognize. Then you can store DVD movies or TV series to OneDrive for further streaming and playing on iPhone, iPad, Android or other devices.
Free download WinX DVD Ripper Platinum to help you put DVD copies on OneDrive.
Please DO NOT use WinX DVD Ripper to rip rental DVDs.
How to Convert and Upload DVD to OneDrive for Further Storage, Streaming and Playing
To begin with, you need to download and install WinX DVD Ripper Platinum on your computer. Then follow the step-by-step guide to rip your DVDs, whether they are your cherished ones or newly purposed movies with copy protections.
Step 1: Put the target DVD movie into the disc drive, click DVD Disc button to load the movie info. The DVD to OneDrive converter has a title check mechanism that is able to scan the movie title from the fake ones.
Step 2: Choose the desired output video format. According to the official page of Microsoft OneDrive, the supported audio/video media files are 3G2, 3GP, ASF, BMP, HEVC, M2TS, M4V, MOV, MP3, MP4, MP4V, MTS, TS, WMV. Optimally, for the best balance between quality and size and widest compatibility with your mobile devices or media players, we highly recommended you choose MP4 H.264 from the drop-down panel.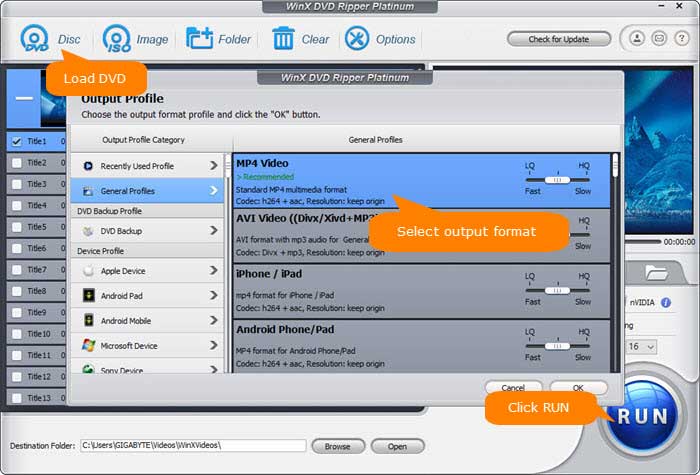 Note: Windows cannot play files which use the AC3 audio codec. If you want to save DVD movies on OneDrive for further playing on windows platform, make sure to change the audio codec to aac or others.
Step 3: Click RUN button to begin ripping DVD to digital file. Generally speaking, the Hardware Accelerator is enabled by default, so just leave the box checked to quicken the DVD ripping speed.
Step 4: Follow the steps to upload DVD backups to OneDrive cloud. Go to OneDrive website, sign in with your Microsoft account, choose the DVD movies you want to add, select Upload, and click Open. You can also upload folders from the Folder option from the Upload menu or drag them to the website if you are using Chrome or Microsoft Edge. Then you can keep your DVD copies secure and stream them to whatever OneDrive-compatible devices.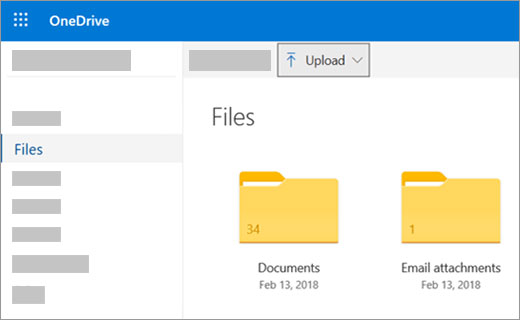 Note: Make sure to update to the latest web browser, since older one allows a maximally 300mb file size. Generally, a ripped DVD movie is around 1-1.4Gb in size, we highly recommend using the OneDrive desktop app instead of the Upload button on the website.