How to Unlock iPhone (X/8/7 etc.)
Way 1. Ask for Help from Carrier
First of all, you should be aware of whether your carrier offers unlocking or not. Some popular carriers in USA, like AT&T, T-Mobile, Verizon can assist you to unlock your iPhone if you have an eligible device meeting all requirements. >> Check Widewide iPhone Carrier Support and Features
Steps:
1. Follow the instruction given by your carrier to ask for an iPhone unlock. Some need you to fill a request form. Some may require you to download official unlock app. When your request is confirmed, your carrier will unlock your iPhone directly or send you an unlock number. If you get nothing several days later, contact your carrier again.
2. Once your iPhone is unlocked, remove the original SIM card and insert the new one. After that, set up your iPhone again.
If you haven't gotten a new SIM card right now, you should backup iPhone and then reset to erase all content and settings of your iPhone. Later, restore iPhone from backup.
Notice: If you have a message telling that your SIM card is incompatible with the device in iTunes, please follow this guide to fix.
1. Restore iPhone to factory settings.
2. After confirming that your carrier indeed unlocks your iPhone, restore iPhone from backup.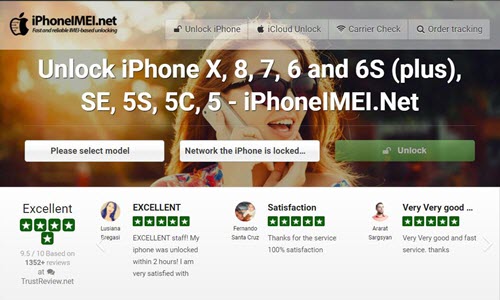 Way 2. Try IMEI Unlock
Every iPhone has a unique IMEI number. Once the number is shown officially unlocked in Apple's database, your iPhone with this number will be whitelisted. Based on feedbacks, IMEI unblock technology is tested as almost 100% working. Most IMEI unlock services support all iPhone models including newest iPhone X/8/8 Plus and no jailbreak or hacking is required. Also, iOS (11) upgrade or iTunes syncing will not make your iPhone re-locked.
How to use IMEI unlock? At the beginning, you should know your iPhone IMEI number. There are many ways to find this number.
1. Dial *#06# with your iPhone and a 15-digital number will be given.
2. Connect your iPhone to computer. Open iTunes and select your device. Move to Summary. Pay attention to Phone Number and click it until IMEI number is shown.
3. Open Settings on iPhone. Click General > About and you will get this IMEI number.
The next step is to find a reliable IMEI unlock service. You can search iPhone IMEI unlock on ebay and pick out one referring to ratings, sales and reviews. And, iPhoneIMEI.net is recognized as one of the fastest and most effective unlocking methods. It can unblock iPhone from mainstream carriers in USA, Canada, Australia, Japan and some European countries. Most users give 5 stars and highly acclaim it as perfect solution to unlock any iPhone models.