Microsoft Video Converter for Windows 10/11 | No Bugs?
Does Windows 10 (or Windows 11) have a built-in video converter? No, it doesn't! Yet, Microsoft prepares an expansive library of Windows 10 video converters for you on its store. Microsoft Video Converter (Free) is one of them and ranked first in the SERP. Why is it? Does it deserve front page? Read on to get deeper understanding about it and then reach your conclusion. (The whole article will cost you roughly 2 minutes.)
Sick And Tired Of Converting Video with Microsoft Video Converter? Try This
Microsoft Video Converter (Free) does help for converting a video on Windows 10. But do you notice that it's not highly regarded by users owing to the occasionally crashing, poor quality, limited output formats and more. For that, try WinX Video Converter - a full-featured video file converter on Windows 10, which guarantees 100% success rate of video conversion, highest possible output quality, 47X real-time fast speed, and a wide rang of inputs and outputs.
Part 1. Microsoft Video Converter Features: What Can it Do for You?
As it name shows, Microsoft video converter delivers its most basic promise: convert video. And it does that in a manner that is simple and painless. To be specific, you can use it to:
1. Convert most videos to MKV or MP4 just several clicks away.
2. Decode video to Android phone and tablet, iPhone, iPad, iPod, AppleTV (1-3), Chromecast, FireTV, PSP, Xbox and Roku.
3. Transcode video to Email required resolution and duration, like Gmail (3 Minutes 720p, 5 Minutes 480p, 10 Minutes 288p).
4. Export resulting files with standard resolution (240p, 480p, 540p, 576p) or high definition (720p, 1080p, 2160p 4K).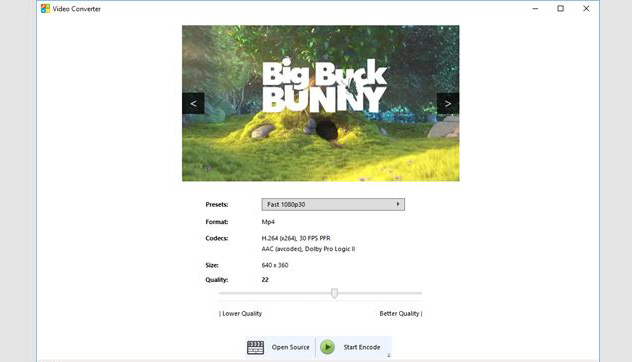 Note: the features of free version stop here. You can remove limitations and explore more features as long as you upgrade to paid version.
Part 2. What about Users Reviews of Microsoft Video Converter?
Microsoft video converter (Free) for Windows 10 lives up to its promise to do the video conversion job. Yet, that's not enough. Grounded on the users' reviews, there is still room for improvements concerning conversion success rate, output formats, resulting quality and more. Get down to the nitty gritty:
Users' reviews come from its official product webpage on Microsoft. It's rated 3.8 out of 10 based on 237 users. From the reviews displayed currently, there are 28 positive reviews (4 or 5 stars) and 25 negative reviews (3, 2 or 1 star(s)).
Conversion success rate: six users complain that Microsoft video converter doesn't work or crashed after upgrading to paid version.
Output formats: this tool is unable to convert video to MP3, MOV, WMV, etc. More than 4 users gripe about this.
Speed: they point out that this software seemingly takes forever to transcode video files. Too slow to bear!
Resulting quality: the common quality issues lie in blurry outputs and video audio out of sync, which make files unusable.
8K resolution: it only lets you export files up to 4K 2160p, 8K unsupported right now.
Thus, if you expect perfection in Microsoft video converter for Windows 10, it definitely lets you down. It also has bugs and leaves much to be desired. Of course, you can still find something better. Free Video Converter is the very one.
Part 3. An Alternative to Microsoft Video Converter to Convert Video with 99% Success Rate
Instead of waiting for an uncertain software update from Microsoft, go straight to a Windows video file converter that already has these features. WinX Video Converter is a good choice, which allows you to transcode any video to MP4, MKV, MOV, H264, HEVC, AVI, FLV, VOB, MP3, AAC, iPhone ringtone, as well as latest iPhone, iPad, Android (Samsung, Huawei, Sony, HTC), Microsoft devices, Xbox One S, PS5, etc. with 420+ preset profiles.
With constantly optimized conversion algorithm and high quality engine, it delivers a video conversion up to 99% success rate and minimal quality loss (98% quality kept), no blurry/pixellated image, video audio out of sync errors. Conversion speed is an extra bonus. Thanks to the advanced Intel/Nvidia/AMD GPU hardware acceleration techs, this video converter for Windows 10 completes the video transcoding job at 47X real-time faster speed, no CPU overuse or half-crash issues any more!
How to Convert Video Footage on Windows 10 Simple as ABC?
Step 1. Free downlaod and install this program on your Windows 10. (the whole process will only cost you about 15 seconds if your network connection is stable). Afterwards, run it and click "Video" at the menu bar to load video files. Drag-drop is also available.
Step 2. Sift out your desired output format or device profile. Generally, MP4 (H264) video is preferable, which strikes a perfect balance among compatibility, video quality and file size. Certainly, feel free to choose other formats like music, Apple device, Android mobile, etc. if needed.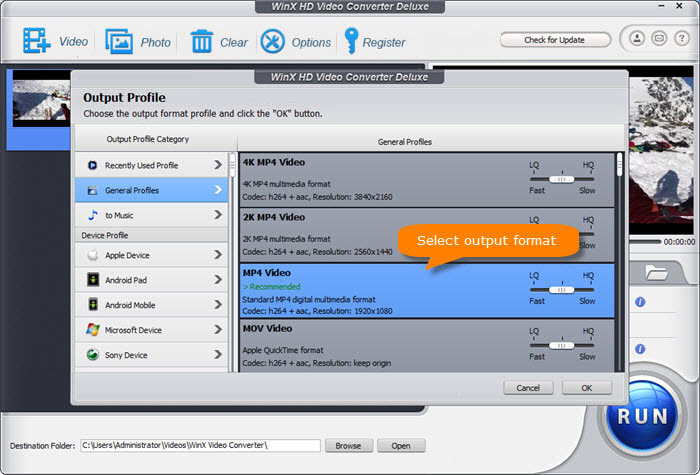 Step 3. Give the last hit to "RUN" button and the conversion engine will go into action. Nothing needs you to do but to wait a while. If your computer hardware configurations are excellent enough (with GPU accelerating tech supported), you can get 1 hour 4K video converted within 20 seconds.
New products come into the market each day. You're warmly welcomed to share with us your discovery if you have utilized a new video converter for Windows 10 and been impressed by its merits. Let us know via our official Facebook/twitter account or support Email. We'll constantly update this article with your insightful perspective.