[10 Steps] How to Downgrade Windows 8/8.1 to Windows 7 Pro
This Guide Explains How to Reinstall Windows 7 Pro on Windows 8/8. 1 PC without Losing Files
Windows 8 surely came out with new designs, such as refurbished user interface and amazingly fast boot time. However, vanished classical Start Menu and native DVD video support (convert DVD to Windows 8) upset many loyal Windows OS fans and are constantly lowering its customer satisfaction rate. And there is no rumors about DVD support on new Windows 10. If you are one of the users, who have a computer running Windows 8/8.1 preinstalled, and wonder how to downgrade Windows 8 to Windows 7 Pro without losing files in the easiest steps, read up on this tutorial.
You Can Backup DVD to Windows 8/10 in Three Steps
WinX DVD Ripper Platinum - Best DVD ripper software for Windows 10/8.1/8/7/XP to rip any protected movie DVDs to MP4/AVI/WMV/MPEG, iPhone, iPad, Android, WP 8/10, PS3/4, Xbox with high quality.
Part I - Before Downgrading Windows 8 to Windows 7 Pro
Step 1. Take a dive into Windows OS downgrade rights details: Windows 8/8.1 Pro can be downgraded to Windows 7 Professional/Vista only, while Windows 7 Professional/Ultimate can be reinstalled on Windows Vista Business/Ultimate, Windows XP Professional/Tablet PC/x64 bit;
Step 2. Prepare a DVD+R/DVD-R or a USB (16GB) as the Windows 7 Professional installation media;
Step 3. Be sure to have a valid product key;
Part II - How to Downgrade from Windows 8/8.1 to Windows 7 without Losing Files
"Want to downgrade from Windows 8 to 7; will I lose my files and settings by doing so?"
Step 4. Backup data/configuration first to a formatted USB drive, DVD disc or online Cloud storage before downgrading Windows 8 Pro to Windows 7 Professional: slide to the bottom right on your Windows 8/8.1 screen -> click the search button -> type "Create a recovery drive" -> select the files you want to backup -> choose your inserted drive -> Start to create Windows 8 recovery drive;
Step 5. Download basic driver files to ensure your display, keyboard, mouse, etc work, especially Wireless or Local Area Network driver.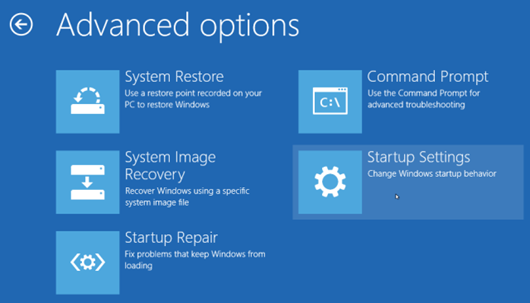 Step 6. Adjust system setup settings
1. Enable the advanced startup mode so as to enter the System BIOS: press Window Start Key + C -> type Settings -> Change PC settings -> choose General -> click Restart Now button under the Advanced Startup part;
2. Troubleshoot -> UEFI Firmware Settings -> Restart again;
3. Disable Secure Boot in BIOS, save the settings and exit.
Step 7. Downgrade Windows 8 to Windows 7 steps (using USB):
1. Insert your USB media into your Windows PC and restart the computer;
2. Press F12, select USB Flash Drive and tab Enter;
3. Check the time, language, keyboard method and go to the Next;
4. Click Install Now on the Windows 7 Pro installation page and accept the license terms;
5. Choose Normal or Custom installation type based on your need, and wait for the Windows 7 to be installed on your Windows 8;
Step 8. Install Wireless or LAN driver backed up in step 5.
Part III - Activate Windows 7 with Key
Step 9. Enter a valid product key (used one works too);
Step 10. Contact the local activation support to get a single-use code if the software was activated previously.
How to Convert DVD to Windows 8/7/10?
Windows 8, even Windows 10, has no native DVD support. Besides downgrading from Windows 8 to Windows 7, ripping DVD movies to a widely accessed video format, such as MP4, AVI, H.264, etc or HD video format MKV, AVCHD would be the best workaround. WinX DVD Ripper Platinum, compatible with Windows 10/8/7/XP/Vista and also available in Mac version, helps convert region-locked and copy protected DVD movies fast and flautlessly.
Step 1. Free Download the DVD ripper program and open it up.
Step 2. Insert your movie DVD and click "DVD" button to load the content.
Step 3. Go to Output Profile and choose your desired video format, e.g "MP4 Video" under "General Profile".
Step 4. Press button RUN to start converting DVD to Windows 8.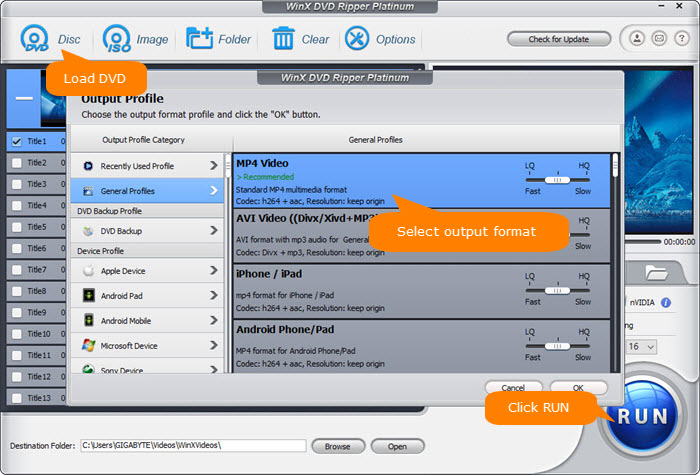 Still have problem about how to degrade Windows 8 to Windows 7? Feel free to Email Us >>
Top-rated Windows (10) Related Software
WinX DVD Ripper Platinum - Rip and convert any DVD movies (general or copy-protected) on Windows 10/8/7/XP/Vista or Mac to Apple iPhone 7, iPhone 6/6 Plus, iPhone 5S/5C/5/4S, iPad, Apple TV, Android Samsung, HTC, WP 8/10, PSP, Surface, etc at a matter of minutes and delivers vivid images and nearly losses audios.