Is CloudConvert Safe? Will CloudConvert Store Your Files on the Sever?
Is Cloudconvert safe? I was about to use it but decided to check first. - from reddit
In the lure of uploading your files to get your converted file back within 5 minutes and no need to install any software on your computer, many users rushed to ClouConvert.org for video conversion. But is Cloudconvert safe to use? Will Cloudconvert store, retain or backup your files on its server? Check the answer in this article before you use it. Part 1: Is CloudConvert Safe?
Definitely, security is a major concern for many users regarding CloudConvert. Firstly, CloudConvert requires users to upload their files onto the server and then download the converted video file a few minutes later. In this process, there are two things to worry about:
Is there a possibility of downloading viruses and trojans onto the computer or business server?
Will CloudConvert collect and keep any data of the uploaded files?
Theoretically, there is a possibility to download viruses and trojans on your computer when you downloading the converted video. But according to the users feedbacks, none said they have been harassed by malware or adware after downloaded.
As for your uploaded files data, CloudConvert made clear in its privacy policy: CloudConvert does not collect any data from your uploaded files, look at your files and make any copies. And your files will be deleted automatically after 24 hours or sooner. Check more details about CloudConvert privacy >>
Therefore, the answer is yes. CloudConvert is safe to use. It's a reliable online service as all transmissions are encrypted by SSL. No one can access your files.
Part 2: How Does CloudConvert Work?
Like other online video converters, CloudConvert makes fatancy promises to upload your video files, and you'll get the converted video within 5 minutes. Better yet, you have no need to install any software on your computer. Really easy, right? Let's check how to do it in detail.
Choose the input and output format from the supported formats list.
Select files to upload to CloudConvert server. You have 5 ways to do so: from computer, by URL, from Google Drive, Dropbox or OneDrive.
Click on the gray wrench icon to make some advanced settings such as resolution, frame rate, bitrate, aspect ratio, audio and so on.
Tap the Convert button to start the conversion.
Hit the Download button to get the converted video when the conversion is finished.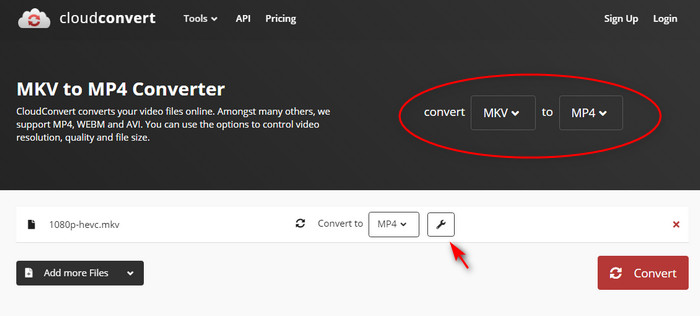 Part 3: Try CloudConvert Alternative for 100% Safe Conversion
Sure, CloudConvert has high levels of safety and reliability, promising to delete your file as soon as the conversion is finished. Many users still take such claims with a pinch of salt. Not to mention that, besides security, there are many other factors to consider with CloudConvert, such as the file size limit, output quality, network bandwidth and so on.
To ensure 100% safe conversion and get rid of above issues, you can turn to a CloudConvert alternative - WinX HD Video Converter Deluxe. With 370+ inputs and 420+ outputs support, it converts all kinds of videos 100% safe with high quality reserved. Besides, the embedded GPU acceleration tech allows you to convert videos 5x faster than CloudConvert. Also, video compression, editing, and downloading are available with this tool.
Better yet, it's supereasy to process the video conversion. 3 steps make all done.
Step 1: Free download and install WinX HD Video Converter Deluxe on your computer. Launch it, and click +Video to load your video to be converted.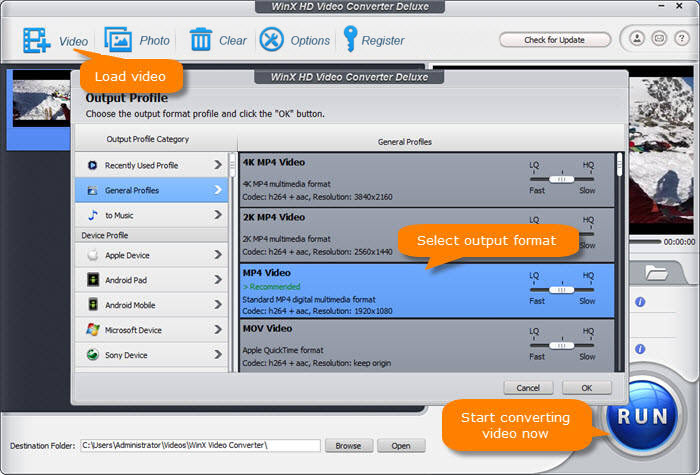 Step 2: Choose an output format from the automatically pop up window. Depending on your needs, 420+ preset profiles are available for your choice.
Step 3: Click Browse button to set the output folder path if necessary. Then tap RUN button to finish the conversion process.