Top 5 Ways to Convert MOV to WAV with High Fidelity
If you have saved some music videos in MOV format with perfect enough audio for listening, why not convert them to the audio to lessen the MB space? Or you simply want to make audio observation trough .mov recording videos, you definitely need to convert MOV to WAV file, a format to store uncompressed raw audio files. This requires a MOV to WAV video converter that won't affect the audio quality once it's converted. Here, we'd like to introduce you 5 matchless MOV to WAV converters to extract WAV audio from MOV with high fidelity.
Part 1. Top 5 MOV to WAV Converters
#1. WinX MOV to WAV Converter
Built with over 420 preset profiles, WinX MOV to WAV Converter is able to convert videos among almost all mainstream video and audio files, including MOV to WAV. No matter your MOV video is saved from the web or recorded by cameras, you can easily load and convert it to WAV without quality loss owing to the embedded high-quality engine.
Pros:

Available both on Windows and Mac platform.
Accept MOV videos of whatever resolution and codec, be it H.264 or HEVC of HD, 2K, 4K etc.
High video quality and audio fidelity reserved after conversion.
Offer a free trial version.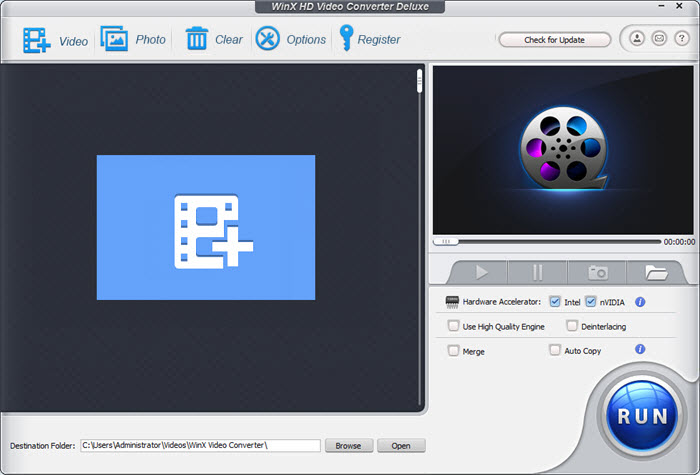 #2. Audacity
Audacity is an open-source audio editor and recoder for Windows, macOS, Linux and other operating systems. It supports to import, edit and combine multi-track audio streams. With it, you can also export audio files from videos. It supports 16-bit, 24-bit and 32-bit audio stream. Sample rates and formats are converted using high-quality resampling and dithering.
Pros:

Great sound quality.
It allows for really high-level audio editing and manipulation, and is free.
Cons:

The UI in Audacity is unattractive, and may seem complicated to beginners. 
It is not good for noise separation, as demanded by a sound professional. #3. VLC
VLC is not only a media player, but also a video converter that allows you to convert between common video and audio formats. Certainly, it's able to convert MOV to WAV simply. You can quickly convert audio files without taking so much of your time with VLC. After that, you're able to play the converted WAV files smoothly without switching to another media player.
Pros:

It's available on cross-platforms, Windows, macOS, and Linux.
2-in-1 media player and converter, no need to install extra programs.
Cons:

There might be some quality loss of the output WAV files. #4. FFmpeg
You know, FFmpeg is a free and open-source software project consisting of a suite of libraries and programs for handling video, audio, and other multimedia files and streams. By the command "ffmpeg -i video.mov -acodec pcm_s16le -ac 2 audio.wav", you can easily extract WAV audio from MOV videos. Even if your MOV is encoded with multiple audio streams, for example, you may have both English AC3 and DTS channels, other audio streams for other languages, directors comments, etc. you can also identify them and control over the specific stream you need.
Pros:

Allow to convert and edit multi-audio tracks.
Free and open-source.
Cons:

Not friendly for beginners. The command line can be complicated.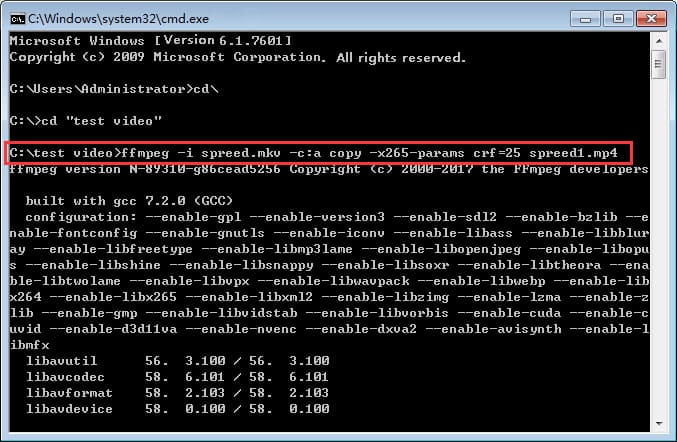 #5. CloudConvert
CloudConvert is another choice for converting MOV to WAV. It's web-based, allowing you to convert videos on your browsers without platform limits. It supports 200+ file formats of audio, video, document, ebook, archive, image, spreadsheet, and presentation and assures best possible quality.
Pros:

No need to install any extra programs.
Easy-to-use.
Available on any platforms based on web-browsers.
Cons:

The free account only accepts videos no more than 100MB.
It relies heavily on the network connection.
There may be adware, malware and even data security risk. Part 2. How to Convert MOV to WAV without Quality Loss
Certainly, when choose a video converter to convert MOV to WAV, we'd better like one that allows MOV videos of large file size and outputs WAV without quality loss, such as WinX MOV to WAV converter. Now let's check how to export WAV audio from MOV videos.
Step 1: Free download and install the MOV converter on your computer. It's available both on Windows and macOS.
Step 2: Drag-n'-drop or click "Add Video" button to import your MOV video(s) to the program.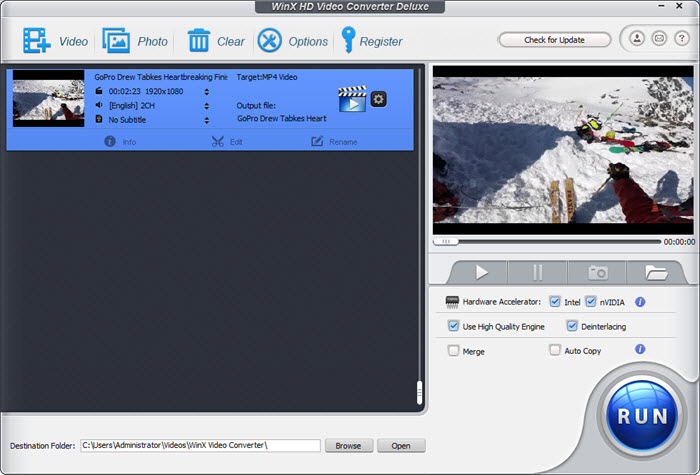 Step 3: Choose WAV as the output format. In the popped up window, you can choose "to music" column and scroll down to find out "WAV (Lossless audio)".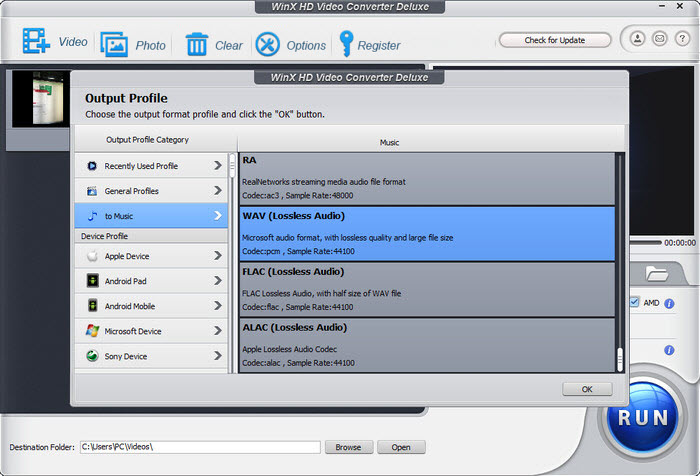 Step 4: Select an output folder by clicking on "Browse" button. Then tap the blue "RUN" button to start converting MOV to WAV. Part 3. FAQs of MOV to WAV Converting
1. What's the difference between WAV and MP3?
The biggest difference between WAV and MP3 is the audio quality. WAV is an umcompressed audio format with lossless quality. While MP3 is a lossy compression audio format. Briefly, WAV owns better quality than MP3, but MP3 is smaller size than WAV. As for the compatibility, WAV cannot be used on mobiles or streaming media, but MP3 is supported by almost all media players, editors and devices.
2. Can QuickTime save as WAV?
Yes. You can get the WAV audio out of video with QuickTime.
Locate your video and open the video file in QuickTime by "File" and "Open File".
Click "File", and select "Export". Click "Audio Only" in the "Save Exported File As..." pop-up. Your file will now have the WAV file extension.
Rename your file, if needed. Click "Options" to change your bit rates or channel settings, if needed. Click "Save."
3. Is FLAC better than WAV?
WAV is an uncompressed lossless audio format and FLAC is a compressed lossless audio stream. FLAC allows you to compress and uncompress the audio data multiple times without any quality loss. FLAC is superior to WAV in almost all aspects, except the compatibility. FLAC is still not a popular audio format and its support is very limited.