[Fixed] YouTube Fullscreen Not Working on iPhone, iPad, Android, etc.
YouTube embeds a fullscreen option delivering a better view experience to watch videos on computer. It usually works well on browsers. But sometimes, YouTube won't go fullscreen properly on iPhone, iPad, Android, Mac, and various browsers. In this post, we have list 100% effective fixes to YouTube fullscreen not working problems on browsers, like Chrome, Firefox etc.? Read this article to get troubleshooting tips.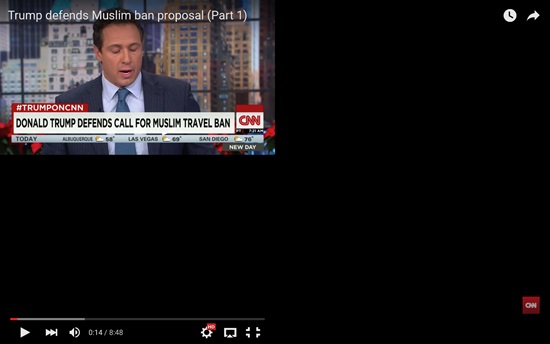 Fixes to YouTube Fullscreen Not Working Error
Fix 1. Update Browser & Flash Player to Latest Version
YouTube fullscreen not working on Safari, Chrome, Firefox, or Edge is a known error. No matter which browser you're using, update it to the latest version with the support of HTML5 player to avoid fullscreen problem when playing HTML5 video on YouTube. You can open https://www.youtube.com/html5 to confirm that "HTMLVideoElement" and "The HML5 player is currently used when possible" options are checked.
Apart from browsers, Flash Player may cause various YouTube playback problems as well. It's better to keep Flash Player for Chrome, Firefox and other browsers up-to-date. Visit https://get.adobe.com/flashplayer/ and follow instruction to download and install the newest Flash Player version. After all is done, please restart your browser and play YouTube videos in fullscreen mode again.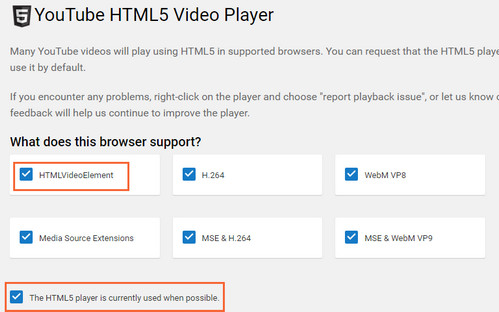 Fix 2. Disable Browser Extensions
You may have installed several extensions for your browser to achieve some tasks. You may also use some YouTube-related extensions for certain purposes. For example, there are AdBlock to remove YouTube ads, Video DownloaderHelper to save YouTube videos, and YouTube to MP3 plug-ins. All those tools probably cause YouTube fullscreen not working problem. When your YouTube video won't go fullscreen properly, try to disable them or all your installed extensions.
Input "Chrome:extensions" on address bar for Chrome or "about:addons" for FireFox.
Hit enter to get full lists of plug-ins.
Uncheck "Enable" for Chrome or click "Disable" for Firefox to eliminate their interruptions on YouTube video fullscreen playback.
Hot search: YouTube Shorts not showing up
Fix 3. Turn off Hardware Acceleration
While the Hardware Acceleration is designed to make things faster by using the computer's hardware, it can sometimes cause problems. In fact, there are users confirmed it's one of the culprit that cause YouTube not to go full screen. Anyway, it's worth trying this quick fix to YouTube fullscreen problem. Disabling hardware acceleration on Chrome, Firefox, Safari, other browers are quite the similar. For example, in Chrome:
Launch Chrome, then select Menu and open the Settings.
Scroll down the dropdown menu to the bottom and select the Advanced option.
Scroll to the System and uncheck the Use hardware acceleration when available option. Then restart Chrome.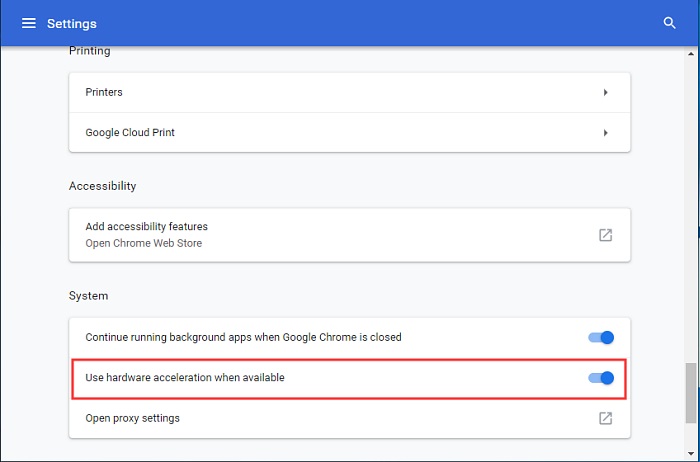 Fix 4. Clear Cookies and Cache
Don't forget to clear your browsing data, the cache, and the cookies regulary, as they will also cause YouTube fullscreen not working errors on iPhone, Android, Mac, PC, or other devices. To fix, simply clear the Cache and remove the Cookies from your browser or browser app.
To remove the Cookies from websites that cause problems:
Open your browser/brower app and go to the Options/Preferences -> select Privacy & Security
Find Cookies and Site Data -> Manage Data
To clear the Cache:
Open your browser/brower app and go to the Options/Preferences -> select Privacy & Security
Find Cookies and Site Data -> Clear Data -> Cached Web Content: Clear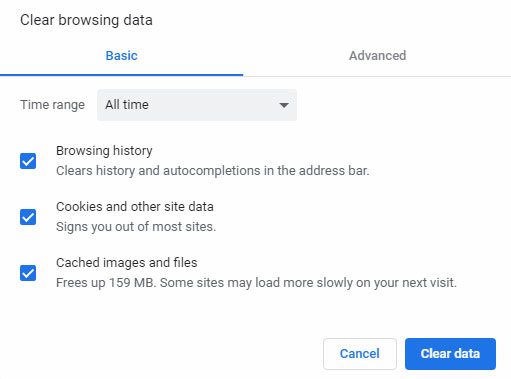 Fix 5. Try YouTube Hotkey
If the YouTube won't go fullscreen with the full screen button, try the YouTube keyboard shortcut. The hotkey for  going full screen on Youtube is F (F11). This is reported to be useful for some users. Sometimes it works on the first try, sometimes on the third. Anyway, it's simple and worth a short. To activate YouTube full screen with your button, hit the F (F11) button on your keyboard enable full screen mode, and press escape to exit the full screen mode.