7 Ways to Fix No Sound Issue on Facebook Video
I get no audio no Facebook video. I have no audio from videos uploaded on Facebook when watching with Chrome browser. I have run every diagnostic I can find. No luck. I've posted requests for help in Windows support forums. Thanks for all suggestions.
The issue that there's no sound on Facebook video can occur on Chrome, iPhone, Android, Windows PC, and any other devices. Quite a few users have experienced the no sound issue when they upload Facebook video or download Facebook video. Here are some useful troubleshooting tips for getting the Facebook audio problem resolved.
Why Is There No Sound on Facebook Video (Upload or Download)
Several factors may cause the no sound issue with the Facebook you watch, upload, or download. For example, you made some wrong system audio settings on your device, there are problems with your browser for Flash Player, Facebook app settings, system conflicts, or the source video sound, to name a few. Figuring out what causes the Facebook video no sound issue can help you resolve the issue quickly.
If you don't want to know the causes, it's fine. Just continue with some easy solutions listed below.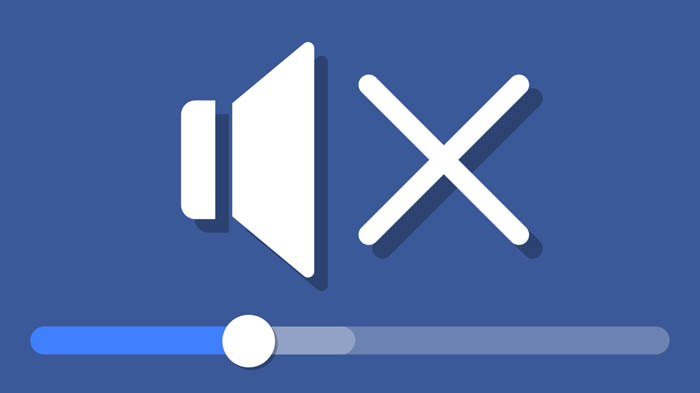 How to Troubleshoot Facebook Video No Sound Problem
1. Check if other apps have audio
Is Facebook the only app that has sound? Does YouTube, Instagram, or Prime Video have audio when streaming? If other streaming services sound works fine on your device, the issue may be related to Facebook app. Otherwise, there might be an issue with your device.
2. Check if the sound is turned off on Facebook App, or on your device, or on the Browser
The "x" icon next to the volume settings on the Facebook video means the sound is muted. Turn the volume on when playing Facebook video. Make sure the sound on your device is not muted. Then check if your browser such as Firefox, Chrome, Safari, is set to mute sounds. Some users reported Facebook video no sound issue on Chrome and the cause is that the Chrome sound setting is muted. When audio is muted on browsers or devices, there's also no sound when streaming YouTube, Instagram, or others.
3. Restart your device
A simple restart sometimes can fix some unknown issues perfectly. Just turn shut down Facebook and restart your device. Open Facebook again, choose a video to play to check whether the no sound issue is resolved or not.
4. Clear browser caches
Browser cached data and cookies can cause conflicts between video content and system. Clear temporary cached data and cookies of the browser you are using. Update to the latest version of your browser when available. It also works for some users to uninstall and reinstall their browsers.
5. Check the source Facebook video
It's possible that the source Facebook video you downloaded or uploaded has no audio. Check if there's audio file attached to the video file. Use MediaInfo or similar program to check if audio file is empty.
6. Run the Playing Audio troubleshooter on Windows
Use the Playing Audio troubleshooter on Windows to fix the Facebook no sound issue on Windows. The Playing Audio troubleshooter checks for volume settings, sound drive or card, speakers or headphones. Open the Playing Audio troubleshooter and have a try.
7. Update your Flash Player
Try installing the latest version of Adobe Flash Player. Play a Facebook video to see if the method works. If it doesn't work, use the Report a Problem link on your Facebook account and report the no sound issue on Facebook video to Facebook developers.