Burner: Free Video to DVD Converter - Burn MKV, AVI, MP4 Video to DVD
Free SD/HD Video to DVD Converter - Burn MKV, AVI, MP4 Video to DVD
DVD VS Video – Why We Need Conversion Sometimes
Video file is by far the pinup format for movies, TV shows and media collection because it can be watched through diverse devices; DVD can only be played in limited ways, either by DVD player hardware or software on a computer. Such as it is, to convert SD or HD videos to DVDs is evitably an important course to master for most video fans.
Why we need to convert/burn videos to DVDs? There are many reasons and cases for you to do so:
1. For downloaded YouTube videos: You may have downloaded a boatload of HD (1080p or 4K) YouTube video files, but only to find your computer is too filled with many more other things you are loath to delete to store any large files;
2. For videos from cameras: digital cameras or even HD camcorder can only store little 720p/1080p/2160p videos and pictures. So you have to transfer the files from JVC/ Panasonic/Samsung/Canon to computer or burn such AVCHD (.m2ts) videos to DVDs.
3. For good videos you'd like to send to others: If the HD video files are too large, it will take a long time to transfer to others with the necessity of well-conditioned network transmission speed. Besides, videos stored onto computers are not convenient to be played on TV. But if you burn those MKV, AVI, MP4 Videos to a DVD, they can be stored and played back more easily and trustingly.
2017 Best Free Video to DVD Converter for Windows 10/8.1/7
WinX DVD Author - Best free DVD authoring/burning software capable of burning DVD disc out of your recorded video, e.g. MKV, AVI, MP4, MOV, FLV, 3GP, MPEG, H.264, VOB... Download the best free Video to DVD converter to convert any videos to DVDs on Windows 10/8.1/7/XP PC now. [100% clean and secure]

No matter what the reason is, all you need is a free video to DVD converter that can transfer all your video files to DVDs. Converting home videos to DVD is a great way to preserve and share your videos. However, you should get a DVD converter that works well on your Windows XP/7/8.1/10 computers. The best way to find the right DVD conversion software is to download and use it without payment.
Here one video to DVD converter is introduced to you to convert your video files to DVDs, named Free WinX DVD Author.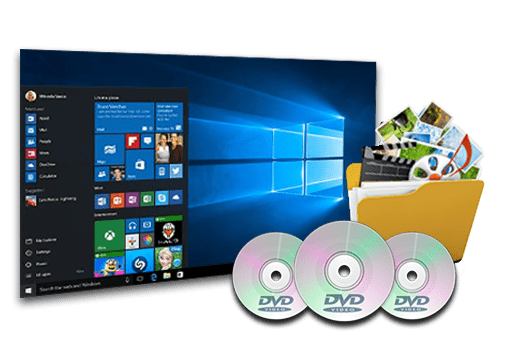 Why Do We Choose This Free Video to DVD Converter?
When we are choosing a free Video to DVD converter, several factors should be taken into considerations:
Video formats it supports:
It should support burning DVD from video formats that are popular in the market, such as MKV, M2TS, M4V, AVI, FLV, MPEG, MOV, RM, RMVB, H.264, MP4 to DVD, etc.
DVD video editing features
Some advanced features like trim elements, adding DVD Menu & chapter Menu, add background music & picture to DVD menu, adding subtitle, etc should also be included in this video to DVD converter.
Ease of use, speed, and price
As a tool for common computer users, it should be as easy as possible. Meanwhile high quality and super fast speed are also important element should draw your attention.
Considering all the features above, DVD Author is the best free DVD converter software and best free DVD burner for Windows 10 for you to convert video to DVD. You can download this video to DVD converter and take a try right away.