Download ShowBox App on Windows for Movie Download and Streaming?
- I'm an Android user and a big fan of ShowBox. I have loved it so far because it allows me to watch all the movies that I've missed in theaters. But when I try to install it on my PC, it failed. How do I download ShowBox for PC?
ShowBox is largely popular among Android users for a good reason. It's totally free and it allows users to watch and stream HD movies. However, this app is only available for Android. It has not yet developed for iPhone, iPad, or the gadgets of Windows 7, 8 or 10. But in many cases, we would a free movies app for PC, just like ShowBox. Go to the official site of ShowBox and you can download ShowBox for Android only. How do I download ShowBox on my Windows 10 PC or laptop? Follow the simple instructions below.

Contents
Method 1: Free Download ShowBox for PC using Android Emulators
An Android Emulator will enable you to download what's for Android on your PC. All you need to do is to download and install the emulator on your PC, then download the installation file for the application and open it with the emulator.
What is Android Emulator?
Google Play Store offers a large library of useful apps and games that are available for Android mobiles only. Sometimes you may want to run the apps and play games on the larger-screen computer. An emulator simulates Android devices on your computer so that you can use the android applications on your PC computers and MAC devices. Some of the most popular Android Emulators include:
● BlueStacks (Free / $2 per month)
● ARChon (Free)
● Nox Player (Free)
● MeMu (Free)
● Remix OS Player (Free)
● Genymotion (Free with paid options)
Below we will show you how to download Showbox for PC via the most commonly used emulator BlueStacks.
How to Download Showbox for PC using BlueStacks
Step 1. Download the Android emulator from its website. Then follow the instructions to install the software on your Windows 10/8/7 computer.
Step 2. Download the AKP file of ShowBox from the website. Once the APK file is downloaded, right click on it and open it with Bluestacks. The Showbox should be installed to the smulator now. To add Showbox to Bluestacks, you can also run the emulator and drag the Showbox.apk file into it.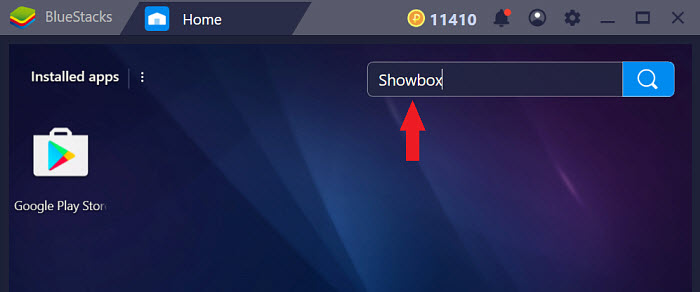 Step 3. Once the installation is finished, you should see Show Box in BlueStacks. If not, find it with the search box. Then you can use Showbox on PC Windows 10 to watch a huge database of TV shows and HD films, be it old and new. The steps using other emulators are similar. | Download MovieBox for Windows 10 PC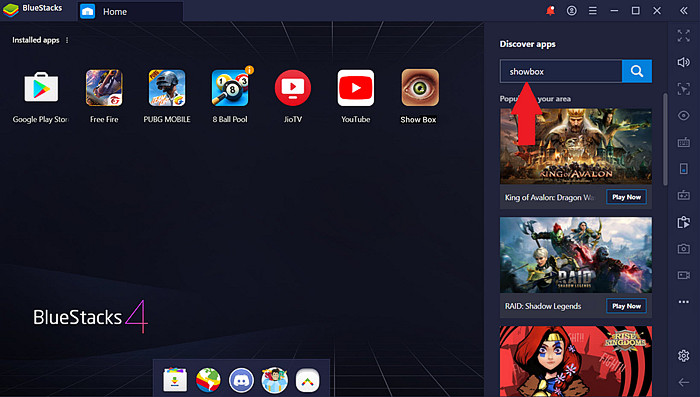 Method 2: Download Showbox For PC Using ARC Welder
We also notice that there are quite a lot of searches on "How to I download Showbox on my PC without Bluestacks?". If Android simulator is not your option, the ARC Welder will also get Showbox App for Windows 10.
What is ARC Welder?
The ARC Welder Chrome app, released by Google, allows you to run Android applications if you're on Chrome OS or using Chrome web browser. With the ARC Welder app installed in your browser, you can theoretically run an Android install file in a virtual environment right on PCs or Macs without having to use any actual Android devices.
Step 1: Download Chrome brower on your Windows PC if you haven't got the brower. Then go to Chrome Extension > find ARC Welder for chrome browser > click Add To Chrome to add the addon to the Chrome browser.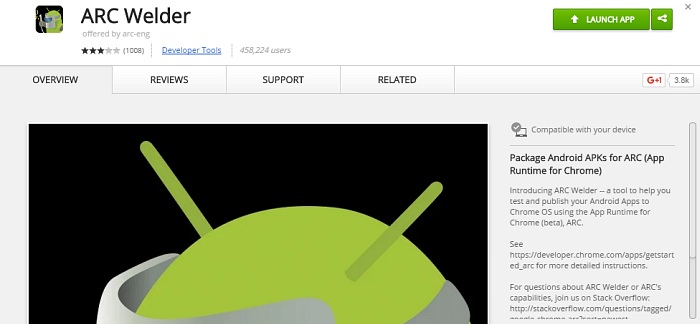 Step 2: After Arc Welder is installed, type chrome://apps/ in the address bar in Chrome and run the app. Then download the AKP file of ShowBox from the website.
Step 3: You will be asked to select a directory for Arc Welder to store the apk file. Select any created folder or create a new folder on your PC. After that, you will see the option of Add your APK and click on it.
Step 4: Once added, you can access Showbox via chrome://apps/ and start to enjoy movies.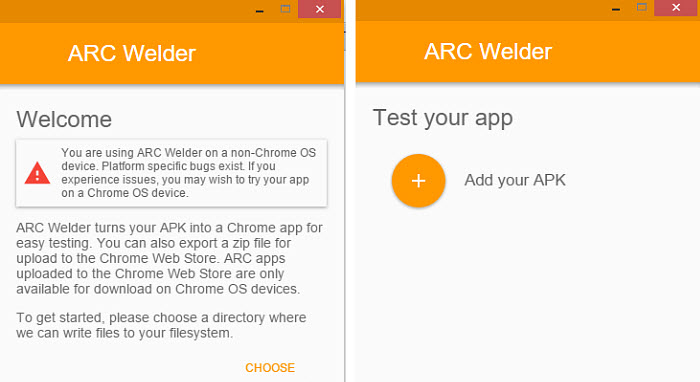 Method 3. Download the Best ShowBox Alternative for PC
ShowBox has a maximum limit for unlocking your phone by earning ShowBox points. Once the limit is reached, you cannot go any further or win more points. Besides, many users complain that ShowBox stopped working after they updated it as asked. So it is time to find an equivalent or advanced tool to take the place of ShowBox movie app for PC. Here is the best free ShowBox alternative for Windows OS:
WinX YouTube Downloader - one of the best free movie app alternative to ShowBox for PC.
● Download YouTube movie videos, Disney films, funny contents or hot new movies from Dailymotion, MetaCafe, break, crackle, livestream, etc. over 300 online video websites in different countries.
● Support 8K, 4K and 1080p HD movies download, offering high video quality in 4096x2160, 3840x2160, 1920x1080 and 1080x720.
● At least 5-8x real-time download speed.
● No registration and point earning required. 100% free of no adware, spyware, malware or plugin at all.
Step 1. Download and install the ShowBox Alternative on PC (Windows 10)
Since it is a Windows-only software program, you can only download and install it as a ShowBox alternative on Windows (7/8/10): go to the official site, check whether your network environment is normal, and click "Free Download" button, browse to choose the output destination, and click save file. Please rests assured that WinX YouTube Downloader is totally free and clean, and reviewed by many famous tech sites.
Also Read:
>>Top 10 Free Movie Apps for Windows 10
>>Download/Install Showbox for Mac
Step 2. Choose any movie online
Double click the software icon to start it. After the interface is shown, click +URL button on the navigation bar. Copy the URL of any movie you like on the online movie and paste it to the address column.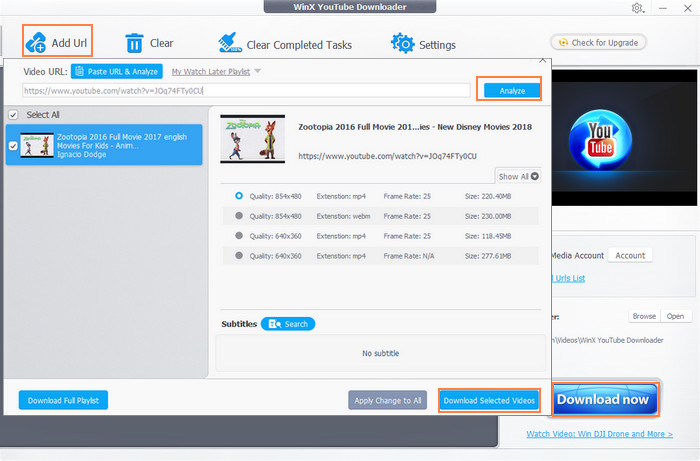 Step 3.Download the HD movie to PC
It will show general movie info like resolutions, formats, sizes, codecs. You can choose any of them based on your need. Optionally, you can change the folder where you will save the downloaded movie in the Target Folder area. Then just hit RUN button and let it start downloading.
After a few seconds, the whole download process will be completed. You can find the movie file in the designated folder of your hard drive. You can open to play it directly on your PC, save it to your USB or other hard disk, transfer or stream it to TV or mobile devices.