How to Solve YouTube Videos Stop/Pause/Freeze on All Browsers
YouTube Videos Keep Freezing, Pause Every Few Seconds, Stop Playing During COVID-19 Lockdown [Solved]
Q: - "YouTube down again. I can't log in to my account, and YouTube videos aren't loading, just stopping at spinning wheel."
- "Suddenly, almost all YouTube videos freeze up either right at the start or while I'm watching it. Computer is less than a month old, i7 processor, 8GB RAM. There is no problem of video streaming on other sites and this 'YouTube videos stop playing' is happening in the middle of the night as well, so I don't see how it could be a high traffic issue. Any ideas to solve the 'YouTube stop/pause/freeze' problem?"
This is a guide to best help you solve the annoying "YouTube videos keep freezing but also still plays", "YouTube videos stop playing" or "YouTube videos pause every few minutes" problems and help avoid the YouTube stop/pause/freeze issues from the get go by using WinX YouTube Downloader or HD Video Converter.
How to Solve YouTube Freeze/Stop/Pause Problems?
WinX YouTube Downloader - Free download videos from 1000+ sites for offline watching, away from YouTube freeze/stop issues!
WinX HD Video Converter Deluxe - Download and convert YouTube videos for watching on any iOS/Android, 1k+ sites supported.
Cause & Solutions - YouTube Videos Stop/Pause/Freeze
Let me make it clear in the beginning, we will present you all the solutions to the "YouTube video stop/pause/freeze" problem, but maybe only one of them works for you. So be patient and try them out one by one.
Here is a checklist to be read out before the next fixing steps, which might be the cause of why YouTube videos keep freezing up: Your PC, net connection, YouTube video source, flash player, and the web browser. Now follow us to solve the YouTube videos freezing, pausing and stop playing problem.
Hot search: YouTube Shorts not showing up fixes
How to Fix YouTube Videos Stop/Pause/Freeze - Regular Solutions
Step 1. If YouTube keeps freezing up and buffering when you are watching a 4K video/movie, your PC hardware might be the problem (CPU, RAM or GPU). Change the 4K resolution to 1080p, 720p or lower to have a try by clicking the gear icon on the bottom right.
Step 2. Run a speed test to make sure whether the "YouTube videos freeze/pause" problem is caused by network speed or not. Sometimes, your have a fast Internet, while your YouTube video may be ressed to the lowest res possible, or completely freeze.
Step 3. Uninstall and reinstall flash player and shockwave player.
Step 4. Try different browsers. If YouTube videos stop playing after a few seconds in Google Chrome, try Firefox, Safari, IE, etc.
Step 5. Clear cookies, cache, history, temp files and disable your firewall to see if the "YouTube videos pause/freeze" problem is still there.
Step 6. Change from Flash to HTML5 video player to solve the problem. HTML5 player supported browsers include Google Chrome, IE, Firefox, Opera, Apple Safari.
Step 7. Disable hardware acceleration in the Flash settings.
>>> Find other free ways to entertain yourself during COVID-19 quarantine if YouTube is still not working.
YouTube Videos Stop/Pause/Freeze on All Browsers [Solved]
Different web browsers have different ways out if YouTube videos stop and freeze up all of a sudden.
Google Chrome: Go to the toolbar and click dropdown menu -> Tools -> Clear browsing data -> Click Extensions -> Enable all plug-ins.
Firefox: Go to Opinions -> Advanced -> General -> Move to the "Browsing" section -> Uncheck "Use hardware acceleration when available". If the YouTube is still freezing up, go to the Tools menu, click Add-ons -> remove extensions.
Safari: Enable plug-in by "Go to the Preference -> Security -> Internet Plug-ins -> Check the box to allow plug-ins" or "Go to the Preference -> find Extensions -> turn off all the Extensions/Add-ons".
There is one more option, if all else failed, to avoid YouTube videos stopping/pausing every few minutes: free download YouTube videos for fluency playback offline. If you feel that you need to download YouTube movies or music videos, in particular when YouTube videos keep freezing up or suddenly buffer/pause all the time, try WinX YouTube Downloader, which is capable of free downloading all videos on YouTube in 4K, 1080p, 720p resolution.
One-fits-all Solution: Free Download YouTube Videos When YouTube Videos Stop/Pause/Freeze
Downloading YouTube videos offline can solve the YouTube video not playing error certainly, while unfortunately, many users reported that neither sites or softwares can no longer download YouTube videos during the period YouTube down since Sep 11. Then is there a program that can save YouTube videos offline without error?
WinX YouTube Downloader is a totally free and professional YouTube video downloader, delivering 5-8x real-time download speed and containing no adware, spyware, malware or virus at all. Next you'll get a sense of how this free YouTube downloader would help you to solve the "YouTube stop/pause/freeze" problem. Download WinX YouTube Downloader first and get it installed.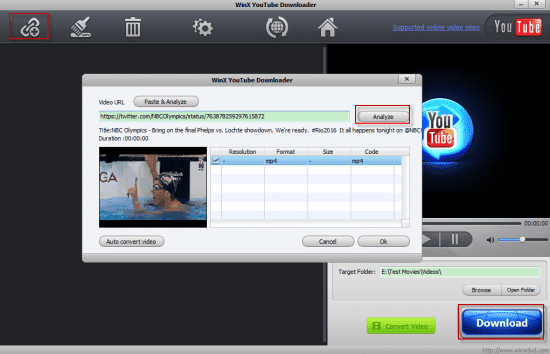 Step 1: Go to YouTube website and click to play a video.
Step 2: Open WinX YouTube Downloader, press button "+", copy, paste and analyze your YouTube video URL. Usually, the URL will be detected automatically.
Step 3: Choose a resolution/format/code in the dropdown box and click "OK".
Step 4: Tap button "Download" and this 4K video downloader will start free downloading YouTube videos. If you also want to convert YouTube videos to iPhone, iPad, MOV, MP4, MKV, AVI, MPEG, etc, take a look at its advanced version - WinX HD Video Converter Deluxe.
WinX HD Video Converter Deluxe
Not only download, but also convert video to the best video format, codec, file size and bitrate for uploading or on-device playback with Level-3 Hardware Acceleration.