Copy Blu-ray to PC Using Helpful Blu-ray Decryption Software
How to copy Blu-ray to PC using Blu-ray decryption software.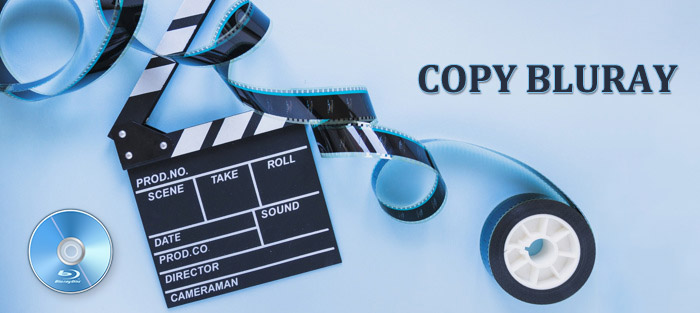 Can BD Take the Place of DVD?
Nowadays, Blu-ray disc has been accepted by more and more people in more and more countries. As far as the U.S. is concerned individually, there were 93% more families, according to relevant statistic data, own Blu-ray players at the end of the first quarter in 2011 than in the same period last year.
It is expected that there will be totally 50 million BD players in possession till the end of this year. The situation is similar in other countries and regions. The increase in Blu-ray disc buyers is more considerable. These data well indicate that the acceptance of BD is greatly increased. So Blu-ray disc is very likely to replace DVD, which took the place of VCD not long ago. Only time can prove it!
It is Necessary but Difficult to Copy Blu-ray to PC
Since not always can Blu-ray disc be kept away from unintentionally physical destruction, it is urgent to copy Blu-ray to PC.
However, Blu-ray producers exert all their energies to take full control of their products for their own interest. They even take a hand in the use way of Blu-ray by the users even at home after they have already bought it by adding all sorts of copy protections and encryptions in their Blu-ray products deliberately to prevent pirating and illegal copying. But in the meantime, legal and reasonable use of Blu-ray disc is also impeded. As a result, it is extremely difficult to backup Blu-ray to computer.
WinX Blu-ray Decrpyter - a Good Helper for Copying Blu-ray to PC
The advanced and complicated anti-copy measures, which are much tougher than that in DVD, require more exquisite and prudent decoding technology. In spite of that, WinX Blu-ray Decrpyter can be a good helper. It can help you remove any Blu-ray encryption standing in the way of personal Blu-ray copy and help you copy any Blu-ray disc to PC.
This BD decrypter supports all types of Blu-ray discs, specifically, general BD, BD-R, BD-RE, 3D Blu-ray, and even the BD protected with BD+, BD-Live, BD-ROM Mark and UOPs, etc. It is configured with MMX SSE SSE2 SSE3 CPU instructions and some other amazing technologies to support DTS/E-AC3 and MLP/TrueHD Audio System and multi-core CPU, etc., so it can decrypt and copy Blu-ray disc to PC very fast, and guarantee original audio/video effect and HD output quality.
Free download this Blu-ray decrypter to have a try.
How to Use Blu-ray Decrypter to Copy Blu-ray to PC
Actually, the operation of Blu-ray copy is simple, because you can hand over the decrypting and backup work to a helpful Blu-ray decryption software, say, WinX Blu-ray decrypter. Then you can easily copy Blu-ray to PC with the help of this Blu-ray decrypting tool:
Step A: Run this Blu-ray decrypter before/after you insert your Blu-ray disc in your PC, click on "Load BD" button.
Step B: Choose output mode between Full Disc Mode and Title Mode to copy Blu-ray to PC as a Blu-ray folder or an M2TS file, respectively.
Step C: Choose the place to store the output file or mode by browsing in your PC after the completion of Blu-ray to PC copy.
Step D: Tap "Run" button to start decrypting and copying Blu-ray disc to PC.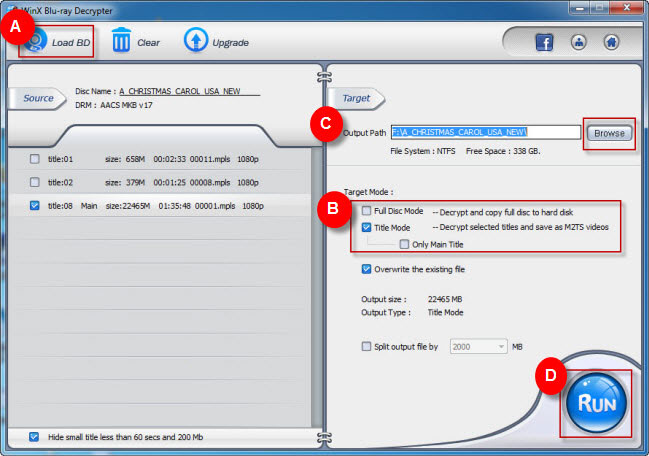 Besides, WinX Blu-ray Decrypter can help you reduce 1000, 2000, 4000, 6000 or 8000MB out of your output file.
Still have trouble about copying Blu-ray to PC? Please feel free to Email Us >>