Best Classic Valentine's Day Movies to Watch for a Cozy Holiday at Home
Love is in the air. What better way to enjoy it than curled up on your couch watching a movie on Valentine's Day during the COVID-19 quarantine? From the modern favorites like La La Land to classics like Love Story, there are countless romantic movies to enjoy on Valentine's Day. So we'd like to narrow them down and build a list of best Valentine's Day movies ever.
Make Valentine's Day DVD Movies Compatible with Every Screen You Have
To watch classic romantic movie DVDs, you don't have to bring all the discs to your beloved's house since it's ponderous, and easy to get scratched and lost. You can rip the Valentine's Day movie DVDs to digital files like MP4, MKV, AVI etc. with WinX DVD Ripper Platinum. This helps you store movies in a mobile HDD, SDCard or USB flash disk and play it on any multimedia players and wide screens like smart TV, computer, Mac, desktop, and so on.
For Windows and Mac only. If you are a mobile user, please click here.
Part 1: Classic Valentine's Day Movies of All Time
The following content are top 20 best all-time romantic movies list with detailed plot worth seeing every Valentine's Day, of course the 2021 Valentines Day included: 1. Call Me By Your Name
This summer love story of Armie Hammer and Timothée Chalamet happened in 1983 Italy. The chemistry between the characters, the scene, the soundtrack, the longing stares - everything is stuff of iconic romances.
2. La La Land
It's one of the most famous Valentine's movies recently, with 6 Oscar's awards. It tells a story that a pianist and an actress fall in love while attempting to reconcile their aspirations for the future. "You could just write your own rules. You know, write something that's as interesting as you are."
3. The Notebook
As the mention of romantic Valentine's Day films, The Notebook is always the first ones that come to mind. That iconic rain-soaked kiss makes a palpable chemistry between Ryan Gosling and Rachel McAdams, leading it to be a romantic classic indeed.
4. 50 First Dates
What if your lover forgets about you? 50 First Dates gives you a way to remind her of you again and again. Drew Barrymore and Adam Sandler's instant classic brings a slapstick twist to rom-coms and romance. If anything is eternal, it must be the ability to love.
5. 10 Things I Hate About You
It's a typical teen romance in the 90s. You may expect it's an usual boring, pointless romantic comedy. That's not true. You'll get an excellent plot and funny jokes with actual chemistry between the leads. T here's a bad boy, a reluctant cool girl, and, yes, a prom to top it all off. 6. Valentine's Day (2010)
The cast reads like the guest list at the Vanity Fair Oscar party - Jennifer Garner, Julia Roberts, Jessica Biel, Ashton Kutcher, Topher Grace, Shirley MacLaine, Bradley Cooper, Taylor Swift, Jamie Foxx, and Anne Hathaway. But the film focuses on a group of characters and their love struggles during Valentine's day. It's all about passion, romance, and heartbreaks.
7. Always Be My Maybe
It's about a love triangle on this Valentine's Day. This Netflix romantic film is clever, charming, and has so many '90s throwbacks that it belongs in the canon alongside.
8. Weekend (2011)
Weekend tells a love story of two British men in 48 hours. From this movie, we seem to have a glimpse of the sensitive style of the creators. Of course, it leaves something awakening - "While you're projecting who you want to be ... this gap opens up between who you want to be and who you really are. And in that gap, it shows you what's stopping you becoming who you want to be." 
9. Pride & Prejudice
"A lady's imagination is very rapid; it jumps from admiration to love, from love to matrimony in a moment." It maintains the earthy sensibility and humor, and yes the sex tension between Lizzie Bennet and Mr. Darcy.
10. Before Sunrise
Before Sunrise is an American romantic drama released in 1995. Some people may think this movie is minimalistic as it's all about walking and talking, without thrilling scenes. It follows a young American man and French woman who meet on a train, and spend the whole night walking and chatting as they secretly fall in love. 11. Casablanca
Set in unoccupied Africa during the early days of World War II: An American expatriate meets a former lover, with unforeseen complications.
12. Brokeback Mountain
How do two ordinary cowpokes handle the kind of sexual fever they were taught to think is unnatural, and that could get them killed? Let's see the story of a forbidden and secretive relationship between two cowboys and their lives over the years.
13. Dodsworth (1936)
A retired auto manufacturer and his wife take a long-planned European vacation only to find that they want very different things from life.
14. About Time
About Time was one of the greatest movies for Valentine's Day. Movie fans can be immediately captured, and the cast is so brilliant, making you believe every single line. It is about life, in the most raw way. How life should be lived, and how we should see the world, as it is.
15. The Piano
A mute woman along with her young daughter, and her prized piano, are sent to 1850s New Zealand for an arranged marriage to a wealthy landowner, and she's soon lusted after by a local worker on the plantation.
16. Rebecca
A self-conscious bride is tormented by the memory of her husband's dead first wife.
17. The Graduate
Recent college graduate Benjamin Braddock is trapped into an affair with Mrs. Robinson, who happens to be the wife of his father's business partner and then finds himself falling in love with her daughter, Elaine.
18. Splendor in the Grass
A fragile Kansas girl's unrequited and forbidden love for a handsome young man from the town's most powerful family drives her to heartbreak and madness.
19. Breakfast at Tiffany's
A young New York socialite becomes interested in a young man who has moved into her apartment building.
20. The English Patient
At the close of WWII, a young nurse tends to a badly-burned plane crash victim. His past is shown in flashbacks, revealing an involvement in a fateful love affair.
Part 2: How to Rip/Backup Valentine Movies DVDs?
All the classic films should be commemorative, so are the classic Valentines movies. WinX DVD Ripper Platinum (or for Mac) is especially to rip and backup breathtaking classic romantic DVD movies among lovers.
It's capable of dealing with all kinds of DVD discs, ISO images and DVD (Video_TS) folders. With 420+ preset profiles, the source DVDs can be outputted in the formats accepted by Samsung, HTC, iPhone, iPad, Kindle Fire (HD), PS4/PS5, etc., or MP4, MOV, MKV, AVI, MPEG-2, ISO image that's compatible with YouTube, Facebook, HD camcorders, DVD burner, or multimedia players. It also allows title merge, lingual subtitle / episode selection and so on.
Now let's get started to rip classic romantic DVD movies for enjoying on wide sceens on Valentine's Day.
Step 1. Load DVD Movie.
Insert your source disc into DVD drive (external DVD drive is also available) and run WinX DVD Ripper Platinum. Click the "DVD Disc" button to load your Valentine's Day movie disc.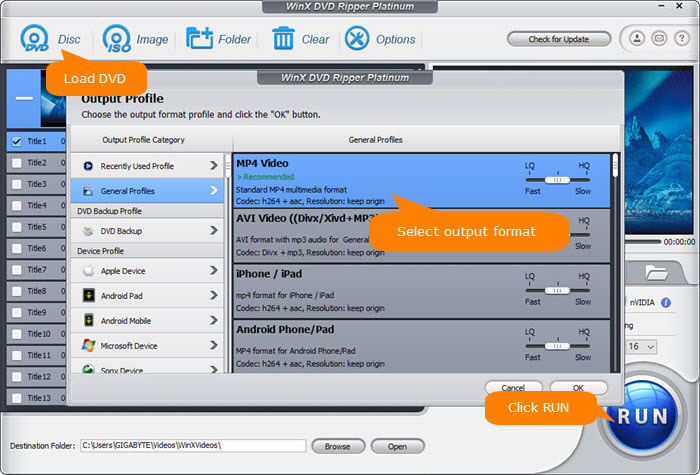 Step 2. Select Output Format
After loading, the DVD's information will be shown in the file list, such as title, subtitle, duration, output folder etc. Choose an output format for your DVD. MP4 is always recommended for it's wide compatibility on multiple screens. If you'd like to store your DVD intactly, ISO image is a nice option.
Step 3. Start Rip / Backup Valentines DVD to Digital File
Click "Browse" button to select the destination folder in the dialog box that opens, then you can click "OK" now. Tap "RUN" button to start converting DVDs to digital formats. It'll be finished in a very short time with GPU acceleration powered by Intel QSV, nVIDIA, AMD graphics.
Note: The developer only advocates ripping DVDs for personal use and suggests referring to the DVD copyright laws in your countries.