DVD CPRM Decrypter - Play CPRM Protected DVDs on PC/Mac
What Is DVD CPRM Protection?
There is not much information about DVD CPRM, let alone the related CPRM decrypter software. So what is CPRM protected DVD exactly? Short for Content Protection for Recordable Media, CPRM[wikipedia] is a hardware-based mechanism or technology built in storage media for restricting illegal or unauthorized copying, moving and deletion of such media on a host device. It has been applied to personal computer, digital player, and certain removable and ATA specification media, more often in Japan than other countries.
In a simple word, it is an effective and good technology to defend the rights of copyright owners. But it also hampers the reasonable right of DVD users for own use. For example, since it is for recording "Copy-Once" digital broadcasting programs, it only allows copying only once, and CPRM recordings which can only be made on DVD-RW discs in VR mode can only be played on CPRM-compatible devices and players, even including Windows Media Player and VLC media player. Likewise, here's a real case:
- "Went to record a sports game tonight, and it won't accept my DVD +RW. OK, I have a DVD -RW so I pop that in. Nope, error there too, not in VR mode. I format it in VR mode, and it tells me the disc is not CPRM compatible."
In another word, only if your hard drive, media player, etc. are CPRM compliant or you have a professional DVD decrypter program to deal with the CPRM protection, your CPRM protected DVDs can be played. Here we move to removing CPRM blocks in DVDs.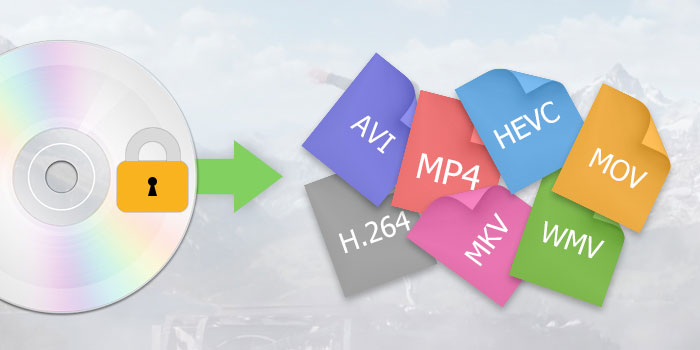 What Can Remove DVD CPRM Protections?
WinX DVD Ripper Platinum will be the best CPRM decrypter for ripping Copy-Never or Copy-Once DVDs protected by CPRM scramble system, enhanced region codes, etc. to general digital files for personal use, and can be played successfully and flexibly on any devices and players (both hardware & software). Although not supporting CPRM yet, the DVD ripper currently has the following highlighted features:
• Remove copy protections: support Sony ARccOS, CSS, region code, RCE, UOPs, Disney DRM, etc. The output files won't have protections.
• Various copy modes: DVD to MP4, AVI, WMV, FLV, MPEG(2), WMV, AVC, TS, MOV, etc.; DVD to iPhone, iPad, PS3/PS4/PSP, Xbox, Chromecast, Apple TV, etc.; clone DVD to ISO image or DVD folder while keeping the same as the original (taking 5 minutes only for a feature-length movie).
• High quality keeping: unlike many other CPRM DVD decrypters, it can preserve the image and audio effect maximally thanks to High Quality Engine and "Yadif Double Frames" De-interlacing Engine.
• Institutive design: user oriented, allowing flexible settings and fine-tuning.
How Does CPRM Encryption Happen?
CPRM was developed by 4C Entity jointly by Intel, IBM, Matsushita and Toshiba. It is similar to CPPM that means Content Protection Pre-Recorded Media mainly for DVD-Audio, both relating media with recording. MKB (Media Key Block) is placed into the storage media for high copyright protection in association with the Device Key preordered in the player device. Moreover, by further enhancing CSS used in DVD-Video, it can protect the copyright work even if the key is leaked. All DVD recorders and burners manufactured after 1999 are in support of the scheme.
Every blank DVD-R disc has a unique 64-bit ID built in NBCA. When the protected content is burned to disc, it has been encrypted by 56-bit C2 (Cryptomeria) produced from the ID. That's to say, when the content is copied to other media, specifically, not only disk, but also hard drive and flash drive, the ID and related algorithm will get lost or go wrong, and the data will not be decrypted. Although it may have been cloned, it cannot be watched at all.
The broadcastings of digital TV programs have been used and will continue using CPRM standard widely. As a result, the non-CPRM-compatible DVD camera and DVD recordable media will not be able to record any more. But it will depend on the following situations since they are divided into three restriction types:
• For Copy-Free: you can still record and copy such content as you want.
• For Copy-Once: you can record them with CPRM-compatible DVD recorders, but will be disabled to re-record or copy them.
• For Copy-Never: nothing you can do to record such content.
Nevertheless, here I come up with another solution.
Record Content with HD Camcorders and Burn them into DVDs
Since CPRM technology is based on hardware, why not directly record your TV programs and so on with your HD camcorders. The recordings can be burned into DVDs with any copy protections and can be played easily.
WinX DVD Author will help you create DVDs easier than before!
• Burn any videos to DVD+/-R, DVD+/-RW, DVD DL+R, DVD DL+/-RW, DVD-5, DVD-9 (double layers).
• Create DVDs from HD camera videos (.m2ts), webcam, Blu-ray videos, YouTube, ISO, MKV, MP4, FLV, MPEG, MOV, RM, H.264, AVI, etc.
• Personalize DVDs with subtitles, background music and images, letters, and chapter menu.