How to Transfer WhatsApp Videos from iPhone to Computer
3 Ways to Backup WhatsApp Videos on iPhone to Computer (Windows 11/10 PC)
Well, you may have received tons of videos from families and friends via WhatsApp telling funny moments, magnificent views, shocking events and more. You are thankful for the kindly sharing and wonder how to back up those great videos in case someday being mistakenly deleted or for freeing up more spaces on devices. If you're trying to transfer WhatsApp videos from iPhone to computer (PC) for a backup, the following 3 ways are definitely helpful.
Bulk Sync WhatsApp Videos to Computer [4GB within 3 Mins]
You need - WinX MediaTrans to bulk transfer (WhatsApp) videos/photos, music, e-books, iTunes purchased items from iPhone (13), iPad to computer Windows 11/10, macOS at GPU accelerated speed, up to 3 minutes to sync 4GB video without using iTunes. Also encrypt your videos photos with password!
Top 3 Ways to Transfer WhatsApp Videos to Windows Computer
Notice!!! Founder of rival app Telegram, Pavel Durov, says WhatsApp is consistently being used as a Trojan horse to spy on users' non-WhatsApp content. To have a safe bet, backing up Whatsapp videos is a task which brooks no delay.
Where Are WhatsApp Videos Stored on iPhone?
WhatsApp features automatically downloading incoming media to Photos app on iPhone via a network connection, photos over cellular/Wi-Fi and videos/audios only on Wi-Fi. Also, you can manage WhatsApp preferences to disable auto-download while manually saving needed videos. Either way, you can get videos received from WhatsApp in Camera Roll.
• If it fails to save WhatsApp videos to Camera Roll, please open WhatsApp > Settings > Chats and turn on "Save to Camera Roll" option.
• Additionally, open Settings > Privacy > Photos and enable WhatsApp if you still can't download WhatsApp videos to Photos app.
How to Transfer WhatsApp Videos from iPhone to Computer (Windows 11/10 PC)?
Way 1. With iPhone Transfer Software
WinX MediaTrans is a powerful yet intelligent program specializing in transferring media files from iPhone (X/8/7 etc.) to computer with ease. Not only can it download videos/photos saved in Camera Roll or shot by 3-rd party apps (for example WhatsApp), it also allows you to selectively sync certain items. High transfer speed, stable and safety process can be achieved. All selected WhatsApp videos on iPhone will be transferred to computer without file missing, partly syncing or other problems.

Download and install WinX MediaTrans on your computer (available for Windows 11/10 and lower versions). Then, follow the steps to transfer WhatsApp videos from iPhone to computer.
1. Plug in iPhone into computer via a USB cable. Launch WinX MediaTrans which will auto access the iPhone if the connection succeeds.
2. Click Video Manager button on the window of WinX MediaTrans.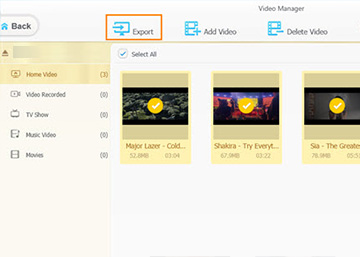 3. A new page appears. Video categories are listed on the left side. Generally, all videos on iPhone are saved in Home Video category. Click Home Video and then select WhatsApp videos you want to transfer to computer. Now, click Export button. Soon, you can get all downloaded WhatsApp videos in the default folder on hard drive which will pop up once the process is finished.
Way 2. Via WhatsApp Web
In January 2015, WhatsApp web is launched allowing users to access WhatsApp features via a web browser. Through WhatsApp web, you can easily download received videos to computer.
1. Open web.whatsapp.com in a browser.
2. Open WhatsApp on iPhone. Go to Settings > WhatsApp Web. Next, scan the QR code to log in your WhatsApp account on computer. 3. Select one contact and find videos in the conversation. Tap the video file and click Download button to download it to computer.
Notice:
The download feature is only available when network is connected.
You can only download WhatsApp videos one by one, no batch download.
Way 3. Using iCloud Drive
iCloud Drive empowers users to back up iPhone data and access the data via computer or other Apple devices with the same Apple ID. The following tutorial can lead you to back up WhatsApp videos to computer via iCloud Drive.
1. Open Settings on iPhone. Tap iCloud and turn on iCloud Drive. Turn on WhatsApp from the list with apps which are allowed to store documents and data in iCloud.
2. Open WhatsApp > Settings > Chats > Chat backup.
3. Tap Back Up Now and all chat data (WhatsApp videos included) will be uploaded to iCloud.
4. Tap Auto Backup and set backup frequency to let iCloud automatically save your WhatsApp data. Switch on Include Videos below Auto Backup option to back up WhatsApp videos. 5. After backing up, you can get WhatsApp videos and other data on computer by signing in your Apple ID with iCoud.
Notice:
It requires internet connection.
iCloud only offers 5GB of free storage. For more, you need to subscribe iCloud storage plan (starting at $0.99/month).
It doesn't only transfer WhatsApp videos to computer but all WhatsApp data. You are not allowed to select certain items for backup.
Bottom Line:
All 3 ways are available to transfer WhatsApp videos from iPhone to computer. WinX MediaTrans boasts its flexibility and efficiency as well as completes transfer mission only with help of a USB cable. Both WhatsApp web and iCloud drive need network to download WhatsApp videos but they are seemingly more convenient without installing a program. Depend on your need and choose the most appropriate way.
If you still have problems about transferring WhatsApp saved photos from iPhone to PC, just feel free to Email us >>