[iPad] How to Transfer Photos from iPad to PC with Ease
Advanced camera technology aids iPad to be an outstanding device to shoot photos. The new iPad Air includes 12MP ultra wide front camera with center stage which can produce sharp photos and 4k video. We're glad for getting quality pictures with iPad but also bothered with large file sizes of those photos which slowly swallow iPad memory. Some people try to find a way to reduce photo size for saving space or attaching via Email.
In order to maintain original image quality and avoid the tedious task of emailing image one by one, more people would rather to transfer photos from iPad to PC for a backup. But how? Dig out answer here! And, a handy iPad photo transfer application will be introduced to satisfy you.
Need Photo Transfer Software for iPad?
The First Choice - WinX MediaTrans. Backup all photos (like selfies, wallpapers, photos from whatsapp and other apps) from iPad to computer speedily. No data and quality loss!
Top 3 Ways to Transfer Photos from iPad to PC Computer
Way 1. How to Transfer Photos from iPad to PC Computer with WinX Mediatrans?
Windows offers one-click solution to import iPad photos to PC. Plug iPad into PC via USB cable and press "Trust this PC" to allow Windows computer to access your device. Select "Import pictures and videos" after AutoPlay pops up. Then, click Import button to transfer photos from iPad to PC. Yes, it is terribly easy and doesn't need any third-party software. But this method can only sync photos in Camera Roll. Pictures in other albums will never be imported.
With the hope of transferring any photos from iPad to PC, you can take full advantage of iPad photo transfer software. WinX MediaTrans, a creative program, features ability to import photos/pictures in any albums (including albums created by third-party apps, for example whatsapp, snapchat) from iPad, iPhone, iPod Touch to PC. It presents a user-friendly interface leading you to learn how to transfer without guesswork. It boasts No.1 fast speed to load and export photos. You can flexibly pick up certain photos/pictures from different albums for batch transfer. In addition, it is not dangerous at all that it won't erase data in your phone or bring bad things secretly.
How to Use WinX MediaTrnas to Transfer Photos from iPad to PC Computer?
Preparation: Download and install WinX MediaTrans on PC (Windows 10 and lower versions are supported). This iPad photo transfer software also arrives with a Mac version for you to import iPad photos/pictures to Mac.
Step 1. Plug iPad into computer via USB cable. Please unlock screen and hit "Trust this computer". Launch WinX MediaTrans and it will connect iPad automatically.
Step 2. After iPad is connected to PC successfully, the main interface with five modules, Photo Transfer, Music Manager, Video, Flash Drive and Settings will be shown. Hit Photo Transfer and all your photos are listed and included in groups by month by default. You can also browse them by none (no order), day and year.
Step 3. Select one photo, multiple photos in group or all photos to transfer from iPad to PC. Then, click Export button and photos will be put into a default path of hard drive. Also, you can directly drag photos from WinX MediaTrans to a new created or specified folder.
After all selected photos are transferred from iPad to PC, you can delete them stored in iPad to free up space on iPad.
People Also Read: Best 3 Ways to Transfer Photos from iPhone to PC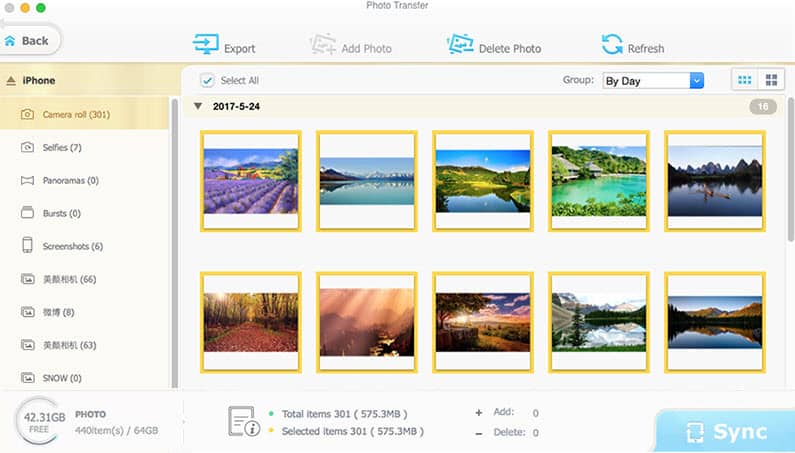 Way 2. How to Transfer Photos from iPad to PC Windows 10 with File Explorer?
File Explorer in Windows 10/11 is a good tool to import photos from iPhone iPad to PC. However, you shall bear in mind that this only allows to get your iPad camera roll's photos onto the computer.
This is a caveat: iPad works best within its Apple ecosystem, while Windows is still the dominating desktop OS worldwide, accounting for 75%, followed by Apple's macOS at 15%. That why Apple makes iTunes available for Windows PC, in a bit to serve up music, movies, TV shows, photos and more for iPhone and iPad.
So if you want to transfer photos from iPad to PC using Filre Explorer, you need to first download and install iTunes on Windows 10/11, in such a way to instantly copy your iPad photos to your PC computer.
To get iTunes installed on your computer, you can launch the Microsoft Store from the Start menu, search for iTunes and click Get and download the program onto your PC, then click Launch once the download is complete, click Agree to accept the license agreement. With iTunes installed on your computer, you can then connect your iPad to computer and follow the steps below to transfer your photos from iPados or iOS device to PC computer.
How to Use File Explorer to Copy Photos from iPad to Computer?
Connect your iPad to your PC computer via a suitable USB cable.
Launch Windows Explorer from your desktop, Start menu, or taskbar. Alternatively, you can use the shortcut Windows key + E to open Windows Explorer.
Click the arrow next to This PC in the menu on the left side of the window. The arrow looks like >.
Click NAME's iPad in the This PC sub-menu to open your iPad.
Double-click and open the Internal Storage.
Go to DCIM folder and Double-click it. They should all contain images.
Choose the image(s) you want to be copied to your computer. You can hold the Ctrl key and click to select multiple images, or use the shortcut Ctrl + A to select all photos in your iPad.
Click Copy to located at the top of the window.
Click Choose location… and select a location where you want your iPad images copied to. You can also click one of the options listed in the dropdown menu.
Click a destination to save the pictures.
Click Copy. Make sure you don't unplug your iPad during the transferring process! Way 3. How to Import iPad Photos to PC with Windows 10 Photos app?
Windows 10/11 also ships with an intuitive Photos app, which is good for editing photos. Like transferring photos from iPad to PC using Windows File Explorer, you can also import your iPad photos to your PC with Windows Photos app after you connect your iPad to your computer. Likewise, please make sure you have the latest version of iTunes on your computer in order to make your PC recognize your iPad. So far, importing photos to your PC requires iTunes 12.5.1 or later and trusting your computer. Then follow the steps and learn how to import iPad photos to Windows 10 PC using Photos app.
How to Use Windows 10 Photos App to Move Your iPad Photos to PC Computer?
Plug your iPad into your PC with a USB cable, after you've installed the latest iTunes 12.5.1 or later and trusting the computer.
Launch the Photos app on your PC.
Click Import located in the top-right corner of the window.
Since the new photos will be imported to PC by default, you can click and uncheck any photos you don't want to import.
Click Continue. The Photos app will begin the import process. Make sure you don't unplug your iPhone or iPad during the process!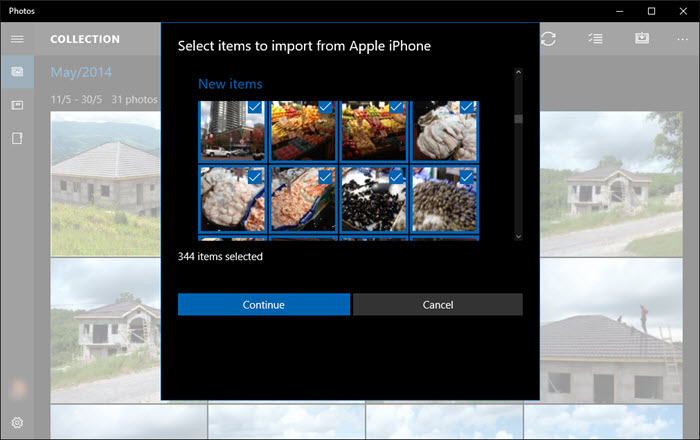 Other Feasible Ways to Move iPad Photos to PC Computer
1. Email. It is a great way to export iPad photos to your computer if you have only a few images to be transferred. Just attach the iPad pictures you want to transfer to your computer PC, email them to yourself, open the message on your PC computer, and download them.
2. Cloud service. Cloud storage is another good option if you want to transfer a larger collection of photos from iPad to PC computer. For example, Apple iCloud is a case in point. You can take advantages of it to transfer iPad iPhone photos to Windows 10 as well once you get iCloud from Microsoft Store or Apple > type your Apple ID and password to sign in > Click Options next to Photos and then click iCloud photos and upload new photos from my PC > press Done and Apply so that you can download your photos to your PC.