iPhone Screen Rotation for Auto Video Full Screen Playback on iPhone
Other than the default iPhone screen rotation lock and unlock, this article steers to rotating the video files that are in wrong orientations, say, sideways, to implement playing back videos on iPhone widescreen fully.
Some assumed that video rotation is no big deal until he fails to play HD/DVD/Blu-ray videos on iPhone iPad in full screen or watch the downloaded YouTube MV in right orientation.
"If I can't watch the horizon video breadthwise, how does the 'widescreen' regarding iPhone mean to me? It's such a terrible experience!" Yes, compared with a desktop, notebook or even a tablet, the screen size of mobile phone is too small, much less the incomplete or incorrect viewing.
It is matter-of-course that iPhone iPad has an Orientation Lock to make the on-board videos and pictures change 90 degrees clockwise or counterclockwise. But if the videos with orientation issue come from other places (says, third-party apps, shot by HD camera or the similar devices), the phone turns turtle.
How to rotate video clips taken and transferred in wrong orientation?
"I have a video clip that was taken with my new Sony handycam hdrcx455 held sideways, and so the clip is on its side and looks really crappy on iPhone. How do I rotate it so it looks correct?"
A sideway captured video always results in sideway video playback. While the default Photos app on your iPhone or iPad doesn't give you the option to rotate videos. In such cases, you need to try the following solutions for iPhone screen rotation:
1. You can use QuickTime Pro to rotate clips;
2. If you don't have QuickTime Pro, try a free iMovie plugin called Turn Clip from CF/X to rotate the clip 90, 180 or 270 degrees;
3. Better still, download WinX Mediatrans for free on your computer for full screen video playback on iPhone.
Your iPhone Screen Won't Rotate Correctly for Some Reasons?
WinX MediaTrans - Full Screen Video Playback on iPhone
Auto rotates sideways shot videos for iPhone while transferring them from PC;
Auto converts incompatible video formats for iPhone, iPad and iPod;
Reduce big video file size to 50% to save space on iPhone.
Table of Contents
Part 1. How to Rotate Video onto iPhone with WinX MediaTrans?
WinX MediaTrans is a Windows-based software program that can transfer videos and music from PC to iPhone/iPad/iPod or from iPhone/iPad/iPod to PC or hard drive. It provides a considerable number of free times such that any unregistered user can use it to export and import media files within the limited times.
Speaking of the video transferring, one of the highlighted features is the auto video rotation. The overwhelming majority of iPhone iPad managers, including iTunes, in the market lack the capability of always making the imported videos played in full screen on iOS devices, but WinX MediaTrans can change the direction of a video during the process of video copying.
It will not rotate iPhone videos promiscuously: it intelligently recognizes video orientation and mobile aspect ratio, for example, 4:3 and 16:9, (learn how to change video aspect ratio for widescreen playback); it works like a charm as an iPhone screen rotator to make aspect ratio of image in keeping with that of iPhone/iPad. WinX MediaTrans will turn vertically shot videos into horizontal to fit the wide screen of iPhone without screwing up the orientation. Consequently, your home videos or downloaded movies can be viewed on iPhone screen without further rotation manually.
Step 1. Download and install WinX MediaTrans on Windows XP, Windows 7, 8, 10, or 11. (Please rest assured that the clean software contains no adware, spyware or plug-in at all.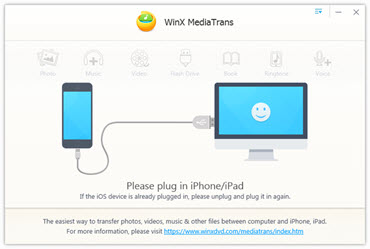 Step 2. After launching, you'll see "Check Update" that displays automatically to remind you that a new version is probably available. You can choose "Remind Me Later" or "Download Update" to enter the clear and beautiful main interface.
Step 3. On the UX-oriented interface, you will see several things: the state of charge (the battery remaining capacity of your device) on the top left, the iPhone of Administrator recognized by the software with the amount of available memory, your iOS version, and so on and so forth.
You'll see eight tabs in the middle. Click "Video" to add a video from PC or hard drive.
Step 4. After clicking, the software will load all videos on your iPhone in a flash and list them into folders in different classifications on the left.
Step 5. Select a folder where the video files can be moved in, click "Add Video" and browse in the disks of your computer. Find the video file and double click it. You can import many files at one time.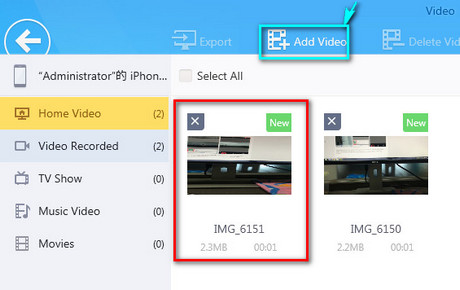 Some clips may be taken in wrong orientation as shown in the image below; by adding, the video will be automatically rotated and adjusted to proper direction for full-screen playback on the target device.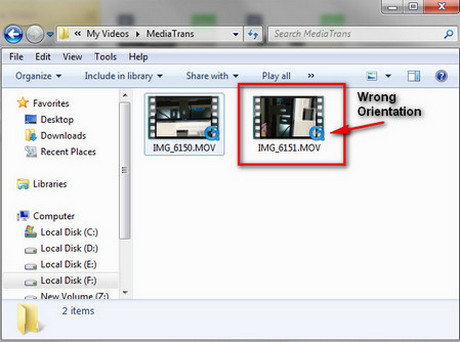 After the selection done, click "Open" button and your will see "WinX MediaTrans is importing video" and "Please wait. Analyzing video files".
Important Tips: with auto-conversion feature, WinX Mediatrans supports all kinds of video audio formats, so any of your 4K, DVD, Blu-ray, online videos or videos shot by cameras can be imported. If the added video is in an unsupported format, the "Convert" button will do the trick for you for free.
Step 6. Hit "Sync" button to begin transferring videos from PC to iPhone. Before that, you are enabled to view the status including "Total Items", "Selected Items", "Added" and "Deleted" to avoid data loss and unnessary transport during syncing.
WinX MediaTrans is the best iPhone manager which helps you to sync videos from PC to iPhone, transfer photos/music/music playlist from computer to iPhone. Better still, it makes your iPhone become an easy-to-use flash drive to store literally any files from your computer. Download and try this iPhone media file manager and video rotator for free, so you won't lose anything after you choose to restore your iPhone.
Tips:
The "Refresh" button on the top is a unique feature of WinX MediaTrans. It enables you to restore the status so you have the chance to regret before syncing and exporting.
You are not allowed to change the default path for exported items halfway in order to avoid data loss and mistakes.
After the transporting is completed, the software will open the file located folder for you. Hence, you can play and edit the file in the proper orientation, as well as upload or send the correctly oriented video to anyone else.
Part 2. FAQs about Rotating iPhone Screen
How to rotate the screen on iPhone without a Home button, such as iPhone 13, 12, 11, and X Series?
Open the Control Center by swiping down from the top-right corner of your screen.
Tap the Portrait Orientation Lock button to make sure that it's off.
Turn your iPhone sideways.
How to rotate the screen on iPhone with a Home button?
Open the Contol Center by swiping up from the bottom edge of your screen.
Tap the Portrait Orientation Lock button to make sure that it's off.
Turn your iPhone sideways.
Why is the iPhone screen not rotating?
You may be using an app that don't support screen rotation. Not all apps support screen rotation. Even some popular apps such as Instagram don't support screen rotation.
You may have toggled on the portrait oriention lock button by accident.
The display zoom might be the problem if you have screen rotation issues on iPhone 6 Plus, 6S Plus, 7 Plus, 8 Plus, or any iPhone Max model. This is because the home screens on these models will auto-rotate when you turn them. So, turning off the display zoom may fix your issue. to do this, just tap Settings > Accessibility > Zoom and then toggle it off.
Your iPhone's accelerometer might be broken. You can take it to the Apple Store or repair shop to have it checked.