[Fixed] iOS 16 Software Update Failed an Error Occurred
Trying to upgrade your iPhone to iOS 16 but it keeps giving you the error message "Software Update Failed. An error occurred downloading iOS 16"? Or the iOS 16 update won't install while it keeps on showing the apple logo and disappearing. And improper iOS 16 update is also causing Touch Screen problems and App Store issues...
If you're experiencing the iOS 16 software update failed error, don't worry, you're not alone. In fact, this is one of the most common problems that occurred during the iOS 16 update. Here we have all the effective fixes to the Software Update Failed error on iOS 16.
[Important] Backup iPhone before You Fix the iOS 16 Updated Failed Error
WinX MediaTrans - Back up your music, videos, photos, iBooks, files, etc. from iPhone to computer in clicks. Superfast and easy data sync via drag and drop. No data loss. No iTunes/Finder required.
Fixes to iOS 16 Software Update Failed
Before you try the following tips, make sure your iPhone battery is charged at least 50%. Better yet, keep it plugged in during the update. Turn off the Power save mode. And make sure you're running iOS 15.7 and don't have the beta version. If iOS 16 update still failed with an error occurred, then keep reading.
[Hot search: All iOS 16 update errors and solutions]
1. Try again later
In most cases, the "Software Update Failed. An error occurred downloading iOS 16" error happens because millions of iPhone and iPad users are trying to download and install the iOS 16 update at the same time. The hug traffic causes the Apple server to crash and results in iOS 16 update failed issues. You just need to wait for a few hours and try to update to iOS 16 again.
Before you retry, go to Settings > select General > iPhone Storage and locate the iOS 16 update file here (that is downloaded). Tap on it and then delete it. Also restart or reboot your device.
2. Check the Internet Connection
To update your device to iOS 16, you should make sure that you have a fast Wi-Fi connection. If you're using cellular data or cellular hotspot, you may receive the "an error occurred downloading iOS 16" message. This is to prevent you from going over your data limit as iOS 16 takes about 3GB. Also, if your Wi-Fi connection is not fast enough, the iOS 16 software update failed error can also happen, especially if there is random Wi-Fi drops or intermittent connection. So you can:
Fix 1: Restart your Wi-Fi
Go to Settings and select Wi-Fi.
Toggle the Wi-Fi switch to turn the feature OFF.
After a few seconds, tap the switch again to turn Wi-Fi back ON. You can also do it by turning on/off the Airplane mode.
Fix 2: Forget the Wi-Fi network then set it up as new.
Go to Settings and select W-Fi.   
Scroll down to the list of available networks then select your Wi-Fi network.
Tap the information "i" icon next to the name of your Wi-Fi network or SSID.
Then tap the option to Forget this network.
Fix 3: Reset the network settings on your iPhone.
Go to Settings and select General.
Tap the Reset > Reset Network Settings. Note that it will delete all the network passwords and settings.
Turn off your iPhone. After several seconds, restart and retry.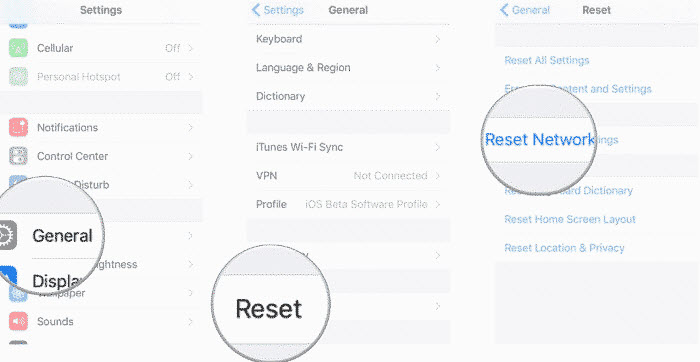 3. Check the free space on your iPhone
The "Software Update Failed. An error occurred downloading iOS 16" error can happen if your device doesn't have enough free storage space. The iOS 16 comes in with a roughly 6 GB file size. But to ensure a smooth iOS 16 update and performance, you should have at least 5GB or more free space on your device for it.
Step 1: Check the free storage on your iPhone:
Go to Settings > select General > find and tap iPhone Storage. You can then view the free space on your iPhone and the storage occupied by different apps.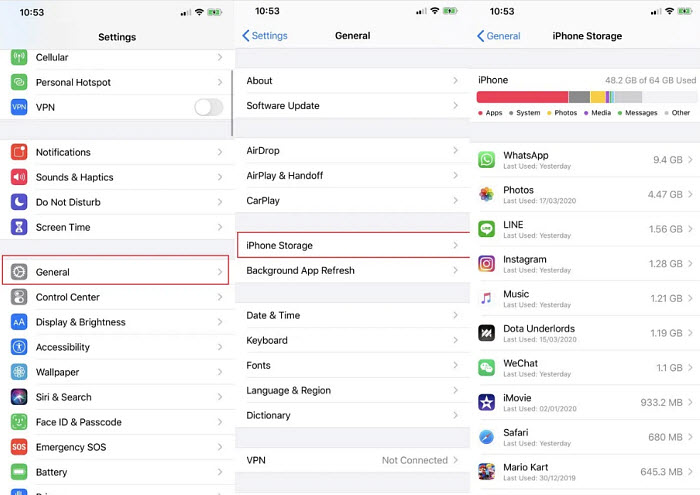 Step 2: Free up iPhone storage:
If there is not enough free space available, you can delete unwanted apps, clean up your photo library, clear app/browser cache, delete the messages, junk files, etc. As the photos and videos take up a lot of storage space on your iOS device, you can transfer them to the computer or external USB. (If iTunes/Finder sync is not what you like, try the drag-and-drop solution with WinX MediaTrans to transfer a large amount of video/pictures/music/etc. in a click)
4. Update iOS 16 via iTunes
The iOS 16 software update failed error occurs more frequently with the iOS 16 update via OTA. Compared to upgrading on iDevice directly, iOS 16 upgrade by using iTunes/Finder on the computer is more reliable. When the iOS 16 update problem happens, switch to the iTunes/Finder method.
Connect your iPhone to the computer via a USB-lightening cable and open the iTunes/Finder on the PC/Mac.
Find your device in the iTunes/Finder and go to the iPhone's summary.
Click Check for Update > Download and Update. It may ask you to enter your password. Then it will download iOS 16 software and install it.
5. Reset all settings
Something may go awry in your iPhone settings that result in the iOS 16 software update failed error. It can be hard to figure out what's going wrong. To turn any improper settings back to normal, you can try to reset all the settings. Resetting iPhone settings will not affect your data saved on the memory, but it will clear out all your current settings and personal preferences along with any incorrect options and values.  
Go to Settings and select General.
Scroll down and tap on Reset.
Tap Reset All Settings from the given options.
Enter your passcode if prompted to continue.
Confirm the action by tapping on Reset All Settings again. 6. Manually update iOS 16 with IPSW
If the iOS 16 software update failed error happens when you choose OTA update or automatic update overnight, you can try another option – manually download and install iOS 16 with the IPSW firmware file. This method may fix the "an error occurred downloading iOS 16" issue caused by Apple's server. However, as it needs iTunes/Finder to update, this method is not recommended for regular users.
Go to the site https://ipsw.me/ and select your iPhone model. Then download the iOS 16 IPSW files for your iPhone.
Connect your iPhone to your computer and launch iTunes or Finder.
Find your iPhone in the iTunes/Finder and go to the Summary. Hold the Shift or Option key on Windows or Mac and click on Update.
Then select the iOS 16 IPSW file downloaded on your computer and it will begin to update.