How to Free iTunes Audio Books from DRM to Cater to More Players
iTunes Purchases

iTunes Audio Book DRM-free

Posted by Estrella H.| Last Updated: March 13, 2020
Only until the copy protection is removed from iTunes audio books, can those files be transferred and played back on more Apple or non-Apple devices like Android, Zen, Zune HD etc.
- Can you help me convert an iTunes audio book, like The Girl on the Train, to remove the DRM?
- Of course yes! Not only The Girl on the Train, but also any iTunes audio book purchases can be decrypted here, either for savoring on non-iOS or sharing with friends or burning into disc...
iTunes and iOS do belong to the same group! Any audio books purchased from iTunes are so fussy and only iOS devices can afford them. Specifically, Apple has utilized its own DRM (Digital Rights Management) into iTunes audio books, as well as other media files, so that any other iOS devices with different Apple ID or non-iOS players have no way to access them for playback. To unlock the DRM-encrypted audio book for enjoying on more Apple devices or non-Apple Android, MP3 Player, PSP and more, an all-in-one iTunes audio book DRM freer and converter is badly in need.
Please respect to all the works with intellectual property rights, and we don't advocate freeing iTunes files from DRM for impersonal or profitable use.
Best iOS Manager Choice with iTunes DRM Removing Feature

How to Free iTunes Audio Book from DRM on Windows (10) or Mac
According to some online reports, more than 1/2 mobiles for audio book playback are iOS devices, Android takes up 1/4 and the other 1/4 goes to Zen, Zune, Sandisk Sansa, MP3 player, Walkman etc. To play iTunes audio books on those Android and other non-iOS gadgets, iTunes DRM limits users' freedom. And Apple DRM cracking helper like WinX MediaTrans is quite crucial. Below is a detailed guide on remove copy protection from iTunes audio book.
Free downloading WinX iTunes DRM removal tool - WinX MediaTrans and install it on the computer. Then connect your iDevice with computer via an USB cable, follow the simple steps below to convert iTunes protected audio book(s) to MP3 or AAC with DRM crashed.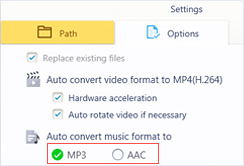 Step 1 (Optional):
Set output audio book format under Settings -> Option -> Auto convert music format to (MP3 default). It's unnecessary to do this unless you prefer to transfer audio book into AAC.

Step 2:
There're six blue feature buttons in total. Click "Book" button to pop up the main UI of all books, and enter into "Audio Books" area.

Step 3:
Check one or multiple DRM protected audio books here, click "Export" to have WinX MediaTrans put the selected DRM-equipped file(s) from iOS onto computer.
Step 4:
After the fully audio book(s) with DRM transferred, a warning box with encrypted file(s) listed will show. Just click "Decode" to remove DRM from iTunes audio book(s).
Note: The iTunes audio book DRM removing process must depend on iTunes. So when iTunes appears, make sure you've logged in and don't close it. iTunes will disappear automatically once the DRM encryption is bypassed successfully. As you can see from the screenshot, this iOS manager is able to add any external e-books from computer like adding PDF to iBooks.
Popular Audio Books Recommendation for Your Road Trip or Sleep Time
Free e-book listening & downloading sites are piled in heaps online, where many free audio books are legally offered. The difference between those costless ones and (iTunes) paid ones is the quality in terms of different narrators. You may not be an audio book freak, but you must like to enjoy some audible story while on a tired trip or long driving at times. Here we've cherry-picked some worth-trying audio books of various categories.
1. Prize-winning iTunes audio books in 2016 Audie Award (Promoted as "the Oscars of the audio book industry")
2016 Partial Award Winners
Awards
Audio book
Author
Narrator
Publisher
iTunes Shop
Audiobook of the Year
The Girl on the Train
Paula Hawkins.
Clare Corbett, Louise Brealey, and India Fisher
Penguin Audio / Books on Tape
Y
Best Female Narrator
Wild Rover No More
L. A. Meyer
Katherine Kellgren
Listen & Live Audio
Y
Best Male Narrator
The English Spy
Daniel Silva
George Guidall
HarperAudio
Y
Audio Drama
Rudyard Kipling's The Jungle Book: The Mowgli Stories
Rudyard Kipling
Bill Bailey, Richard E. Grant, Colin Salmon etc.
Audible Studios
Y
Fantasy
Nice Dragons Finish Last
Rachel Aaron
Vikas Adam
Audible Studios
Y
Fiction
The Nightingale
Kristin Hannah
Polly Stone
Macmillan Audio
Y
Humor
Furiously Happy
Jenny Lawson
Jenny Lawson
Macmillan Audio
Y
Mystery
Career of Evil
Robert Galbraith
Robert Glenister
Hachette Audio
Y
Romance
The Highwayman
Kerrigan Byrne
Derek Perkins
Tantor Media
Y
Science Fiction
Jurassic Park
Michael Crichton
Scott Brick
Brilliance Publishing
Y
Thriller/Suspense
The Patriot Threat
Steve Berry
Scott Brick
Macmillan Audio
Y
Young Adult
Lair of Dreams
Libba Bray
January LaVoy
Listening Library
Y
2. iTune Best Sellers Chart of Books (audio books included)
WinX MediaTrans is not only an iTunes (audio book) DRM remover, but also a video/music/e-book manager, iPhone ringtone maker and iOS USB driver. Download it now to free manage you iPhone iPad and iPod everyday on either Windows or Mac. After using, you'll explore more than what you think.
If you think the post useful, please kindly share it!
If you still have problems about how to remove DRM from iTunes audio books?, just feel free to Email us >>