How to Change or Customize iPhone Text Tone
If you're fresh to change the notification sound of iPhone text message (of all contacts or just one), especially to hot music piece or special sound effect, please read this detailed guide.
You many encounter any of the situations:
iPhone rings in public place, but after you taking it out of your pocket or handbag, only to find it's from the one nearby.
Many times you think the call or text is from your other half. However, it comes out to be a crank one.
You are getting your tail down on the weekend or joining a crazy party at night, ignoring all the callings or texts that you think don't matter. Unfortunately, you've missed the big one from your boss or client...
Surely, many iPhoners are quite tired of the default old-line and Apple-symbolic tones, especially ringtone and text tone, and are quite willing to make mobile notification tones more remarkable, being out of the ordinary. This post will mainly focus on text tone resetting instruction.
What's the best iPhone ringtone and text tone maker?
WinX MediaTrans - Simpler, more intelligent than iTunes
Create new text tone from music, voice memo stored on iPhone;
Create text tone from music on computer after importing to iPhone;
Self-define the text tone content (≤30s) by wave cropping;
Part 1. How to Change the Born iPhone Text Tone to Other System Tones
1. Click "Settings" app icon at the homepage.
2. Choose "Sounds" to enter into a "SOUNDS ANDS VIBRATION PATTERNS" panel.
3. Tap "Text Tone" to jump into the ALERT TONES list.
4. Tap the standby tones one by one to hear their styles, and then change the default Note text tone to what you like most by checking.
Note: A "Store" option is given on the top right of Text Tone page to have you access to iTunes directly to purchase new message tone, making things easier with clicks rather than resetting the text tone resetting by yourself. But if you still prefer free way, keep reading to the next part.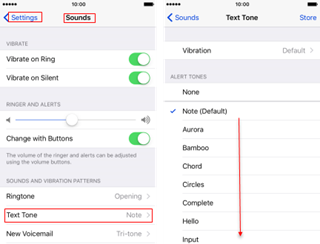 Part 2. How to Customize iPhone Text Tone from Internal/External Music
Maybe you have collected much funny and cool music in your iPhone or computer from time to time, but have no idea on how to set them as SMS tone or ringtone. Here are how-to steps by using the best iTunes alternative and iPhone ringtone/text tonemaker - WinX MediaTrans.
WinX MediaTrans, as one of the first-rate iPhone iPad manager, concentrates more on media file managing and transferring, certainly including iPhone ringtone and music. Since its free trial version does not limit the ringtone/music related features, but only the file transferring amount (music 30/ringtone 30). Let's just

free download WinX MediaTrans, complete the installation, then add and personalize iPhone text tone by following the steps below: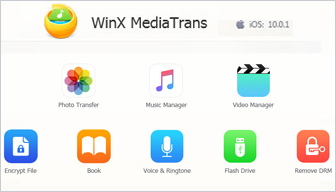 Note: WinX MediaTrans also allows you to make ringtone out of the Voice Memos under "Voice & Ringtone" option, along with the music stored on iPhone by clicking "Music Manager" in step 2 and then directly carry out the step 4.
Step 4. Click "Make Ringtone" scissor icon right near the file name to go ahead.
Step 5. You must manually select the wanted snippet (≤30s) off the full-length music on the oscillogram and then press "OK". Because the default ringtone time here is 40s, 10s longer than the maximum length of text tone.
Step 6. Tap blue "Sync" button to have the ringtone transferred into your iPhone at once.
Step 7. Ringtone syncing finished, go back to iPhone, and choose ringtone as the text tone on iPhone: Settings -> Soulds -> Text Tone -> pick on the self-made sound at ringtone list.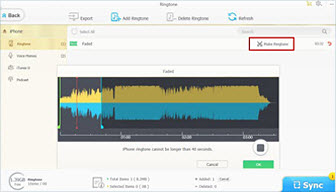 The way above is to set a text tone for all iPhone contacts.
If you wonder "How do I assign different message tones to different contacts on my iPhone", you have to go into each contact page and:
touch "Edit" -> select "Text Tone" -> Choose the excepted notification sound for him/her -> Save/Done.