3 Best iPhone Photo Storage and Backup Solutions: Keep You Away from 'Storage Almost Full' Message
Get your favorite way to store and backup iPhone photos for increasing available storage space on iPhone
An iPhone can basically meet the needs of photography. The file size of an iPhone photo is around 2MB or 3MB. It is much smaller than that shot by a professional camera. However, you will soon run out of storage on iPhone if you take photos frequently. This is especially true when Apple's new iPhone has optimized its camera system. And then, you might see an error message popping up and saying:
"Cannot Take Photo. There is not enough available storage to take a photo. You can manage your storage in Settings."
"Storage Almost Full. You can manage your storage in Settings."
"Cannot Download. There is not enough available storage to download xxx. You can manage your storage in Settings."
So what can we do to free up space on iPhone? We do have a lot to do, such as clearing browser cache with iPhone cleaner app, deleting unnecessary or duplicate photos because Burst Mode or HDR mode is on, and uninstalling and re-installing some apps. But here we're not going to show you how to perform these actions and other possible solutions. Our focus today is introducing 3 great ways to store and backup iPhone photos, thus releasing a large amount of space on your iPhone without deleting anything.
iPhone Photo Storage and Backup: Best 3 Ways to Go
Way 1. Store and Backup iPhone Photos to Computer Hard Drive
A computer is a big "container" which can typically store hundreds of gigabytes and even several terabytes of data. So it is advisable to transfer iPhone photos to computer for freeing up space on iPhone. Unlike Android, iPhone requires for additional tool to process iPhone-computer file transfer. Here we will introduce a piece of top-notch iPhone file transfer software, namely desktop-based WinX MediaTrans. This iPhone photo backup application is compatible with Windows 11, 10, 8, 7, and Vista.
WinX MediaTrans can transfer different kinds of file types between iPhone and PC computer easily and quickly, including but not limited to photos, videos, music and e-books. You'll finish iPhone photo backup to PC within 3 simple steps. And it only takes 8 seconds to transfer 100 4K photos. Importantly, data loss and quality loss will never happen. Apart from file transfer, it can also remove DRM from iTunes-purchased movies, music and audio books, encrypt photos and videos, make iPhone ringtones, and turn iPhone as a USB flash drive.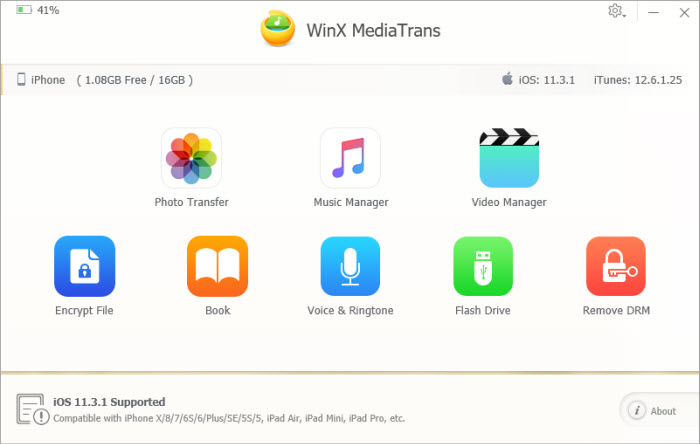 How to store and backup photos from iPhone to PC with WinX MediaTrans
To get started, download and install WinX MediaTrans. Next, connect your iPhone to your computer via an available USB cable. When you receive "Trust This Computer" alert on your iPhone, simply tap "Trust".
Step 1. Open WinX MediaTrans and then click "Photo Transfer".
Step 2. Select some or all photos on your iPhone.
Step 3. Hit "Export" button in the top toolbar to begin sending iPhone photos to PC.
When selected photos are copied to computer hard drive successfully, you can delete them on iPhone to free up photo storage.
Tips: To store and backup iPhone photos to Mac, try MacX MediaTrans which shares the same features with WinX MediaTrans.
Way 2. Store and Backup iPhone Photos to iCloud or Other Cloud Storages
iCloud is a cloud storage from Apple Inc, with which iPhone users can store photos and other data on remote servers. When you sign up for iCloud, you'll get 5GB of cloud storage without paying. And you're also allowed to upgrade your iCloud storage plan to get extra 50GB at $0.99 per month, 200GB at $3.99 per month, and 1TB at $9.99 per month.
How to store and backup iPhone photos to iCloud?
Step 1. Go to Settings, login in your Apple ID and then iCloud will be turned on automatically.
Step 2. Go to Settings -> your name -> iCloud -> Photos. If you're using iOS 10.2 or earlier, tap Settings -> iCloud -> Photos.
Step 3. Toggle on iCloud Photo Library.
Once turned on, "Download and Keep Originals" will be by default selected. But what you're suggested is to choose "Optimize iPhone Storage", by doing this you can keep all of your original full-resolution photos in iCloud while saving smaller compressed copies on iPhone.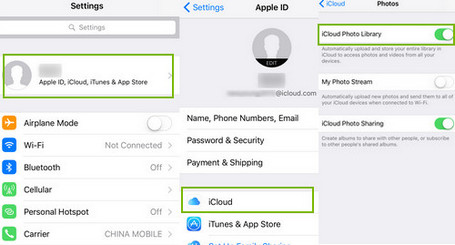 Then, your entire Photo library will be automatically uploaded and stored to iCloud when iPhone is charged and connected to Wi-Fi and it has enough storage in iCloud. If your iPhone has been upgraded to iOS 17, your library updates over cellular too. If the internet speed is poor, it will take a long time to finish iPhone photo backup.
Actually, there're other cloud storages you can use as iPhone photo storage and backup solutions, such as Google Photos, Amazon Photos, Dropbox, and Microsoft OneDrive.
Way 3. Store and Backup iPhone Photos to iPhone Flash Drive
There're many iPhone flash drive options to choose, such as Kingston Bolt, SanDisk iXpand mobile flash drive, and HooToo iPhone iPad Flash Drive.
An iPhone flash drive is an accessory which is typically designed with an iPhone-compatible Lightning connector and a full-size USB port. Plug it into the Lightning port of your iPhone, then you can store and backup all or selected iPhone photos or videos to the flash drive. Additionally, you can also take photos and videos directly into this drive if you keep it connected to your iPhone.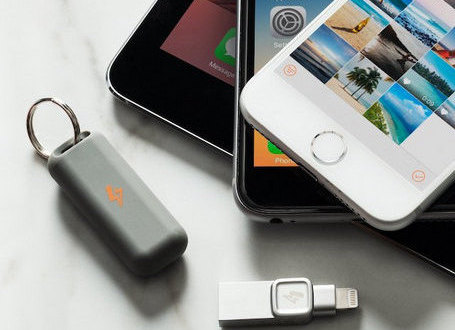 After storing and backing up iPhone photos to the flash drive, you can choose to keep your images in the drive or transfer them to PC or Mac computer via its USB port.