How to Convert or Remux MKV to MOV with Best Quality
MKV format wins a wide popularity because of its high quality attribute. Meanwhile, some of its fans eventually walks away from it on accounts of its limited compatibility. To make MKV video playable on more devices and platforms, you choose to convert MKV to MOV.
This article is emerging from the horizon to help you if you haven't had any experience before in MKV to MOV conversion. It will illuminate how to convert or remux MKV video to MOV format using top free video converter tools, with highest possible quality kept. If your time is tight, directly jump to the converter you're interested in to read in detail.
Jump to the part you need:
Top Free MKV Converters to Decode MKV to MOV
WinX HD Video Converter Deluxe
Any video converter is essentially useless if it produces your resulting file with poor quality. WinX HD Video Converter Deluxe knows that and indeed reaches that goal to remux MKV to MOV without losing quality.
How to make that happen? "Auto Convert" feature is the trump card, which is designed to help you change video container format from MKV to MOV while keeping the same codec. That's to say, it will auto copy MKV (H264) to MOV (H264), MKV (HEVC) to MOV (HEVC) without any transcoding. So your output MOV file will be 1:1 quality as the input MKV.
Of course, it can also let you convert MKV to MOV with different codecs. But don't worry about quality; the built-in High Quality Engine will ensure your resulting MOV file with virtually ZERO quality degradation, 98% quality kept! It's also a child's play to use it to convert any video to MP4, HEVC, H264, MOV, FLV, AVI, WMV, 3GP, MP3, FLAC, AAC, iPhone, iPad, Android or other devices directly.
Any Video Converter is claimed to be a free video converter, officially. Yet, when you type "Any video Converter" and open the first Google result, it will redirect you into the shareware ultimate version. To avoid such embarrassing case, you'd better to use its full name - Any Video Converter Free.
As it's shown on official product webpage, there are up to 100+ input and 160+ output formats supported, commonly seen MKV and MOV of course included. Similar to the first mentioned WinX converter, it also lets you convert any kind of MKV videos (1080p, 2K, 4K) to MOV free on Windows and macOS.
The difference lies in that the conversion is lossy conversion, no Auto Copy mode. That's to say, you're only allowed to convert MKV to MOV with codec transcoding and quality damage. Certainly, any product developer will be proud of their products and confident with the resulting quality. But the real resulting MOV quality will be judged by you, product user. Comment on its quality after you use it!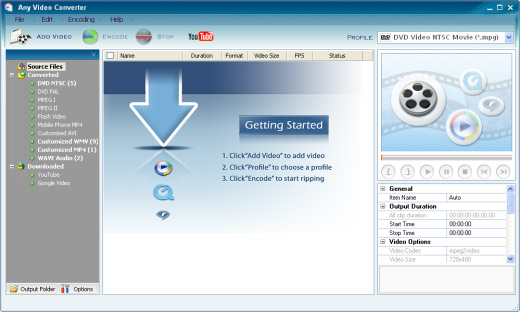 Finally, come to free online video convert website - cloudconvert. Honestly speaking, there is no need to repeat the main features of cloudconvert (since it's always placed at the first spot of the free video converter Google results). For most users, you know cloudconvert can accept almost whatever video you feed it. MKV is no exception.
What you might omit is that you can further customize your MKV video before conversion. Same as WinX, it also provides you with 2 options: lossy conversion and lossless copy. After you load MKV file, tick the wrench-shaped icon to pop up Option window, where you can choose codec as "Copy" (copy the stream without transcoding) or x264/x265. On top of this, the pre-programmed profiles and Crf settings are at your full proposal to maximumly ensure the highest possible quality. Profiles like high444, high422, high10 and 0-23 CRF scale are recommended if quality matters most to you. Try more parameter settings (show as below) if needed.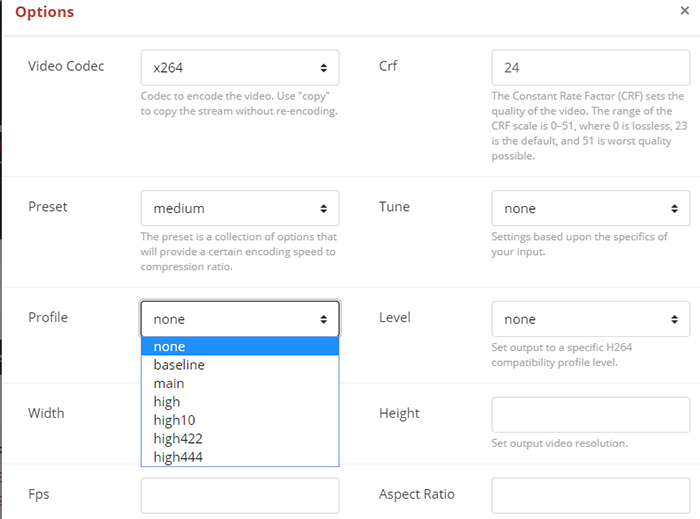 [Tutorial] How to Convert or 1:1 Remux MKV to MOV
Considering the specific process is much of a muchness, it's needless to show you the tutorial one by one. Instead, we use WinX as an example for your reference.
It is available to free download WinX HD Video Converter Deluxe. After a brief installation, its user-friendly interface will indicate spontaneously. Nearly all the functions and features are presented in the main interface. It is very helpful to save time for both junior and senior users.
Step 1: On the left top of main interface, you can load your target MKV video clips by clicking "+ Video" button. Contrarily, the Clear button will remove the videos that you do not want to convert or have converted already. In the File List Window, all the target MKV video information is checkable, like clip name, video duration and output format. Free selectable language tracks also make WinX HD Video Converter Deluxe unparalleled.
Step 2:The second step moves to choose the output format. In the Output Profile window, this MKV to MOV converter offers a huge amount of output options. Under the Mac General Video categary, simply choose MOV Video as the output format. Moreover, there are plenty of other categaries available such as to DVD, to HD Video, to Apple, to Sony, to MicroSoft, to Music, etc.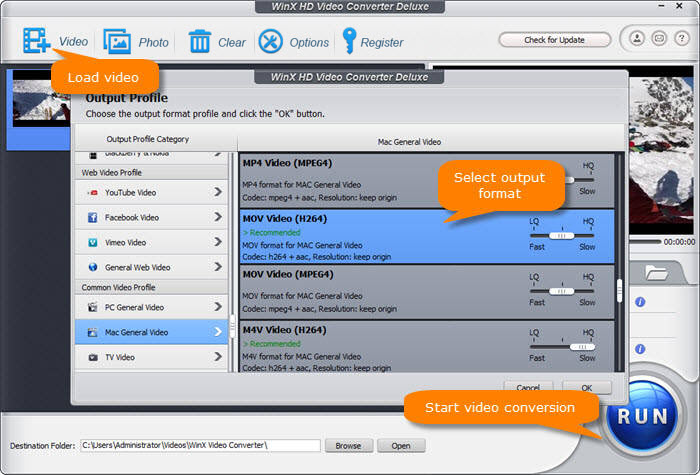 Optional: to ensure a 1:1 copy of MKV video to MOV without transcoding, manually tick "Auto Convert" option on the lower right corner of the main home. One more thing, the hardware accelerator will be auto ticked to expedite MKV to MOV conversion speed up to 5X faster than any competitor if your computer supports one of GPU hardware acceleration techs (Intel QSV, AMD or Nvidia) as well. Step 3: In the parameter setting area, all the parameters can be adjusted freely, like Audio/Video Quality, Audio sample rate, Video frame rate, Output image setting, video resolution and Audio/Video codec. You can customize these settings to achieve the best quality you preferred.
Other convenience brought by WinX HD Video Converter Deluxe is you can easily set the destination and open converted file folder with Browse and Open button.
Step 4: After finishing the settings above, you can right begin to set off the MKV to MOV conversion by clicking RUN button. And do not worry about the time-consuming trouble when you try to convert a large file size video, you can make WinX HD Video Converter Deluxe close your computer automatically when the conversion process is finished.
Still have trouble on Converting MKV to MOV on Windows (10)/Mac, just Mail Us >>