Top 5 HDR Players for Windows 10/11 - Play 4K HDR Videos Smoothly
What is HDR? HDR is the abbreviation of High Dynamic Range. Dynamic Range refers to the number of gray levels between the brightest point and the darkest point in an image. The larger the dynamic range, the greater the range of brightness and contrast in the image. So, simply, HDR is a technique that can increase the range of an image's brightness and contrast, thus improving the image quality and making people see more details of the dark part of the picture.
Nowadays, you may get HDR contents from mobile, camcorder, streaming services like YouTube, Netflix, or 4K UHD Blu-ray DVD. However, playing HDR on Windows 10/11 is not an easy thing. Besides a HDR-compatibile display and graphics card, you do need a HDR player for Windows 10/11 that won't convert HDR to SDR.
HDR Washed Out Colors/Not Playing on Windows 10/11? Convert It
Try WinX HD Video Converter Deluxe to convert 4K HDR to SDR! If your 4K HDR looks dull and faded on Windows 10/11, your hardware must not be strong enough to play it. If you don't plan to upgrade your hardware, converting HDR to SDR could be the best choice. It's able to convert any 4K HDR videos to SDR in 4K/1080p, HEVC to H.264 without visually quality loss on brightness, color, contrast and more.
Our Picks of the Top HDR Players for Windows 10/11
1. VLC Media Player
With the release of version 3.0.0 "Vetinari", VLC brings the support for HDR, 10bits, 360 video, 3D audio and more, and activates hardware decoding by default for 4K/8K video playback. If VLC plays 4K HDR videos choppy and stuttering in Windows 10/11, try this fix below.
Step 1. Go to Preferences -> Show Settings "All" -> In filter box, type in "ffmpeg" and then select "ffmpeg" on the left-side list.
Step 2. Now look for a box titled "Threads" on the right side. It is set to a default value of 0. Change this to something else, 4 for instance, and click Save.
Step 3. Restart VLC, try playing your HDR video, and then it might play well on Windows 10/11.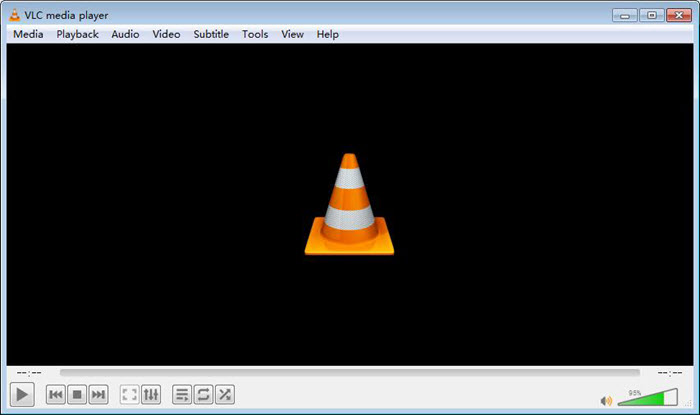 2. 5KPlayer
5KPlayer works as the best alternative to VLC media player. If you have HDR video playback problems with VLC, give 5KPlayer a try. This is a Windows/Mac-compatible free media player that can play 8K/4K HDR videos in MKV, MP4, HEVC, H.264, or other format. And it offers 3 choices of hardware acceleration, including NVIDIA, Intel QSV, and DXVA2-Microsoft, to guarantee fluent video playback.
In addition to playing HDR videos, it can also help you free download HDR videos from video-hosting sites, and stream HDR video from computer to HDR TV.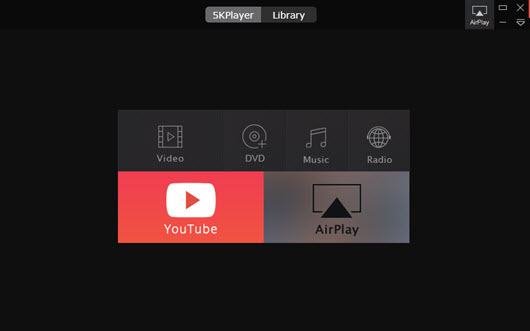 3. CnX Player
Another 4K HDR player for Windows 10/11 that we'd like to share with you is CnX Player. It supports to play 10-bit HDR videos with HEVC, VP9, H.264, and AV1 codec. To make sure smooth playback of 4K HDR content, it is developed with Intel based hardware acceleration.
In addition to Windows PC, CnX Player also allows users to play HDR videos on tablet, iPad, and iPhone.
Note: Unlike VLC and 5KPlayer which are free of charge, CnX offers in-app purchases.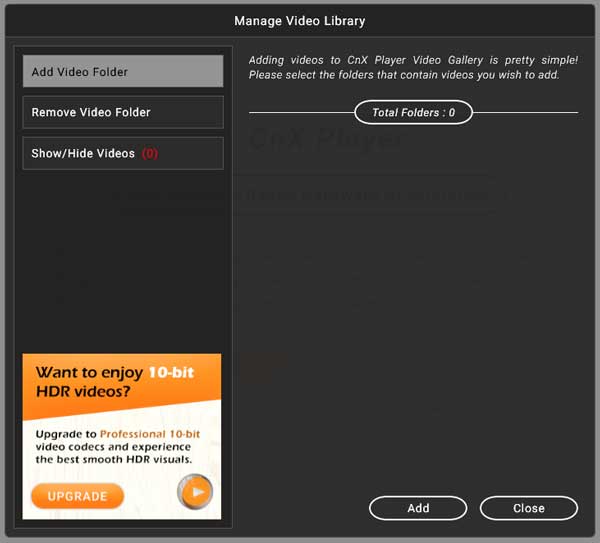 4. PotPlayer
To play 4K HDR videos without transcoding, you can also try PotPlayer. It's totally free, just untick the "agree" checkbox for ad on installation dialog and click "accept", to skip ad installation. Then use the HDR button on the navigation bar and in Preferences try Video > Surface format - 10 bit and/or "10-bit output". This will help you play 4K HEVC 10-bit HDR videos without transcoding to SDR. 5. PowerDVD
The reason why PowerDVD is in the last place lies in that it's paid. But when it comes to image quality, PowerDVD has no peers, especially for HDR footage. Thanks to the TrueTheater enhancements, PowerDVD has made a lot of progress in HD upscaling, HDR color, lighting, motion compensation, noise reduction, and stabilization. Of course, this requires high on hardware, namely a HDR compatible monitor, HDMI 2.0 and DisplayPort 1.3.
By the way, PowerDVD features two interfaces: one for use while you're at your PC, and the other - TV mode, which can be used as a remote when you're playing couch potato.