Several easy ways to solve the annoying MovieBox not working on iOS 8-12 based devices.
I have had MovieBox on my iPhone 7 for a while to watch some movies or TV shows, and it worked fine before until recently I find it NOT working at all. Through searching, it's certain that many people have the same situation with me and I tried some methods, all failed... Please give me some solutions to fix MovieBox not working issue. Thanks a million!!!
Best Answer
MovieBox is a prevalent streaming app specially designed for users to watch movies and TV Shows online via iOS or Android device. Even so, we here just focus on MovieBox not working on iOS gadgets problem. Because the MovieBox stopped working often occurs on iOS 8 (.0/1/2/3/4...), iOS 9 (.1/2/3/3), iOS 10 (.2.1/3), iOS 11 or iOS 12 beta devices, especially on iPhone and iPad. Any time MovieBox stopped working, try the following methods. If the first one doesn't work, move to the next. If it happens to the sever problem, you can follow the official Twitter MovieBox (@MovieBox_HD) to wait for the update, or just refer directly to free movie downloader, MovieBox alternative apps to meet your crying needs before it's been tackled. Below is a previous tweet from MovieBox for server problem.
Method #1: Rerun MovieBox/iDevice
Force close MovieBox app and restart it again, or restart your iDevice to try it again; Turn off your iPhone or iPad and reboot it to check whether MovieBox works normally.
Method #2: Change Time (mainly for iOS 8.1.3/8.3 or later)
Go to Settings -> General -> Date & Time. Turn off "Set Automatically" and switch the date to September 1, 2014. Then rerun MovieBox again and define the previous time setting to "Set Automatically" again. This action aims at bypassing the expired security certificate of MovieBox. Because altering the Time essentially tricks iPhone/iPad into taking the certificate is still valid, thus allowing it to run.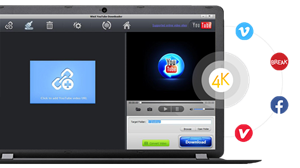 Free Download Hot Movies for iPhone iPad
WinX YouTube Downloader is 100% clean and secure freeware that enables you to fast download any new/hot moviebox movies, music, sports, workout, and TV series videos from over 300+ sites with no ads at all in HD MP4 or other formats for playback on iPhone, iPad, Android etc.

Method #3: Use a VPN to Alternatively Connect to MovieBox
Find a free VPN service online, go to its homepage to take a note of the server, (PPTP) user name & password, and then add VPN on your device:
• iPhone/iPod: Settings -> General -> VPN -> Settings -> select "PPTP" -> fill in VPN Sever/Account/Password, "Auto" encryption level and select "Send All Traffic" - Save
• iPad: Settings -> General -> Network -> VPN -> Add VPN Configuration -> select "PPTP" -> fill in Description/Server/Account/Password, "OFF" RSA SecurID, "Auto" encryption level and select "Send All Traffic" - Save
Method #4: Reinstall MovieBox
Make sure the MovieBox app is up-to-date, or just deleting it and reinstall it on your device.
>>Install Movie Box for iPhone | Install Movie Box for Android | Download MovieBox for Windows 10 PC
Method #5: Try Best Mobie Box Alternative Apps
If the previous methods all end in failure, please try some best MovieBox alternative apps like Popcorn Time, Show Box and Play Box.
>>Download Popcorn Time for iOS | Show Box Download Install Guide