Top Free Ways to Transcode WMV to AVI Better Quality
Here list top 4 free WMV video converters to help you convert WMV video to AVI with better quality.
AVI has larger file size than WMV but it wins users' heart with its much better video quality. What's more, AVI (Audio Video Interleave), developed by Microsoft, is natively one of the best video formats for Windows playback and editing while WMV is principally for online streaming. So that's the major reasons you wanna convert video from WMV to AVI.
Way 1. Free Convert WMV to AVI with WinX [98% Quality Kept]
Want to free change WMV to AVI without input file size limit or watermark/logo? try on Free Video Converter (100% safe & clean, no plugins).
Simple to use: 3clicks only to complete WMV to AVI conversion (no watermark/logo): load WMV > choose AVI > click RUN.
No input file size limit: import input WMV video 500MB, 1GB, 5GB...NO input size limit or quantity limit each day!
98% Quality kept: WMV to AVI conversion involves codec conversion. Therefore, it must be a lossy conversion. WinX's built-in High Quality Engine (inter-frame & intra-frame compensation, entropy coding...) guarantees you a resulting file up to 98% quality kept.
Surprise you more: also free convert any video to MP4, H264, H265, MKV, MOV, M4V, AVI, FLV, WMV, iPhone iPad, iMovie...
Steps to Re-encode WMV to AVI with WinX Video Converter
Download and launch WinX Video Converter on your Windows or macOS computer first. Then do as follows:
Step 1. Import WMV video. Click "+ Video" button on the main UI to load WMV video footages. Bulk conversion is supported, as well.
Step 2. Choose AVI Output Format. Drop down the list and select "AVI Video" from PC General Video under Common Video Profile section. More categories are selectable, like general profiles, to music, Apple device, Android, Microsoft device, Sony device, web video profile, etc.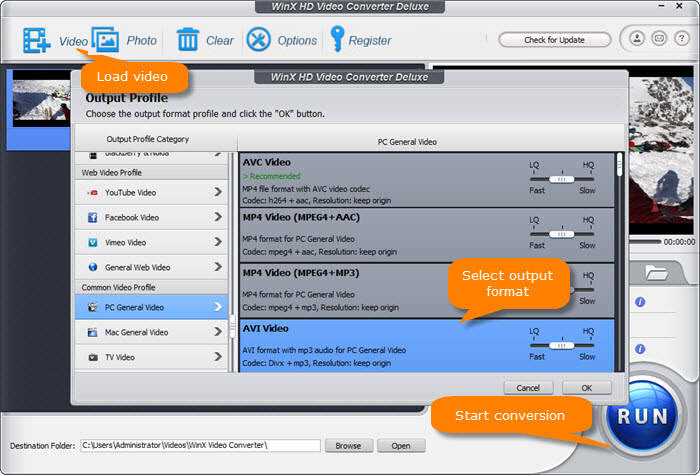 Step 3. Set Destination Folder. Save video after conversion to your computer by clicking "Browse" and select the target folder.
Step 4. Convert WMV Video. Check the Hardware Accelerator to apply GPU acceleration when possible. To get the best results, don't forget to enable the High Quality Engine and Deinterlacing. After all the settings, click the Run button and start converting video from WMV to AVI.
Way 2. Free Change Video from WMV to AVI with VLC
VLC player, as the most welcomed media player in the current market, might be alive on your Windows or macOS. If so, you can just resort to VLC player to get WMV converted into AVI free and fast. Read the detailed steps:
Steps to Free Convert WMV Video Footage to AVI via VLC Player
Step 1. Open VLC on your Windows 10 PC or macOS.
Step 2. Click Media > Convert/Save from the drop-down list. Step 3. Add your WMV video file when the Open Media window pops up. You can load multiple WMV files one by one. Tap "Convert/Save" button after video loading is done.
Step 4. Choose output format AVI. Here you drop down the list to the end and select AVI as output format. Optionally, you can customize the video file via the wrench-shaped icon to encapsulate the video, change video codec, frame rate, resolution, edit subtitles, and more.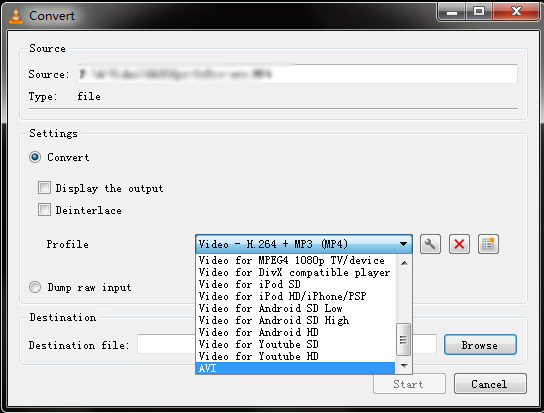 Step 5. Click Browse to save your converted file and tap Start. Then it begins to free decode and re-encode video WMV to AVI.
Way 3. Free Transcode Video from WMV to AVI with FFmpeg
Fast Forward MPEG (FFmpeg) is one of the most popular and best multimedia networks in the world to help you free play video file, convert video formats, stream live broadcast and even analyze the multimedia stream. But the crowd is too afraid to approach it. They think FFmpeg is complicated and not friendly to use. Actually, it's not what you imagine about it. It's simple to use once you get closer to use it:
The following command line converts video from WMV to AVI:
# FFmpeg –i – video_name.wmv final_video_name.avi
Wait a second and then you'll get a new AVI output file. Way 4. Online Convert WMV to AVI on CloudConvert [Max 1GB]
Online video converter service is a must mention for those who don't wanna download or install any software on their desktop. Among them, Cloudconvert is our top pick. It supports you to free convert majority of modern digital formats to video, audio or image format online without any 3rd party applications or plug-ins, WMV of course included.
That's not the end. You can also free adjust your video resolution, aspect ratio, video codec, frame rate, profile level, as well as constant quality CRF (RF value 19-23 for 720p, RF 20-24 for 1080p and RF 23-28 for 4K 2160p). Check its detailed tutorial if it strikes your fancy.
Steps to Free Transcode Video from WMV to AVI with CloudConvert
Step 1. Go to www.cloudconvert.com, and click "Select File" to import or upload your WMV video footage. Note: multiple ways are available for you to import WMV, from computer, URL or cloud storage service (Google Drive, DropBox, OneDrive). Step 2. Pick up AVI as output format from the drop down menu of "Convert to".
Step 3. Click on "Convert" button to starting software decode and re-encode WMV to AVI online. The conversion speed is highly related with your network speed. Shut down or exit unnecessary programs or webpages to leave enough network bandwidth for conversion.
Step 4. After that, simply download the converted AVI video to your computer.
Note:
Conversion minutes limit is embedded into Cloudconvert on daily basis. The maximum value is 10 conversion minutes each day. You're demanded to sign up for a free account to continue using this service.
Cloudconvert free account only offers you 1GB limit for free video conversion. In terms of larger-sized video conversion, pay for its package to enjoy its unlimited video conversion online. Hope the methods shared in this post is helpful for you. And also welcome you to share with us your own fast yet effective method on WMV to AVI transcoding and we'll keep this post updated with any better method.