Best 10 Free MLB Streaming Sites - Watch MLB Online Free
Major League Baseball (aka. MLB) is an American professional baseball organization, the broadcasting of which used to be only accessible in USA, Canada and Mexico, little of impact outside North America. Well, things have changed this year. Apple TV+ will exclusively carry MLB Friday Night Baseball games online streaming in 8 countries, including Australia, Brazil, Japan, South Korea, and the United Kingdom (besides North America). Beyond Apple TV+, MLB has also cooperated with ESPN with a weeknight package of games. And Turner Sports will have games on Tuesday nights (starting from this season). The traditonal media tycoons or new-rising streaming service all enter the live sports coverage arena with "exclusiveness" rights.
Does this mean you have no choice but to pay for the above-mentioned service platforms with exclusive broadcast rights? Not really. They've earned exclusive broadcast rights on certain time, but not all time. Therefore, you still have choice - free MLB streaming sites. Here top free MLB streaming sites list are aiming to broaden your options!
Top 10 Free MLB Online Streaming Sites
10 Best Free Major League Baseball Sports Streaming Sites of 2023
Online free MLB sports streaming sites, similar to free HD movie websites or torrent webpages, are inclined to encounter shutdown or charge. So far, all websites listed below are currently working and accessible. Single out your desired one to watch Major League Baseball games online.
1. USTVGO
Site: https://ustvgo.tv/
Channels: MLB network, NBA TV, ESPN, NFL network, CNBC, CBS Sports Network...
The first sight of the USTVGO homepage will greatly please you, with clean yet well-organized categories on the top banner. Click Sports and you'll be re-directed into the channels list of sports, not only MLB baseball network included, but also NBA, NFL, WWE, Tennis, Golf, etc. On top of sports streaming channels, this free MLB streaming site also covers other categories, like entertainment, kid, news, local to address your diffrent kinds of needs. One thing to note is that you can download and install a VPN to hide your real IP address if you concern the potential risk of copyright infringement.
Related: Best VPNs for streaming sports
Ad Annoyance: 5 (the higher score is, the worse it is)
VPN Friendly: Yes
2. fubo TV
Site: https://www.fubo.tv/welcome
Channels: MLB, EPL, MLS, PGA Tour, NASCAR, NFL...
What's the most special thing of fubo TV is 166 channels alongside with Cloud DVR service. Thus, you can watch any Major League Baseball games online, record and store them on Cloud to view anywhere anytime.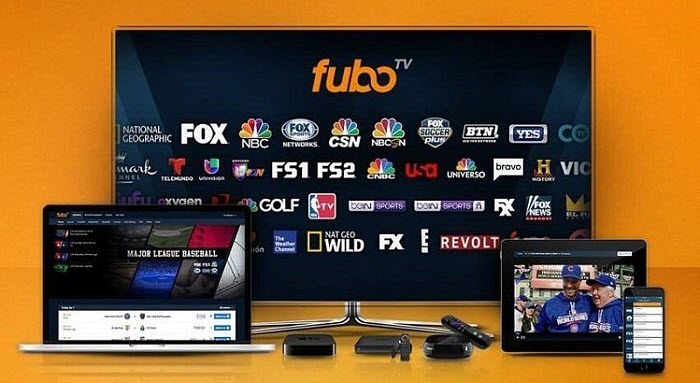 This sports streaming site also offers you with 3 plans, $33/month, $69.99/month and $79.99/month different in channel quantity, cloud DVR hours and screen share. And the lowest plan $33 per month doesn't provide you with free trial plan. Choose one from another two if you need 7-day free trial.
Ad Annoyance: 0 (premium paid service to skip commercial ads)
VPN Friendly: Yes
3. WorldCupFootball
Site: http://hd.worldcupfootball.me/
Channels: MLB, NBA, NHL, UFC, boxing...
As its name implies, this free football streaming site focuses on Football, or soccer maybe. That's not the whole story. Additionally, it makes more sports events on its shelves, including Major League Baseball (MLB), World Baseball Classic, NBA, NFL, etc. You can check MLB events schedules in advance and mirror streams to the TV using Chromecast to watch on the big screen with your family then. What an agreeable family time! Forget to mention, it supports live streaming in HD high definition, first-tier experience worth a try!
Ad Annoyance: 4
VPN Friendly: Yes
4. YouTube TV
Site: https://tv.youtube.com/welcome/join/?utm_servlet=exp
Channels: ABC, ESPN, FOX, FS1, MLB Network, TBS, RSNs, TNT...
YouTube TV is a highly visited website for watching baseball online free. Subscribe to YouTube TV at $64.99 monthly fee and you can watch MLB, NBA, NFL, as well as entertainment channels PBS, BET, Comedy Central, MTV, etc. up to 85+ channels.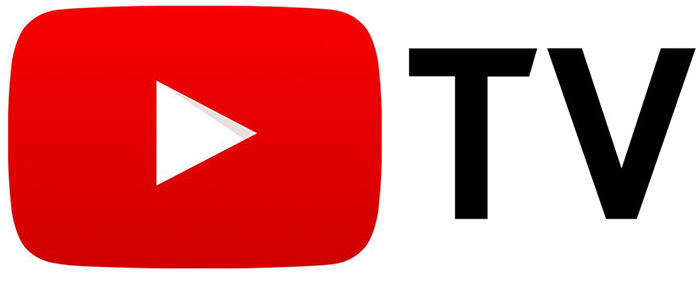 Unlike traditional services with extra charge on DVR/box rental fee, YouTube TV offers you with unlimited cloud DVR storage space and rewind, fast forward, and pause capability. A surprise bonus also comes to you with 3 streams and 6 accounts per household. No cable needed.
Ad Annoyance: 2 (skipping ads option is available)
VPN Friendly: Yes
5. MLB Show
Site: http://mlbshow.com/
Channels: MLB, NFL, NBA Soccer, NHL, F1, MMA, boxing...
MLB Show is another free sports streaming site that gathers reddit MLB streams and live MLB streams and provides them in an easy-to-navigate interface. You'll be rejoiced at free watching almost all the major sports on this site, including MLB baseball, football, basketball, hockey, etc. The MLB baseball match schedule will show up on the home screen for you to get the up-to-date game time arrangement. And the real-time live sports stream will be tagged with "Live Now" (blue box), friendly for you to catch up with the game on the broadcast live. After you click the Live Now button, you'll be re-directed to a new page, asking you to hide your IP with a VPN, plus a page-long list of stream channels. Each stream channel has different demands on reputation (silver, gold, platinum), quality, language and ads quantity. You need to choose one grounded on your own specific situation.
Ad Annoyance: 4-6 (ads numbers vary)
VPN Friendly: Yes
6. Sling TV
Site: https://www.sling.com/
Channels: truTV, TBS, TNT, ESPN, FOX Sports, NFL Network...
The ease of customization, thoughtful plans with different emphasis, and acceptable fee make Sling TV a highly sought-after option in live sports streaming. Three price packages are available now, mix of different channels. Sling's Orange package is $35 per month for 32 channels, customized for NBA fans to watch NBA, march madness. Blue plan has a good mix of basic sports, news, and entertainment channels for you to watch MLB baseball, as well as world baseball classic games online at the same price with Orange one. And the 3rd package (hybrid of Orange & Blue) is charged at $50 per month and consists of 50 channels with MLB, NBA, NFL, NHL, etc. almost all popular sports coverage.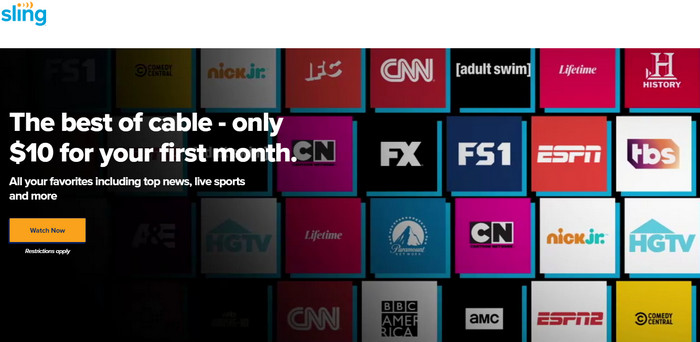 Certainly, humanized service is always around you, free 3-day trial accessible before you give out your greenback.
Ad Annoyance: 0 (subscription service)
VPN Friendly: Yes
7. SportSurge
Site: https://sportsurge.club/
Channels: MLB, NBA, NFL, MMA, Boxing, cricket...
Unlike those sites with charge plans, Sportsurge is a 100% free live sports streaming website to offer you with access to any game in Major League Baseball, NFL, NBA, MMA, and Boxing. It's free open to sports fans in over 150 countries. What's better, you're also allowed to free stream World Baseball Classic live, MLB games on your device or TV through AirPlay or Chromecast so as to watch exciting baseball games with your family on bigger screen. You can install a VPN to hide your real IP if privacy or potential risk does matter much to you.
Ad Annoyance: 5
VPN Friendly: Yes
8. ESPN
Site: http://espn.go.com/
Channels: MLB, NBA, NFL, MMA, Boxing, cricket, Golf, Tennis...
ESPN is one of the biggest names in cable sports, and the coverage of official ESPN website is complete, including MLB, NBA, NFL, WWE, boxing, NHL, tennis, golf, etc. Of course, it's not completely free indeed. Some premium games on ESPN can't free stream unless you log in with your TV provider credentials. Others raise the entry standard with at least $5.99 per month ESPN subscription.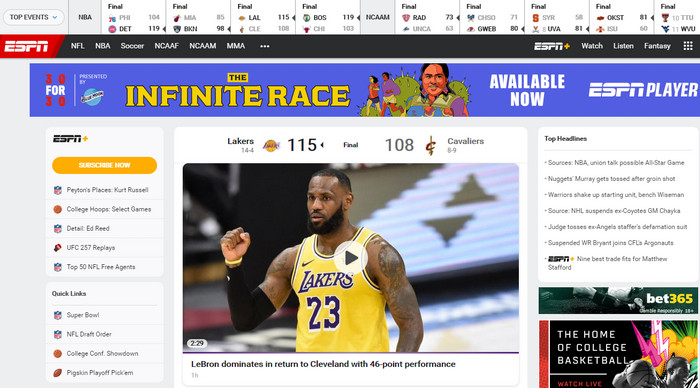 Not all the resources on ESPN website are charged. News, interviews, top headlines, trendings and replays are free.
Ad Annoyance: 0-6 (based on different plans you choose)
VPN Friendly: Yes
9. Stream2watch
Site: https://www.stream2watch.is/
Channels: MLB, NBA, NFL, MMA, Boxing, cricket, Golf, Tennis...
You'll be greeted with 3 big categories: live TV streaming free, live broadcast streaming free and watch TV streaming free at the first sight of this free MLB baseball streaming site. Generally, you may as well click "live broadcast streaming free" button, which will re-direct you to sports live streaming sites like zodiacstudios.net. This site consists of almost all international sports such as baseball, basketball, Combat Sports, Boxing, Soccer, Hockey, Football, Tennis, Golf, and more.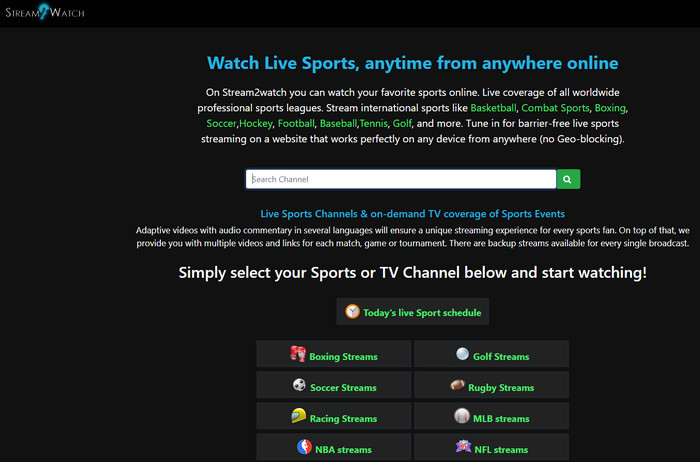 Like many sites that embed streams from external sources, you may run into intrusive and misleading pop-up ads on Stream2Watch, as well. A reliable ad blocker will protect you from ads annoyance. Meanwhile, you're highly suggested to install a trustworthy VPN since this free baseball streaming site brings baseball live streams from external sources, risky in copyright infringement.
Ad Annoyance: 6
VPN Friendly: Yes
10. Hulu + Live TV
Site:
Channels: ABC, ESPN, FOX, FS1, MLB Network, TBS, RSNs, TNT...
Hulu+ Live TV is always used to compare with YouTube TV. Firstly of all, the channels number it supports is roughly 65+, 20 less than YouTube TV. But the most popular sports streaming channels are included, MLB network, NBA, ESPN, TBS, etc. Secondly, this top free MLB sports streaming website costs you $5 more than YouTube TV, $69.99 per month.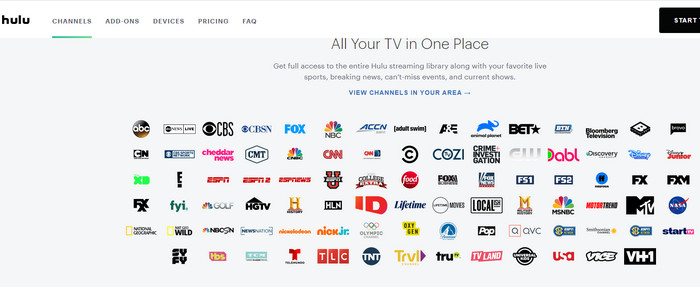 Lastly, YouTube TV opens free door to unlimited cloud DVR storage while Hulu+Live TV requires you to pay extra $9.99 for a 200 total hour DVR and full fast forward capability (otherwise limited to 50hr with unskippable ads). Take these 3 factors together and that's why Hulu+Live TV is placed at tailender on this top list.
Ad Annoyance: 2-5 (based on your payment)
VPN Friendly: Yes