How to Fix iTunes 4K/HD Movies/TV Shows Won't Play on Monitors
iTunes 4K/HD movies not playing error may happen on Windows (10) PC, iMac, iPad or some other older screens. Get idea from this post to get the iTunes HDCP error worked out easily.
iTunes Store has introduced sales on movies and TV shows for years, with 720p, 1080p and 2160p 4K options provided. At that time, quite many Apple users who get accustomed to purchasing high-definition video clips of popular films and TV shows from iTunes Store can upgrade their HD videos into 4K ones free, and then download them for playback on bigger or more convenient monitors. Unfortunately, iTunes movies won't play error may occur at times.
Part 1. Why iTunes 4K/HD Movies Cannot Be Played on Some External Displays?
All iTunes movies are encrypted and protected by HDCP[1] (high-bandwidth Digital Content Protection). So the premise to play iTunes movies normally on computer or any external monitor, with no error message or black screen/only audio matter should meet the following requirements:
The terminal playback display must support HDCP at 1024x768 or higher resolution.
The digital connection between iTunes 4K/HD movie outputting device and receiving device must be HDCP-compatible HDMI, DVI or DisplayPort.
Make sure both iTunes and computer (either Windows or Mac) are updated to the latest versions.
Part 2. 5 Ways to Fix iTunes 4K/HD Movies Won't Play Error
That any actual tache failing to satisfy the conditions above may prevent you from watching Apple purchased HD movies smoothly, and error messages like "This movie cannot be played because a display that is not authorized to play protected movies is connected", "HDCP Not Supported" and "This display/HDTV does not support HDCP, try using Yr etc. Component cables" must drive you nuts. At this moment, you can try those general troubleshooting tips for fixing iTunes movies won't play:
Tip 1. Lower the iTunes 4K/HD movie into SD one by right clicking it in iTunes -> selecting Standard Definition (SD) under Version. If you have downloaded iTunes HD movies, and it's impossible to knock back into SD, you need to re-download a new SD version from iTunes Store.
Tip 2. Download and install iTunes of the newest version (currently 12.8).
Tip 3. Check and update the older non-HDCP monitor into a HDCP friendly one.
Tip 4. Switch HDCP-incompatible connector (like VGA) into approved digital HDMI, DVI or DisplayPort. If your cable is HDMI, you can also buy a HDMI splitter to ignore HDCP request for iTunes 4K/HD movie streaming.
Tip 5. Ideal Tool to Fix iTunes Movie Won't Play - 100% Clean and Secure - WinX MediaTrans
No extra qualified monitor paid or video quality downgrade, it frees all iTunes-bought movies by removing DRM to embrace all screens. And it enables you to free convert iTunes movies M4V to DRM-free MP4 (H264/H265) format for limitless playback on any device/platform. Needless to download Java, Microsoft.NET Framework 2.0 and the like!
Part 3. How to Fix iTunes 4K/HD Movies Won't Play with WinX MediaTrans
Step 1. Free download

, install and open up WinX MediaTrans on your computer.
Step 2. Click "Remove DRM" on the main interface to enter into an exclusive UI.
Step 3. Click "+ Add File" on the top left to choose and import local iTunes purchased HD movies into the program. To guarantee a well-off DRM removing process, you need to firstly tick "Share iTunes Library XML with other applications" under iTunes -> Edit -> Preferences -> Advanced. After that, you'd better close iTunes to have WinX MediaTrans function well.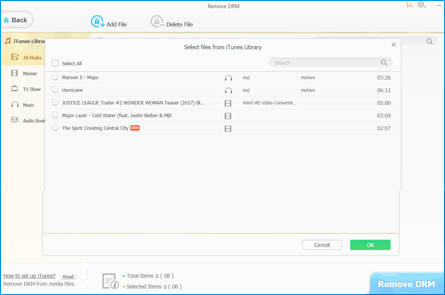 Step 4. Choose one or more HD movies from the list, and press "Remove" to unlock the DRM-ed file(s). Once the mission is finished, you can watch iTunes 4K/HD movies in DRM-free MP4 format everywhere.
This is just the route for removing copy protection of iTunes 4K/HD movie downloaded on computer. If the target iTunes purchased movie lies in your mobile iPhone or iPad, just connect it to computer and follow the instruction below: Convert iTunes 4K/HD Movies on iPhone from M4V to DRM-free MP4
External reading about iTunes movies:
Recently, iTunes users from UK and Canada has discovered that certain movie items listed in their iTunes purchased history, e.g Passengers (2016), added 4K and HDR options under Type column. Although the two are not available to purchase yet, 4K is just an irresistible trend of digital store.
Price of iTunes HD Movies: unpopular movie - $17.99/$19.99; popular movie - $13.99/$14.99.
Price of iTunes HD TV Shows: $2.99/episode
Price of iTunes 4K Content: $6 for new release rentals, $20 for new release purchases.
[1] HDCP: High-bandwidth Digital Content Protection (HDCP) is a form of digital copy protection developed by Intel Corporation  to prevent copying of digital audio and video content as it travels across connections... 
If you think the post useful, please kindly share it!
If you still have problems about how to fix iTunes HD movies won't play, feel free to Mail Us >>