How to Transfer EPUB to TXT from iPhone iPad iPod touch (iOS 13 Included)
transfer EPUB

EPUB to TXT

Posted by Estrella H.| Last Updated:  December 29, 2018
It's only a-few-click thing to transfer and export iOS EPUB to TXT, as well as PDF/HTML for reading on hot e-book readers like Kindle (Oasis/Voyage/Paperwhite), Nook (GlowLight Plus) etc.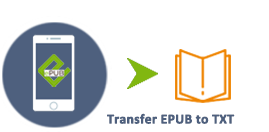 Question:
1. How can I convert .epub files to plain text? I'm able to view an EPUB file, select all the text and copy-paste into a text editor. I'd like a command line method - anyone knows of such a thing?
2. How to extract TXT from EPUB format for iOS? I want to extract text from EPUB file for my text to an iOS app. It would be great if I can do that within iOS device using some library.
Apple announced and released its last flagship mobile phone - iPhone 11 (Pro), iPhone 11 Pro Max running iOS 13 in September, 2019. Actually early in 2016, iOS 10 is able to remove the pre-installed apps at will, iBooks included. Will iPhone users abolish this relatively-new built-in e-book app for iOS after updating to iOS 10/11/12? Obviously most of them won't. Because since being integrated with iOS 8, iBooks gradually became the default e-book reader and organizer for iOS users. Let's first take an overall look at iBooks.
• iBooks supported file format: EPUB, PDF, MP3/AAC/audible.com audiobooks
• iBooks supported iOS: iOS 6 - iOS 13
• iBooks supported Mac OS X: Mac OS X Mavericks - macOS Catalina
• iBooks main features: Play audiobooks; Read books in multiple languages; Read illustrated books; Read book aloud; Interact with textbooks (v2.0 or later for iOS); Accessibility features (for enjoying downloaded books); Buy books from the New York Times bestseller list (US only); Control kids reading.
Download the best to transfer EPUB to TXT from iOS

WinX MediaTrans - Manage iDevice books without iTunes
- Transfer EPUB to TXT, PDF, HTML e-book format for more devices.
- Export, add and delete books on iOS safe and sound.
- Support iOS 13, 12, 11, iOS 10, iOS 9, iOS 8 and iOS 7.
How to Transfer EPUB book to TXT Format for Reading on More Devices
EPUB/ePub (abbreviation of electronic publication), a free and open standard published by IDPF [1], is actually a ZIP file with HTML files, images, CSS style sheets, assets and also metadata like a web page. It's widely used on iBooks since being received. Users can either purchase or free download EPUB books from iBooks or online sites, then view the EPUB file directly on iOS via iBooks or on computer via exclusive EPUB reader.
Best Windows EPUB Reader: Calibre, Adobe Digital Editions, FBReader, Cool Reader, Sony Reader for PC 
Top EPUB Reader for Mac: iBooks, Kindle for Mac, Calibre
EPUB Reading Plugins: EPUBReader (for Firefox), Readium (for Chrome)
Mainstream E-book Reader Devices: Kindle (Oasis/Voyage/Paperwhite), Nook (GlowLight Plus), Kobo (Glo).
EPUB format is quite common around the Internet now, but it cannot be read without a third party tool on computer and some e-book readers do not support reading it natively, too. To enjoy the favorite EPUB books from iOS iBooks on whatever devices with no limit, the easiest way is to transfer EPUB to TXT with WinX MediaTrans.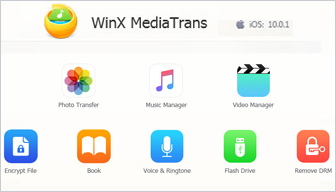 Step 1: Connect iDevice, for example iPhone XS, to computer and trust it to access to it. If the software has no reaction after plugging in the iPhone XS, just unplug and do it again.
Step 2: Click Book option on the main interface to turn to related operation window.
Step 3: After jumping into the iBooks Manager screen, "All Books", "Books (EPUB)", "PDFs" and "Audio Books" categories are listed on the left side. Select one, two or all EPUB files at "All Books" or "Books (EPUB)" that you'd like to transfer to plain text format.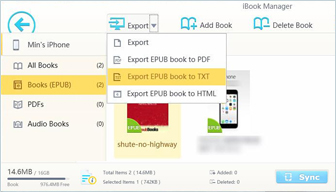 Step 4: Press Export button on the top taskbar, and choose "Export EPUB book to TXT".
Step 5: Tap "Sync" at the bottom to start transferring EPUB book to TXT from XS to PC.
Step 6: A process dialog box will pop up to show the EPUB to TXT transferring speed and status.
Note: The folder for saving transferred TXT output file can be modified under Settings -> Path.
WinX MediaTrans adds new features of e-book tranferring and ringtone making since version 3.0. Plus the previous powerful and diversified photo/video/music managing functions, WinX MediaTrans is really an all-in-one iOS file managing utility.
Other Ways to Convert EPUB to TXT on Computer
1. Free convert EPUB book to .txt file extention using online file conversion service, e.g. Zamzar.
2. Download EPUB to TXT converter software online for Windows, Mac or Linux to do so.
3. (For EPUB with only a few chapters and no DRM) Open the .epub book with WINRAR, and under the .html file lists, open them with text document one by one, and save them as xxx.txt on the computer directly.
Hot e-books recommended:
Camino Island by John Grisham | Mysteries & Thrillers
The Girl on the Train by Paula Hawkins | psychological thriller;
The Light Between Oceans by M.L. Stedman | war fiction;
Depraved Heart by Patricia Cornwell | thriller;
Behind Closed Doors by B A Paris | psychological thriller...
Best free eBooks download sites apps

If you think the post is useful, please kindly share it!
If you still have problems about how to convert transfer EPUB to TXT, feel free to Mail Us >>