How to Fix OnlineVideoConverter.com Not Working?
The site onlinevideoconverter.com (OVC) allows users to convert video files and video links to desired video or audio format without the need to install any software on computer. However, just like other online tools, onlinevideoconverter.com doesn't always work and could be inaccessible. Its server could be overloaded, down or unreachable because of a network problem, outage or a website maintenance is in progress. Security certificate, browser, and DNS problems can also cause onlinevideoconverter.com not working problem. Additionally, even if the site can be open normally, users might also encounter errors during the process of video conversion. Read on and check how to fix onlinevideoconverter.com down / not working issue.
Onlinevideoconverter.com Says 'Your connection is not private'
This is because the security certificate of onlinevideoconverter.com has expired. Continuing to visit this site may be dangerous. Attackers might be trying to steal your information. But if you still want to access this site, you simply need to click ADVANCED option at the bottom left corner of this pop-up and then click Proceed to www.onlinevideoconverter.com(unsafe).
Related post: Is onlinevideoconverter.com safe?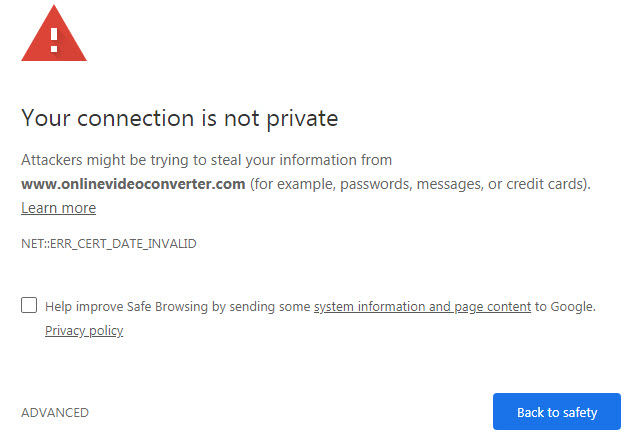 Onlinevideoconverter.com Isn't Down but Stops Working? Try These Fixes
Sometimes, onlinevideoconverter.com isn't offline but you can't visit it. This could be browser related problem or DNS problem. Check the fixes below.
Fix 1. Force a full refresh for the site by pressing Ctrl + F5 keys at the same time on your browser.
Fix 2. Clear the temporary cache and cookies on your browser to make sure that you have the most recent version of the web page.
Fix 3. Clear your local DNS cache to make sure that you grab the most recent cache that your ISP has.
▪ For Windows: go to Start -> Command Prompt -> type "ipconfig /flushdns" and hit Enter.
▪ For macOS (El Capitan to Catalina): open the command line interface by clicking on Go -> Utilities, select Terminal, and run the command "sudo killall - HUP mDNSResponder". then, you'll be required to enter your computer password. Once done, your DNS cache should be clear.
What if Onlinevideoconverter.com Stops Working when You Attempt to Convert Videos?
In most cases, Onlinevideoconverter.com is up but users might run into those problems as below when trying to convert videos.
Oops! An error has occurred, please try converting again.
Video cannot be converted. try another link.
The video conversion is stuck at 'waiting in line' for some hours, even some days.
It stucks 0% at "Preparing your conversion...".
These issues may disappear after you try the conversion later, or persist. If Online Video Converter is unable to work properly, you may need an alternative. WinX HD Video Converter Deluxe is a good choice. As a piece of desktop software, it is more stable and safer than online video converters. It always work and will never be riddened with bugs, pop-up ads, viruses, and malware. What's more, it is more powerful.
WinX HD Video Converter Deluxe can help you:
▪ Convert almost any video format to MP4, H.264, HEVC, MKV, AVI, WMV, MP3, etc. Intel and NVIDIA powered hardware acceleration makes it run at 47x real-time fast speed.
▪ Download video and music from 1000+ sites, such as YouTube, and save to desired format.
▪ Compress large video files, downscale video (e.g., 4K to 1080p).
▪ Perform basic video editing tasks: cut, crop, merge, add external subtitle.
Free download this lightweight video converter to have a try!
How to convert video with this OnlineVideoConverter alternative?
Step 1. click + Video button to browse and import the video you want to convert. It supports 370+ video & audio codecs as input.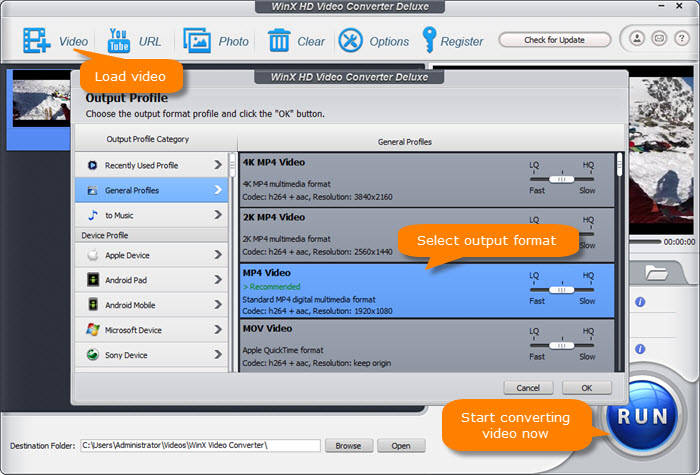 Step 2. choose your desired output format from the Output Profile list. There're 420+ preset profiles available to choose.
Step 3. Press RUN button to start video conversion.