OnlineVideoConverter Is Not Safe, Stop Using It!
When opening onlinevideoconverter.com, you'll notice an error message "Your connection is not private". It says attackers might be trying to steal your information from www.onlinevideoconverter.com, for example, passwords, messages, or credit cards. onlinevideoconverter together with other similar online video converters, youtube downloader sites are not safe to use. Norton Safe Web found no issues with the site, including computer threats, identity threats, and annoyance factors. However, the truth is onlinevideoconverter has hidden tricks.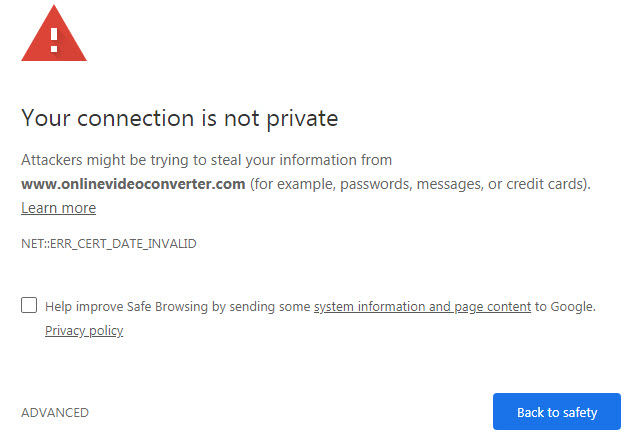 Onlinevideoconverter Safety Issues You'd Better Know
Untrustworthy site. Users are told the site is untrustworthy when going to the site for the first time.
Ads/redirects/malware. There are a bunch of popping ups and endless prompts asking you to download another app while converting videos. Sometimes, it shows a survey. You should keep your eyes open because of redirects and commercial ads If you enter a YouTube URL, you are properly required to download a toolbar/plugin to process further. Onlinevideoconverter puts users at high risk of being attacked by ads, malware, and such likes.
Solutions: The only way is to install ad blockers and pop-up blockers on your browser, and strong anti-virus software. Unluckily, the security software possibly blocked the download link either, and you can't get the converted video files. Check OnlineVideoConverter not working fixes.
Here we pick some typical customers review of oninevideoconverter to make you be better aware of its safety problems.
"A redirect tab appears as soon as you start to download your video or audio, even when you are using an AdBlocker. Be cautious, since the site usually redirects you to malware, adware, and other nasty stuff."
"When converting a video to MOV, it will also attempt to install a BitCoin Mining functionality (Troyan): "Application.BitCoinMinder.ZV". It also automatically redirects you to a fraud Apple-Site to remove viruses."
"It keeps saying errors. Even I had anti-virus software, I got malware and my 1000 dollar laptop died. I strongly not suggest this website."
"I went here to download my .mp3 file. You can close pop ups easily. When your file conversion is finished, you get taken to the download page that has advertisements all over."
It's Safer and Much Reliable to Switch to A Desktop Program
Safety issues, unexpected errors, and file size limit make many users quit olinevideoconverter. The site achieves a consumer rating of 1.7 stars and has a very low ranking among video converter sites. Desktop software is a better choice. WinX HD Video Converter Deluxe, a high ranking video converter, is a great alternative to onlinevideoconverter. It is 100% clean and safe, no ads, no malware, no plugin, no popping ups. A wider range of video and audio formats are supported, including HEVC, VP9, etc. There's no file size and video resolution limit, large 4K files can be handled. Level-3 hardware acceleration tech enables WinX HD Video Converter Deluxe Deluxe to process videos at least 5x faster than OnlineVideoConverter does.
Check the video tutorial below to start converting videos safely and quickly. It's the same to convert other video formats.