[Tutorial] How to Record FIFA 18 Gameplay on PS4 for Sharing with Others?
You can record FIFA 18 gameplay on PS4 without additional recording software.
FIFA is an extremely popular football simulation video game, annually published by Electronic Arts. The first release was rolled out in 1993. And this time we meet FIFA 18 with the Real Madrid star Cristiana Ronaldo featuring on the cover of the football game for the first time ever. PS3, PS4, Xbox 360, Xbox One, PC and the new Nintendo Switch are supported. Do you want to record FIFA 18 gameplay videos, in order to show your FIFA 18 skills, communicate with other players, upload to YouTube and the like, or for other purposes? The answer is probably yes, because nearly every gamer loves to do such thing. In the following part, we will show you how to record FIFA 18 gameplay on PS4.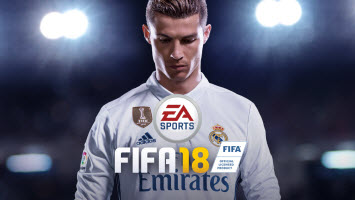 Most FIFA 18 Players have Downloaded

- WinX HD Video Converter Deluxe (compatible with PC/Mac)

Free download FIFA videos incl. FIFA 18 and 2018 FIFA World Cup videos/songs from YouTube, Facebook, etc.


Merge multiple FIFA 18 videos recorded by PS4 or other devices into a single one.


Trim videos simply by dragging the progress bar or manually setting start time and end time.


Convert your recordings to other formats (MP4, MOV, HEVC, etc.) and compress recording videos.
How to Record FIFA 18 Video Games on PlayStation 4?
Without additional software or hardware devices, you can capture FIFA 18 gameplay on PS4 without hassle. All you need is the built-in functionality - SHARE button of PS4. Check below for step-by-step guide.
Step 1. Turn on your PS4 and then open FIFA 18.
Step 2. When you come to the starting point of desired FIFA 18 game footage, double-press the SHARE button on your controller to enable FIFA 18 gameplay recording right now. Then, you should be notified by an animation saying that the recording has been started. In this way, you can record gameplay from when you double-tap, instead of being limited to last 15 minutes.
Step 3. Long press the SHARE button when you want to stop recording. Then, you will see Share interface with these options: Upload Video Clip, Upload Screenshot, Start Share Play, Broadcast Gameplay, Save Video Clip, and Save Screenshot. Choose the proper option based on your own needs.

Tips
• Don't double-tap SHARE button when you want to end up recording, because this will start a new recording and delete the one you just recorded.
• PS4 will automatically capture footage of the last 15 minutes of your play.
• Recording clips will not necessarily be 15 minutes long. PS4 will stop recording and begin a fresh one again, every time you hit the SHARE button.
• It's available to trim video through PS4 itself before posting online, but unavailable to add narration, cut multiple clips at once, and add titles and transitions.
People also want to know

When is FIFA 18 released for PS4? - Friday, September 29, 2017


How much does FIFA 18 cost? - Ronaldo Edition (£79.99/$79.99), Icon Edition (£89.99/$99.99), Standard Edition (£54.99/$59.99)


Is 'The Journey" back? - Yes, it is back to FIFA 18.


What leagues, clubs and national teams are included in FIFA 18? - Check FIFA 18 Leagues, Clubs and National Teams List