HEVC Videos Not Playing in VLC Problems Fixed
Can VLC play HEVC? Yes, since VLC 2.2.0, VLC added the support for new HD codecs including H.265/HEVC, VP9, and opus. Theoretically, VLC should be able to handle HEVC/H.265 files without a problem. However, HEVC playback with VLC is not easy. A myriad of HEVC not playing in VLC problems occur often. In this article, we're going to talk about why those problems happen and how to play HEVC videos with VLC smoothly.
Free download HEVC codec to fix VLC playback error >>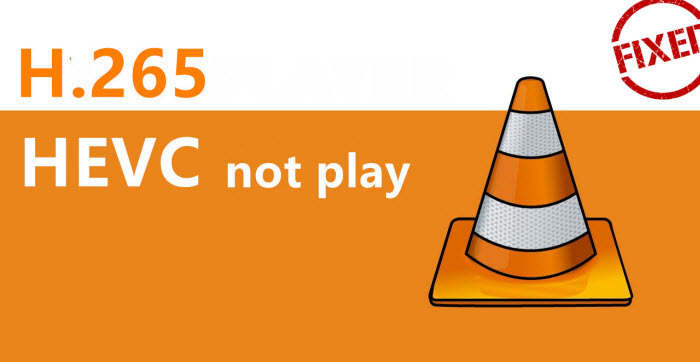 VLC won't Play HEVC Videos Problems
HEVC, or H.265, is used by many advanced cameras such as GoPro, DJI, 4K DSLR cameras, iPhone, etc. Therefore, the HEVC videos often come in high specifics like 60fps, 10bit, 4K, and even 8K resolutions. As a result, even though VLC has HEVC codec built-in, you may still see different VLC problems playing HEVC files. Below we have some examples of typical VLC errors you may get during playback of the HEVC files:
Blank video but the audio keeps playing. Sometimes HEVC video is a black screen or the video freezes, but you can still hear audio playing.
Half of the video goes black (lower left half triangle), but the video (upper right half triangle) keeps playing and audio keeps playing.
VLC won't open the HEVC file with a message saying that VLC dosen't support HVC1 codec.
HEVC videos constantly stutter in VLC, even on a high-end computer. The VLC x265 playback is choppy, freezing, and lagging.
The Windows 10 system completely freezes with a blank, solid color screen and becomes unresponsive.
VLC crashes soon after starting playing an h.265 encoded file.
VLC window closed, but the background process remains and you cannot open a new VLC window.
Solutions to VLC not Playing HEVC problems
In most cases, the HEVC not playing in VLC errors are caused by computer configuration and VLC settings. Below we have all the proven solutions to those errors, just try the following steps:
• Disable VLC hardware decoding
If you leave the hardware acceleration in VLC to automatic, it may apply the GPU acceleration for H.264 streams instead of H.265/HEVC streams. As a result, VLC HEVC playback becomes choppy. The good news is that you can solve this problem by setting the hardware acceleration of VLC on some computers.
First, disable VLC HEVC hardware decoding: Tools > Preferences > Input/Codecs > Hardware-accelerated decoding > Disable.
Second, if the above doesn't work, set VLC to use DXVA with Direct3D11 output or D3D11VA with Direct3D9 output. To change the setting under Input/Codecs > Hardware-accelerated decoding > DVXA 2.0 or Direct3D11, and under Video > Output > select Direct3D11 or Direct3D9 output.
• Check the De-interlacing settings
When VLC won't play HEVC videos, don't forget to check the de-interlacing settings. For example, with DirectX11 encoding on, if the de-interlace setting is set to "On" with Yadif (x2), the HEVC won't play smoothly in VLC. You can adjust the settings: Tools > Preferences > Video > De-interlacing, change the setting to Automatic, or you can select another de-interlacing mode like Blend.
• Upgrade your hardware configuration
Playing HEVC, especially HEVC videos in 4K/8K high resolutions @60fps 10bit, is very CPU demanding. If you have an old computer, you should try to increase the built RAM to 4GB or higher, and upgrade the graphics card to one that supports VLC HEVC hardware decoding (more than that, Windows 10 requires more powerful hardware than Windows 7). Besides, during the VLC HEVC video playback, close any other active tasks that may occupy your CPU.
• Compress 4K HEVC to HD H.265 or H.264
If playing 4K/8K HEVC using VLC is too heavy for your computer, and you don't want to upgrade the hardware for your budget, you can downgrade HEVC videos from a higher resolution like 4K/8K to HD 1080P, or convert the HEVC files to H.264 for easier playback in VLC without stutters or freezes. What you need is an HEVC converter with high performance and high output quality.
No matter you have an Intel, AMD, or Nvidia graphic card, you can enjoy high performance with WinX HD Video Converter Deluxe. It takes advantage of Intel QSV, AMD, and Nvidia Nvenc/Cuda hardware acceleration to convert HEVC to H.265/H.264, MP4, other formats at a fast speed, even you're running on a lower-configuration computer. It provides options to downscale 4K/8K HEVC to 4K, 2K, or SD MP4 videos. You can also convert HEVC videos to other less CPU-intensive formats for VLC Media Player.
WinX HD Video Converter Deluxe well balances the converting speed, output quality, and file size. Don't worry about the quality or size of the HEVC converted videos.
How to Convert HEVC for VLC Media Player
Step 1: Download the HEVC video converter and run it. Then click +Video to import the HEVC videos that won't play on VLC.
Step 2: After the video is loaded, it will pop up an output format window. Now you can select General Profiles > convert HEVC videos to 4K MP4, 2K MP4, or MP4 at original resolution; you can convert HEVC to HEVC but lower the resolutions as per the guide below; or you can also convert the HEVC videos to other VLC supported formats like MPEG4, MKV, WebM, WMV...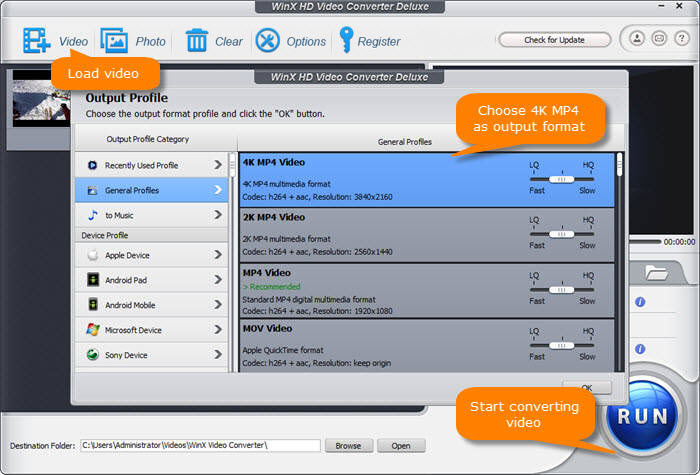 Step 3: Back to the main interface, click the gear button beside the selected output profile. Here you can lower the resolution, frame rate, etc, of the HEVC videos. For example, if you want to downscale HEVC from 4K to HD, click Resolution and select 1920x1280. Then click OK.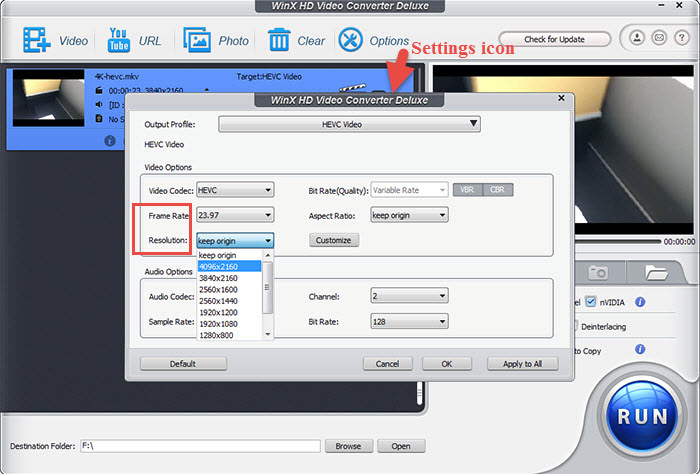 Step 4: After the above settings, click Run to start. Before that, don't forget to enable the Hardware Accelerator and High Quality Engine boxes on the right lower part of the interface. After the conversion, you should be able to play the HEVC converted video in VLC without problems.
Video Tutorial: 4 Ways to Play HEVC Files without Lags and Stuttering