Best Graphics Cards for 4K Gaming from Nvidia and AMD
Everything related to 4K Ultra HD resolution like 4K movies, 4K TV, 4K player had transitioned from a trickle to a steady flow, and in recent years, it's already become a rushing river. The flourishing 4K gaming is no exception in this vast 4K rushing river. However, you game enthusiast soon find that your previous graphics card, used to be a top performer to handle 1080p, 1440p 2K PC games, is powerless to render smooth 4K gaming. Give up the 4K Ultra HD gaming or upgrade your graphics card to match 4K resolution?
I bet most of you choose the second option. Who can refuse such an exhilarating experience that 4K gaming brings you? Such being the case, let's have a check on which is the best 4K graphics cards for PC games from Nvidia and AMD.
Part 1. Best GPU for 4K Gaming from Nvidia
Nvidia updates its product line at high frequency. Previously, you might still be satisfied with your GeForce GTX 1080 or GeForce GTX 1080 Ti GPUs performance in PC games. Right now, high-end GeForce RTX 3080 and GeForce RTX 3070 (for enthusiasts) GPUs unseat GTX series when it comes to play 4K games on PC.
There is high likelihood that some of you can't agree on this. No biggies! Here we'll show the hands-on test of both GTX and RTX series in the specific 4K gaming.
4K GPUs test on popular 4K games
Picture quality settings: all special effects are fully open, ultimate settings (SMAA/TXAA/TAA)
Game Resolution: 4K 3840x2160
Test data: average frame rate (FPS)
Test Objects: GeForce RTX 3080, 3070, GeForce RTX 2080 Ti, 2080, GeForce GTX 1080 Ti.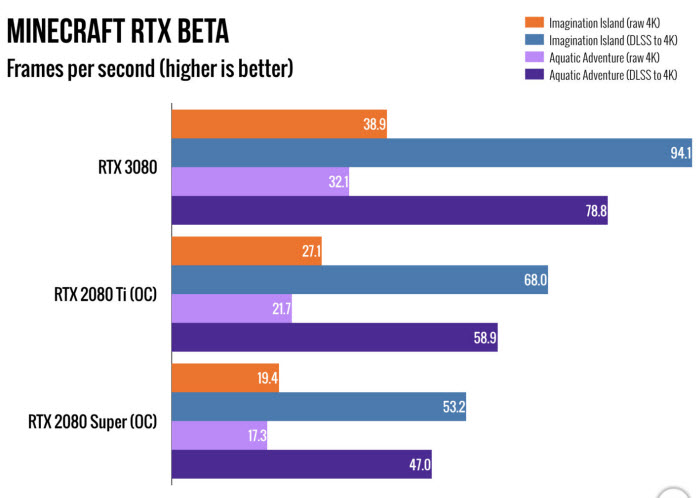 Conclusion:
It goes without saying that the best GPU for 4K gaming from Nvidia is GeForce RTX 3080 so far. It can bring you a more smooth and game fidelity accelerated experience during 4K gaming, no stuttering, no lagging or tearing. And overall, here Nvidia RTX series mentioned does a better job than GTX series. Why?
The essential reason lies in the different GPU architectures. GeForce RTX™ graphics cards are fueled by the Turing GPU architecture and the all-new RTX platform, which is able to offer you up to 6X the performance of previous-gen graphics cards and surprises you with Nvidia's trump card - real-time ray tracing and AI tech.
Comparatively, GeForce GTX GPU series are in the dry tree. They're powered by Nvidia Pascal to improve the performance up to 3X than their predecessors. As for the world's first real-time ray tracing tech, GTX 10 series graphicas cards didn't jump at the opportunity. Either is the AI tech. What they got is the VR tech.
If you still can't decide which one to choose and wanna know more ins and outs about RTX and GTX series, the below table lists out more details for your reference.
Nvidia RTX vs GTX series
(Take GEFORCE RTX 2080 Ti and GEFORCE GTX 1080 Ti for side-by-side comparison)

NVIDIA CUDA® Cores

Boost Clock (MHz)

Memory Speed

NVIDIA Encoder (NVENC)

Connectivity

Price

GeForce RTX 3080

8704

1710

19Ghz

Yes

HDMI 2.1, DisplayPort 1.4a

$699

GeForce RTX 3070

5888

1725

14Ghz

Yes

HDMI 2.1 and PCIe 4.0

$499

GeForce RTX 2080 Ti

4352

1545

14Ghz

Yes

DisplayPort 1.4, HDMI 2.0b, USB Type-C

$1199

GeForce GTX 1080 Ti

3584

1582

11Ghz

No

DP 1.4, HDMI 2.0b

$699
On top of the above mentioned gaps between Nvidia 20 series graphics cards and 10 series GPUs. The core technologies also vary a lot. For instance, GeForce GTX 1080 Ti sports with Simultaneous Multi-Projection, VR Ready, NVIDIA Ansel, NVIDIA G-SYNC™-Ready, NVIDIA GPU Boost™ 3.0, OpenGL 4.5, 11 GB GDDR5X Frame Buffer, etc. while GeForce RTX 2080 Ti gets enhanced and new stuff on this basis, be it Real-Time Ray Tracing, NVIDIA® Highlights, DisplayPort 1.4, NVIDIA G-SYNC™ Compatible, NVIDIA® GPU Boost™ 4, OpenGL 4.6, 11GB GDDR6 Frame Buffer, etc.
As the new Geforce 3000 series, the GTX 3080 features packs 30 shader-teraflops (TFLOPS), 58 ray-tracing TFLops and 239 Tensor-TFLOPS. You'll also get 10GB of G6X graphics RAM. No wonder countless of users evaluate GTX 3080 as nothing short of a miracle. Of course, the price counts a lot, as well. If you're not high-demanding on 4K gaming performance and is tight on hand, GTX 1080 Ti is also a superb GPU for 4K gaming on Windows 10.
Check more specs, please head to Nvidia official website.
Part 2. 2023 Best GPU for 4K Gaming from AMD
As a big counterpart of Nvidia, AMD graphics card is a must mention. In this post, we also pick out top 2 4K graphics cards from AMD for PC gaming based on users' rank. They are AMD Radeon RX Vega 64 (released on August 14, 2017), AMD Radeon RX 5700 XT (released on July 7, 2019), and AMD Radeon RX 6700 (released on March 18, 2021). The 2017 version Vega 64 is still sold at $499 while the flagship 2019 RX 5700 XT is priced at only $399. Does this mean the 2019 5700 XT is inferior to Vega 64 in terms of the price tag? Not really, indeed. Instead, RX 5700 XT, the cheaper one, runs even better than the more expensive Vega 64 (from the users' feedback on shopping sites). Why?
* The Cutting-edge RDNA Architecture
Compared with its predecessor's GCN 5th gen architecture, RX 5700 XT is built-in with more advanced RDNA architecture, which maximumly promotes features, e.g., Radeon intelligent image sharpening tech, FidelityFX, and VR technologies to bring you high-fidelity gaming experience. The gap of image quality is subtle for separately viewing. If you put them side by side with the same 4K display, the difference is obvious.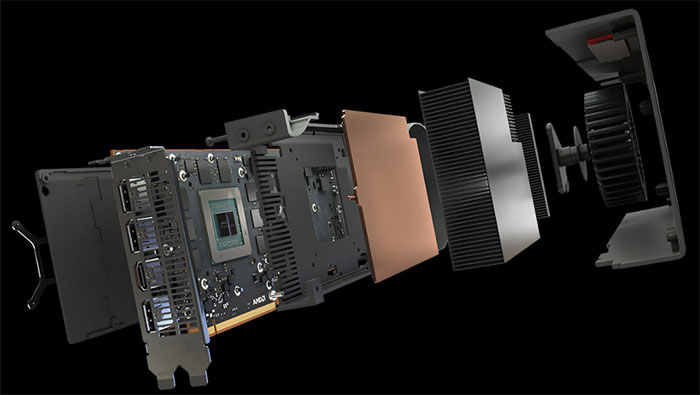 * Multi-level Cache Hierarchy
Other notable enhancement in RX 5700 XT include an astonishing multi-level cache hierarchy, with a purpose to reduce the latency at each level of the instruction process. That is not only beneficial to yeild an improvement of 1.25 times performance per clock cycle, but also helpful for cooling down GPU temperature. Unfortunately, the previous GCN 5th powered RX Vega 64 lacks this feature.
* World-class Configurations for Graphics Card
As for the other configurations, each has its respective merits. The 2017 AMD best gpu for 4K gaming RX Vega 64 features 64 compute units, up to 4096 stream processors, 483.8 GB/s max. memory bandwidth, alongside with Radeon™ Chill, OpenCL 2.0, OpenGL 4.5, Unified Video Decoder (UVD) techs, etc. The 2019 RX 5700 XT accelerates base frequency to 1605 MHz, boost frequency up to 1905 MHz and memory speed up to 14Gbps. Radeon Anti-Lag assists RX 5700 XT to whopping reduce latency and badly improve click-to-response rates over your 4K gaming. While as to the RX 6700, it offers a massive lead of 34% at 4K compared with the 5700 XT, and it delivers AV1 and VP9 support and encoding/decoding support for H.264 and H.265 for every major streaming need.
Certainly, here just shows you with the limited sides of both AMD 4K GPUs for PC gaming. To get more ins and outs, please navigate to AMD official website. And you can draw your own conclusion based on your searching. After all, the afore-mentioned recommendations and ranks are mostly rated by other users. You still need to make your own judgement. And we're glad to hear a different voice from you if you have new discovery.