Top 5 Best 4K Video Editing Laptops in 2021
4K recording is easily accessible now for many portable devices support output video in 4K resolution, but 4K editing is still hamstrung by its large file size. In 2008, laptop sales passed desktop for the first time, and from then on, laptops have entrenched themselves even further while their power increasing and prices dropping. Editing 4K video on a laptop used to sound like a joke, but now laptop performance can well meet the needs. But for laptop, the more powerful and the more expensive, no one wants to spend over $3000 for a wrong thing. So, here are the top 5 best 4K video editing laptops for you reference.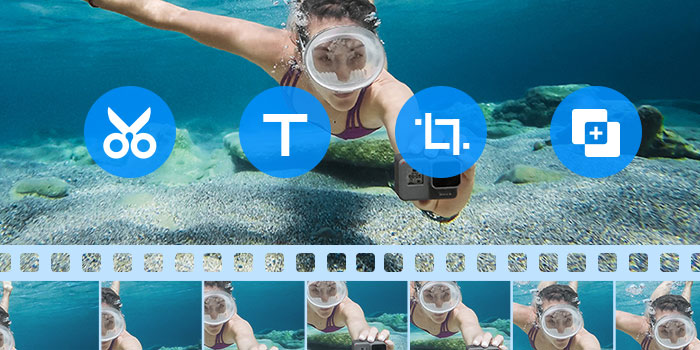 Part 1: Top 5 Best Laptop for 4K Video Editing
Specs

Pros

Cons

Dell XPS 15 7590

● Processor: up to 8 cores 9th-Gen Intel Core i9-9980HK
● Graphics: Intel UHD Graphics 630; NVIDIA GeForce GTX 1650 (4GB GDDR5)
● Memery: up to 64GB DDR4 2666MHz
● Storage: up to 2TB SSD
● Display: 15.6" OLED 4K 3840 x 2160 Infinity Edge
● Weight: 1.8kg (4lb)

● Excellent OLED display
● Calibrated color accuracy for color grading or image editing
● The RAM and the SSD are user
● Upgradable (feasible for you to build)

● Speaker is located at the bottom downward (the audio has a slight echo and not so clear)
● A flawed cooling solution

HP Zbook Studio G5

● Processor: up to 6 cores 8th-Gen Intel® Core™ i9-8950HK processor
● Graphics: Discrete NVIDIA® Quadro® P2000
● Memory: up to 64 GB DDR4 2666MHz
● Storage: up to 2 TB PCIe NVMe TLC 2nd SSD
● Display: 15.6" diagonal UHD B-LED UWVA Anti-Glare DreamColor for HD Webcam ultraslim (3840x2160) (600 Nits)
● Weight: Starting at 2.01kg (4.54lb)

● Excellent build quality
● World's brightest 4k display with 98% AdobeRGB
● Great battery life

● Fuzzy webcam (720p)
● Lack of dedicated numeric keypad

Apple MacBook Pro (16-inch)

● Processor: Up to 8-core Intel Core i9
● Graphics:Up to AMD Radeon Pro 5500M with 8GB of GDDR6
● Memory:Up to 64GB
● Storage:Up to 8TB SSD
● Display: 16" Retina display, 3072 x 1920, 500 nits, P3 wide color
● Weight: 1.95kg (4.3lb)

● Great Magic keyboard
● Warm and less blue display with True Tone technology
● Impressive audio

● Need more ports and SD card slot
● Expensive

Lenovo Thinkpad X1 Extreme Gen2

● Processor:Up to 8 cores 9th-Gen. Intel® Core™ i9 9880H
● Graphics:NVIDIA® GeForce® GTX 1650 Max-Q 4GB
● Memory:Up to 64GB DDR4 2666 MHz
● Storage:Up to 1TB SSD PCIe
● Display: up to 15.6" UHD (3840 x 2160) 500 nits, anti-glare
● Weight: 1.7kg (3.76lb)

● Great durability
● Excellent OLED display
● Proper position design of keyboard, webcam and fingerprint reader
● True Color Technology - increased color contrast and greater visual detail

● Disappointing weak battery life

Microsoft Surface Book 2 (15-inch)

● Processor: up to 8th-Gen Intel® Core™ i7-8650U quad-core
● Graphics: Up to 1060 NVIDIA GeForce GTX
● Memory: 16GB RAM 1866Mhz LPDDR3
● Storage: up to 1TB PCIe SSD
● Display: 3240 x 2160, (260 PPI) 10 point multi-touch G5
● Weight: 1.9kg (4.2lb)

● A hybrid 2-in-1 laptop
● Excellent cooling
● Long battery life
● Supports the Surface Pen and Surface Dial

● Isn't bundling the Surface Pen
● Upper part is heavy (hard to keep balance sometimes)
● Speaker lacks bass and doesn't very loud
Part 2: How to Choose The Laptop for 4K Video Editing?
Of course, you don't have to choose a laptop from the listed above, feel free to buy it according to your personal preference. But to buy a laptop for 4K video editing, you need to take those elements into consideration:
1. UHD resolution display to output 4K.
How can you know you really edit and output a 4K video with a computer only display 1920 x 1080 or less? So, to choose a laptop for 4K video editing, the first thing you need to check is to make sure the laptop has a UHD resolution.
2. A powerful multi-core processor to run professional video editor and access large 4K video.
The CPU is the foundation of a PC. A good CPU is crucial no matter you want to play games or run professional video editors. To edit 4K video, The processor determines how quickly you can accomplish editing tasks.
3. Top-notch discrete graphics to better handle the rendering parts of the video.
Many people think the more CPU is king, but the graphics card is a less important component. However, GPU is very useful when it comes to graphically demanding tasks such as: After Effects, 3D Modelling, and Video editing from Premiere pro.
4. RAM, the more it's able to think about at the same time and allows you to use more complex programs.
Except for running programs, the main use case for RAM in a video editing software is caching preview files. RAM doesn't really affect rendering speeds all that much, but if you do a lot of motion graphics, then having more RAM will help you work more efficiently.
5. A giant amount of storage space allows you to store more things on your computer.
The higher video resolution resulted in a larger file size. If you want to store more video clips or video material for your video creation, the more storage space is needed. But it is OK if you don't want to spend a lot of money on it, cloud storage is becoming cheaper and cheaper with the storage size getting larger and larger.
6. Portable enough to take with you anywhere as you want.
Generally, at the same price, desktop has better performance than a laptop, but one of the big reasons for choosing a laptop is that its portability allows us to continue our work anytime, anywhere. Of course, you can decide whether portability is more important than other specs according to personal needs. Also, remember to bring a charger anyway. Although laptop batteries are becoming more and more durable, there is no battery that can support whole day work, let alone 4k video editing.
What's more, spend money on the most expensive and best specs are not necessary, but according to your needs to choose. Check the minimum system requirements for 4K video processing and select the proper one to save some money.
A minimum system requirement of laptop for 4K video edting:
Processor to play and process 4K video: Intel Core i7 2.3GHz four-core
Graphics for accelerated effects: NVIDIA GeForce GT 750M
Memory: 16GB RAM
Storage: dedicated 7200rpm hard drive or SSD for media
Part 3: Best Lightweight Video Editor for Slow Computer--WinX HD Video Converter Deluxe
For beginners who do not want to spend lots of money to buy a professional computer or software, WinX HD Video Converter Deluxe is the best alternative solution. With its unique level-3 hardware acceleration technology could revive your old computer and able to edit large 4K video such as cut, crop, trim, add subtitle, merge videos, etc.
How to Edit 4K Videos With WinX HD Video Converter Deluxe?
Step 1: Download and install WinX HD Video Converter Deluxe, then launch to load video by click on "+video" button.
Step 2: Choose output video format, if you want to keep the output video in 4K resolution, choose General Profile->4K MP4 Video, then click on "OK".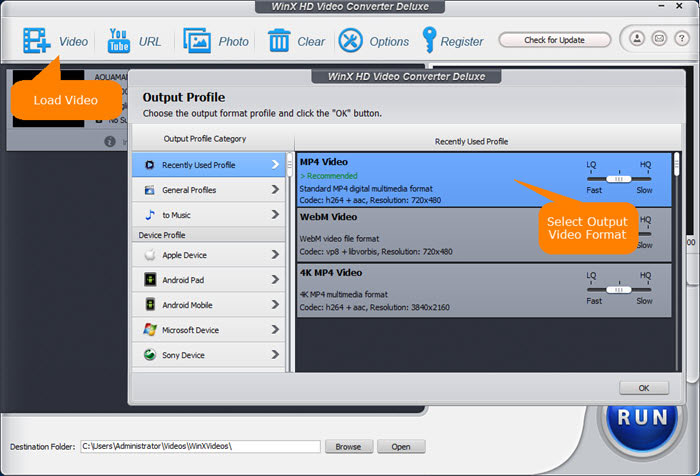 Step 3: Click on "Edit" to cut, split, crop, expand, rotate, flip the video, add effect, watermark, external subtitles to the video, adjust the audio volume, etc., and then click on "Done" to save.
Step 4: To add more video and select "Merge" if you want to mix clips. Then click on "RUN" to output video.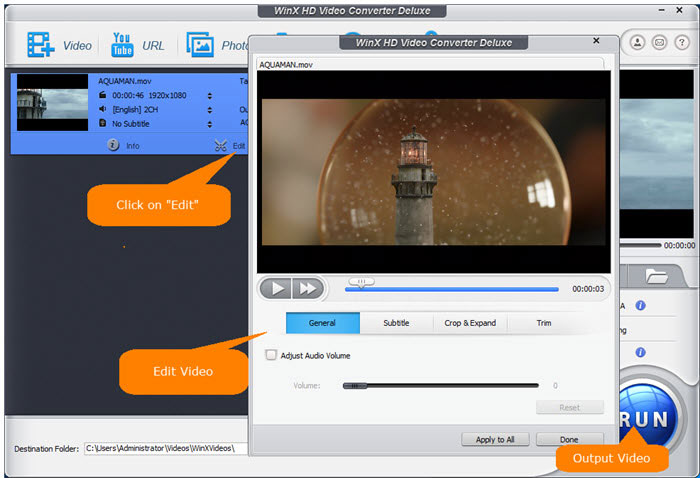 WinX HD Video Converter Deluxe not only allows you to edit 4K video, but also supports convert video to any format such as MP4, AVI, MPEG, WMV, MOV, etc. If you do not want to keep large videos on your computer, it can help downscale video to 1280p. 1080p, 720p and so on. Download and try WinX HD Video Converter Deluxe, the one-station video processor to terminate your 4K video editing troubles!