What is Video Resolution? What is 1080p/4K Resolution Size?
You search "What is video resolution" online mostly when you're caught in limbo - which one to choose in video editing or YouTube uploading, 1080p, 2K or 4K resolution? In such case, you are whopping eager to know the definition of video resolution and the differences among 720p, 1080p, 2K, 4K and 8K resolution. Afterwards, you can make your decision on which resolution to choose. That's why you google this keyword.
Nonsense aside, may hay when the sun shines. Read the video resolution post now:
Downscale 4K to 1080p for Faster YouTube Uploading? Upscale 1080p to 4K for Editing?
Try HD Video Converter Deluxe, helping you free compress 4K to 1080p to reduce video size for faster YouTube/Ins uploading, Emailing or upscale 1080p to 4K for better quality. What's better, it also lets you free convert video format, download online videos, change video codec, frame rate, aspect ratio, audio etc. to customize your video as you need.
Table of Contents
Part 1. What is Video Resolution?
Video resolution is the number of pixels contained in each frame. To further explain pixel by the way, pixel is the smallest unit of a graphic or an image, displayed on any screen or digital device. Back to the subject, video resolution determines the amount of detail in your video image, or how realistic and clear the video frame looks. Video resolution is one of the key factors to determine a video's quality. A higher number of pixels indicates a higher resolution, and theoretically a higher resolution makes a higher-quality video. Video resolution formula: Resolution = Pixel width x Pixel height. Usually we name a video resolution using its pixel height like 720p, 1080p, 1440p, 2160p, 4320p, etc.
Part 2. List of Common Video Resolutions
The page of video resolutions is no less than a mile long. Therefore, it's unrealistic to list them out all. Instead, we have the most common video resolutions, video frame size, display resolutions showed here, alongside with the video size of common video resolutions. Check now:
#1. Video Resolution Size
Most common video resolutions vary from standard definition (SD) to high definition (HD) and even Ultra HD resolution (4K/8K). What is video pixel size of each video resolution? And what is the aspect ratio of each resolution? The below video resolution size chart responds to your questions.
Common Name

Resolution Type

Video Resolution Size
(aka. frame size; pixel size)

Aspect Ratio

Upload Speed

8K or 4320p

8K video or Full Ultra HD

7680 x 4320 

16:9

10 to 35 Mbps

4K or 2160p

4K video or Ultra HD (UHD)

3840 x 2160 

1:1.9

5.5 to 6.5 Mbps

1080p

2K video

2048 x 1080 

1:1.77

6.5 to 8+ Mbps

1440p

QHD (Quad HD)

2560 x 1440 

16:9

5.5 to 7 Mbps

1080p

Full HD

1920 x 1080

16:9

5.5 to 7+ Mbps

720p

HD (High Definition)

1280 x 720

16:9

5 to 6 Mbps

480p

SD (Standard Definition)

640 x 480

4:3

3.5 to 5 Mbps
On top of the common video resolutions for digital videos, there are some standard video resolutions for DVD disc, HD DVD and Ultra HD Blu-ray disc. Check below if you have such a gusto.
DVD: 720 × 480 (at 24/30FPS for NTSC) and 720 × 576 (at 25FPS for PAL)
HD DVD: 1280 × 720 for HD; 1280 × 1080, 1440 × 1080 or 1920 × 1080 for Full HD DVD.
Ultra HD Blu-ray Disc: 3840 × 2160 for 4K UHDTV; 7680 × 4320 for 8K UHDTV.
#2. Common Display Resolutions
The ultimate aim of your video is to play! Hence, you have to know if your video resolution matches up with your display screen resolution. Some videos will auto adjust its aspect ratio to fit your display while some won't. You'd better know your computer display standard & resolution first and see if you need to adjust your video resolution and aspect ratio in advance to perfectly acclimate to your playback display.
Computer Display Standard

Video Resolution Size
(aka. frame size; pixel size)

Aspect Ratio

SVGA (Super Video Graphics Array)

800x600

4:3

WXGA

1280x720

16:9

SXGA

1280x1024

5:4

FHD (Full HD)

1920x1080

16:9

QXGA

2048x1536

4:3

QHD (Quad HD)

2560x1440

16:9

WQXGA

2560x1600

16:10

UWQHD

3440x1440

21:9

4K UHD

3840x2160

16:9

5K Retina Display

5120x2880

16:9
When a computer display resolution is set higher than the physical screen resolution (native resolution), some video drivers make the virtual screen scrollable over the physical screen so as to achieve a two dimensional virtual desktop with its viewport. Generally, video image is susceptible to this resolution adjustment, getting poorer in image due to dropping of pixels to make the image fit laptop screen.
In such case, you'd better retune the resolution back to default one or adjust video resolution and aspect ratio in advance to better fit your screen (computer display or native resolution). To tweak video resolution and aspect ratio, try HD Video Converter Deluxe, which helps you free upscale 720p to 1080p, 1080p to 4K 2160p or downscale video resolution. Load it and it also enables you free change aspect ratio from 4:3 to 16:9, 1:1 to 16:9 or vice versa. Video codec conversion, bitrate/frame rate conversion, video compression and downloads are available, too.
#3. 1080p 4K Video File Size
Beyond the video frame size and display resolution, majority of users also gravitate towards video file size esp. those in 1080p full HD or 4K 2160 Ultra HD reolution. Here shows you the most commonly used 1080p FHD and 4K UHD resolution file size at H264, HEVC, ProRes codec, helping you rationally choose video resolution for shooting, uploading or sharing based on its file size.
Resolution: 1080p (1920x1080) 30FPS
H264 codec: roughly 37.5Mb for 1-min video length
HEVC (x265) codec: roughly 10.5Mb for 1-min video length
10-bit HDR ProRes codec: approximately 1.7GB for 1-min video length
Resolution: 4K (3840x2160) 30FPS
H264 codec: roughly 350Mb for 1-min video length
HEVC (x265) codec: roughly 175Mb for 1-min video length
10-bit HDR ProRes codec: approximately 6GB for 1-min video length
4K leaves 1080p in the dust in video resolution and quality. Yet, as you can see, the video file size of 4K is much larger than 1080p. And it varies a lot among codecs, H264, H265 and ProRes. In case your video recorder or iPhone 13 Pro is sufficient in space like 512GB or 1TB above, you can shoot video at 4K 2160p ultra high definition to capture videos with more details and pixels. For those devices with limited space, you're highly suggested to pick up 1080p for shooting, faster YouTube uploading or sharing.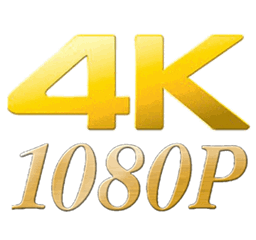 Other scenario - you've already had 4K large-sized video in H264 or 10-bit HDR ProRes codec, then the workaround goes to downscale 4K to 1080p, convert H264 to HEVC or ProRes to HEVC to reduce video size if it's too large to store, upload or Email. HD Video Converter Deluxe, as its name implies, is the very tool to help you achieve these goals!
Part 3. 1080i and 1080p Resolutions, What Are the Differences?
1080p and 1080i, what are the differences between them? This question concerning video resolution specific filed constantly shows up on varied types of answer websites or forums. It's a good chance to elaborate it for you if you can spare time to read it (roughly 1-2 mins).
The letters "i" and "p" refer to the display mode used: 1080i stands for "interlaced" and 1080p to "progressive scan". Progressive scan means the pixels in each new frame emerge on the screen all immediately, which is the most favorable scan method for digital media. The underlying principle of interlaced scan is the pixels for each new frame loading in alternating lines, which can save bandwidth but may result in flickering or blurred lines in video image with fast movement. Thus, the interlaced scanned video quality is lower than the progressive scanned one. p = Progressive video
Displays both odd and even scan lines (the complete video frame) simultaneously. A HDMI cable (of high speed) to transmit the video signal in 1080p is needed.
i = Interlaced video
Displays odd and even scan lines as individual fields. Even scan lines goes first on the screen, followed by odd scan lines. Two odd and even scan line fields form one video frame.
Read this if you wanna delve into video progressive/interlaced scanning field further.
Part 4. Higher Resolutions Are always a Better Choice?
Not really! Of course you always want the best resolution possible. However, video resolution is highly relevant to video size. The higher resolution is, the larger video size will be. Consider your end deliverable when choosing a resolution.
Choose 480p or 576p resolution if you plan to burn video to DVD disc for storage.
Choose 720p or 1080p resolution if you're creating vlog for faster uploading to YouTube, Ins, Vimeo, Facebook for sharing and don't want to encounter endless uploading trouble because of large-sized video file.
Select 4K 2160p resolution if the video shooting device sports with ample storage space like iPhone 13 Pro with 512GB or even 1TB. Certainly, 4K or even 8K is your perfect resolution to play if you upgrade laptop to Mac Studio 2022 with (5K Retina) Studio Display.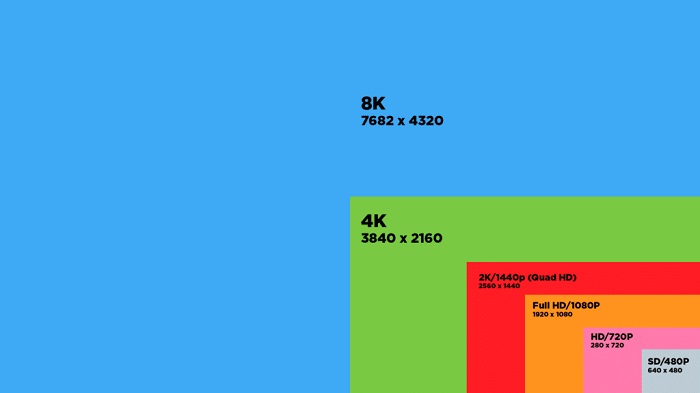 Warm prompt: think twice before you select 4K 2160p resolution, irrespective of video playback, editing or converting. 4K has roughly 4 times more resolution than 1080p, which determines HEVC (x265) becoming the currently most effective codec for 4K Ultra HD resolution. The higher coding efficiency of HEVC also comes at a price: increased computational complexity, which demands up to 10X more compute power than H264 in 4K video processing. Put it in another words, 4K video (HEVC) is always high-demanding on your computer hardware configurations, including RAM, CPU and GPU processor. Or laptop lagging, CPU overuse and CPU overheating problems will never leave you alone in 4K video playback, editing or converting.
The most straight-forward workarounds are upgrading your hardware configurations and downscaling 4K to 1080p/720p lower resolution. Or you resort to software tools with GPU hardware acceleration tech during playback, editing or converting if you have no budget for hardware upgrade or no plan to change video resolution. For instance, play 4K HEVC with hardware-decoding player VLC (DirectX Video Acceleration for Windows, Video Decoding Acceleration for macOS), edit 4K H265 video with Premiere Pro (GPU acceleration OpenCL/CUDA/Metal) or convert 4K x265 with HD Video Converter Deluxe (powered by Intel QSV/Nvidia/AMD GPU acceleration).
Part 5. FAQs about Video Resolution
1. What is the best video resolution for youtube
According to the current official YouTube guide, the standard definition of YouTube video goes to 480p (854x480). Yet, with the constantly upgrades on the screen definition, 720p becomes the preferred YouTube HD video resolution. Well, 1080p is the standard YouTube HD resolution and the default resolution for online viewing. 4K 2160p becomes more and more popular on YouTube but it needs you to manually change 1080p to 2160p on settings if your display supports resolution up to real 4K 2160p.
2. Does higher video resolution mean larger video files?
Not 100% in accuracy. Resolution affects the file size of videos. A High Definition video has a bigger file size compared to a Standard Definition video with the same duration. But video file size is affected by many factors, including video resolution, bit rate (VBR/CBR), frame rate, video codec, container format, video profile, interlaced/progressive scanning, color depth (aka. bit depth), Chroma subsampling, etc. Therefore, it's not precise to simply conclude this proposition.