Posted by Donna Peng - Contact Author

[Tutorial] How to Fix Blue Screen in Windows While Ripping DVD

If you are searching for the best solution, click here: The solution most recommended by us [85%]
Solved: Computer Crashes and Shows a BSOD Error While Ripping DVD
Blue screen error, also known as blue screen of death or BSOD, is an error screen displayed on a Windows computer system after a system crash. It appears as a blue screen with white letters describing the problem. Blue screen could happen while we install Windows, play games, watch movies, rip DVDs, and do other things. In this article we'll focus on fixing blue screen while ripping DVDs. Some users reported that their computer crashed and gave them a BSOD while ripping DVD with HandBrake, DVD Shrink, or other free or paid programs. Here's an example.
"I'm having issues with my system blue screening when I try to rip DVD's. I have an old family video I'm trying to rip and Handbrake gets it to about 25% and then it's an instant blue screen every time. This has happened in Handbrake and also RipBot264. Can't figure out why. BlueScreenView says that it's hal.dll that's crashing (Hardware Abstraction Layer)."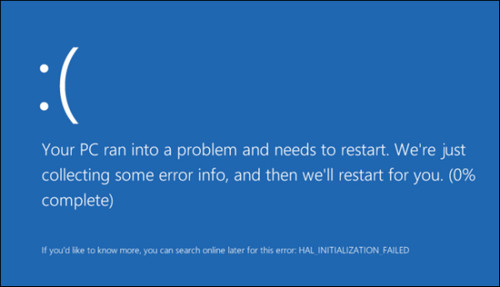 Read on to find out how to get rid of blue screen crash while ripping DVD. If the problem persists after you disable GPU hardware acceleration, fix problematic driver and perform other possible solutions, you might as well try ripping DVD with another program and see if you still get BSOD.
How to fix blue screen while ripping DVD -- turn off GPU hardware acceleration
Many multimedia software programs have added the support for GPU hardware acceleration in order to speed up video decoding, encoding and processing. GPU hardware acceleration does make the applications run much faster, but sometimes it may cause problems, such as the blue screen error when ripping DVD with hardware acceleration on. In this case, you can switch off GPU hardware acceleration option in your DVD ripper to set everything to software and try ripping DVD again. Some users said that they managed to rip DVDs without getting a BSOD after disabling GPU hardware acceleration.
How to fix blue screen while ripping DVD -- enable driver verifier to find out problematic driver
Sometimes blue screen error is caused by a specific driver. To figure out which driver causes this problem, you can use Driver Verifier. But you need to know that Driver Verifier is only useful if you can log into your Windows normally not in the safe mode because in safe mode most of the default drivers are not loaded. Now let me show you how to use Driver Verifier to fix blue screen of death (BSOD) error that happens during DVD ripping.
Step 1. Create a minidump (DMP) file which can store critical information about Windows crash: press Windows key and R and enter sysdm.cpl -> click Advanced tab in System properties panel and click the Settings button under Startup and Recovery -> make sure that Automatically restart is unchecked, select Small memory dump (256 KB) under Write debugging information header, and make sure Small dump directory is listed as %systemroot%\Minidump -> click OK and restart computer.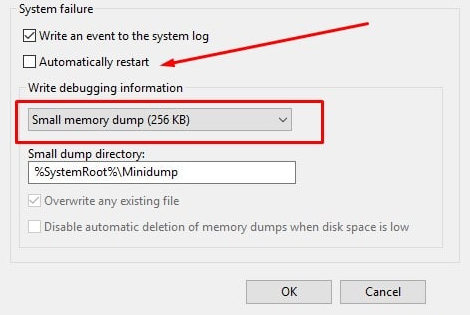 Step 2. Type cmd in the search bar. When Command Prompt appears, right click on it and select Run as Administrator. Next, enter command verifier.
Step 3. Then Driver Verifier Manager will open. You should select Create custom settings (for code developers).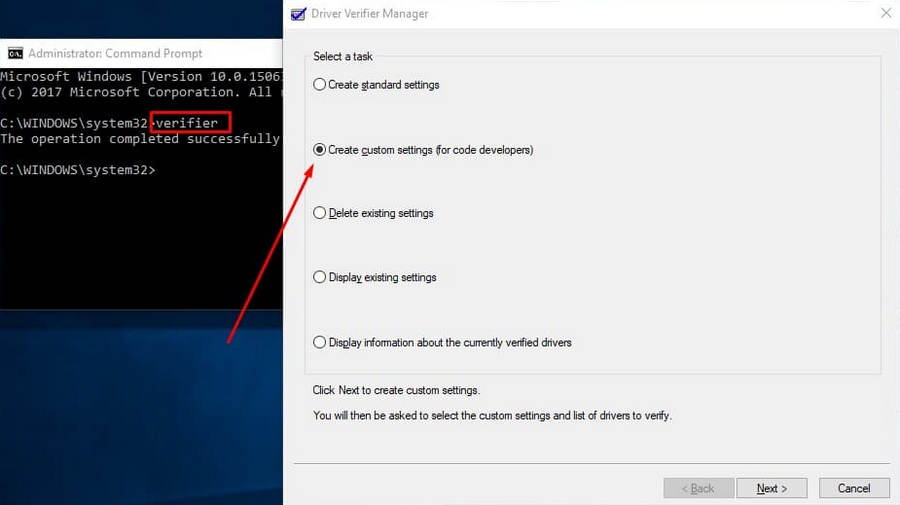 Step 4. Select everything except Randomized low resources simulation and DDI compliance checking, and hit Next.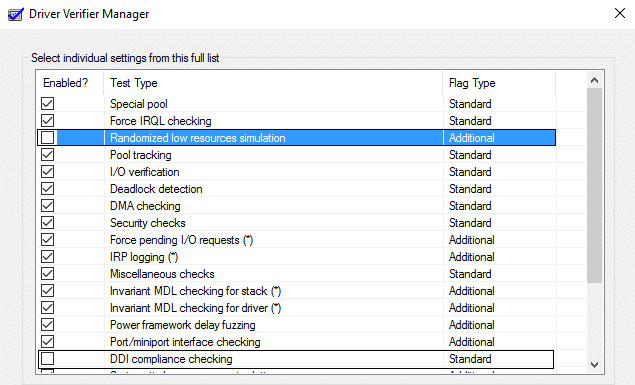 Step 5. Choose Select drive names from a list and hit Next.
Step 6. Select all the drivers except those provided by Microsoft.
Step 7. Click Finish to run Driver Verifier.
If Driver Verifier is running, it would return a list of drivers. You can type verifier /querysettings in admin cmd to make sure it is running.
If Driver Verifier isn't running, run it by following the steps above.
Note: Our main purpose of doing those things is that we want our system to crash as Driver Verifier is stressing the drivers and will provide a full report of the crash. But if your system doesn't crash, you should let Driver Verifier run for 36 hours before disabling it.
Step 8. Next time when you receive a BSOD error, you should restart Windows and on next login Windows create a memory dump file automatically.
Step 9. Download and install BlueScreenView and load your Minidump or Memory dump files from C:\Windows\Minidump or C:\Windows (they go by the .dmp extension) into BlueScreenView. Then, you will find the problematic driver under Caused By Driver. Just install the driver and the blue screen error would be fixed.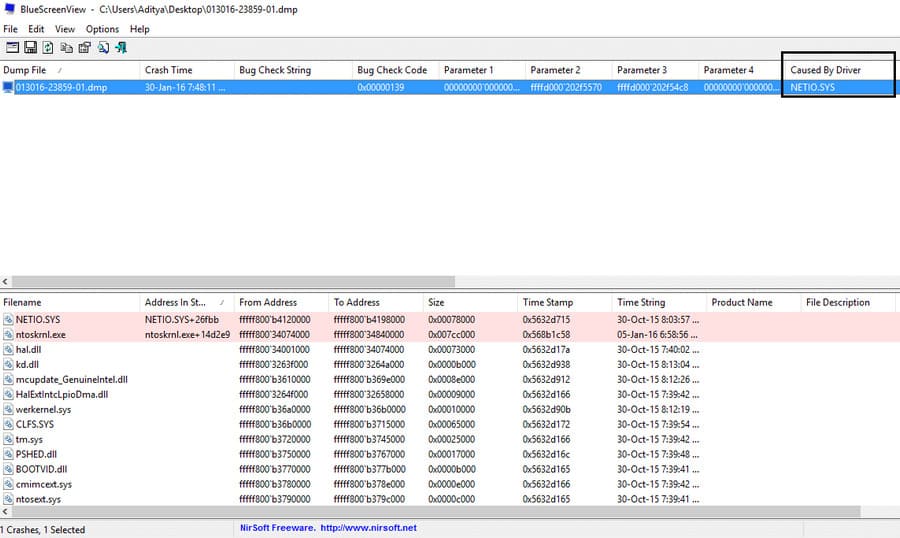 How to fix blue screen while ripping DVD -- try a different DVD ripper
Sometimes the DVD ripper you use is the root of the blue screen error. If your DVD ripper works too hard to handle a copy-protected DVD, it may lead to overheating or overworking and thus causes a BSOD. So, another possible solution to avoid blue screen while ripping DVD is to try a different powerful DVD ripper. For example, if you failed to rip DVD with HandBrake or DVD Shrink, you can give WinX DVD Ripper Platinum a try. So far, nobody reports to having blue screen error while ripping DVD with WinX ripper.
Rip various DVDs including new/old/damaged region-locked and copy-protected DVDs with ease.
Allow users to enable or disable level-3 hardware acceleration based on their own needs.
Still have great speed thanks to multi-core CPU and Hyperthreading, even if GPU acceleration is off.
Provide 350+ optimized output presets, incl. MP4, AVI, WMV, iPhone, iPad, Android, etc.
Quickly deliver output file without quality loss.
Finish DVD ripping within 3 simple steps: load DVD -> select output -> hit RUN to start ripping.

Download WinX DVD Ripper Platinum on Windows

to rip DVDs without causing blue screen

Download WinX DVD Ripper Platinum on Mac

to rip DVDs without causing blue screen