Convert Blu-ray Disc to AVCHD Video Easily with One Single Blu-ray to AVCHD Converter
AVCHD (Advanced Video Coding High Definition) was primarily applied in HD camcorders; specifically, it is a high definition format introduced for tapeless camcorders or for the use of digital recording and playback of high-def video.
Besides, AVCHD is also capable of presenting additional media content such as subtitles, menu navigation (similar in DVD) and slide shows.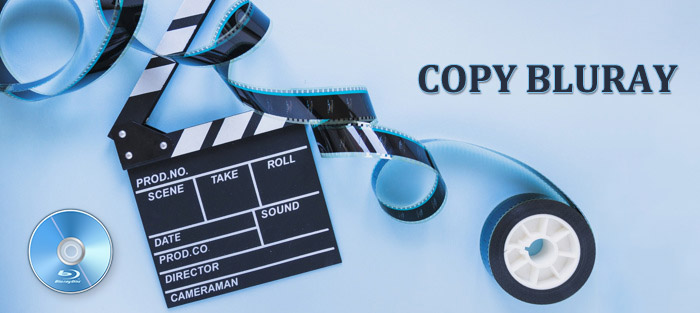 The Relation between Blu-ray and AVCHD
AVCHD was designed to be compatible with Blu-ray Disc format and similar to but simpler than the Blu-ray Disc standard. Derived from the Blu-ray Disc specification, AVCHD has a random access directory structure similar to it. Additionally, AVCHD video can be stored in DVD media, memory card or hard disk drive while Blu-ray disc format cannot.
AVCHD video endows you with the features of Blu-ray disc, say, 1920x1080 resolution visual effect, native language, DVD-like navigation menus and chapters, even custom subtitles and audio tracks, as well as the right to select and disable the subtitle, etc.
How to Convert Blu-ray to AVCHD Video (M2TS File Extension)?
How to transform blu-ray disc to AVCHD video to let it stored and played back freely on your computer? The following guide can help you achieve it easily.
Certainly, you need a Blu-ray to AVCHD converter before converting blu-ray to AVCHD according to the steps as follows on the software UI:
Step 1: Download WinX Blu-ray Decrypter for Windows -> run it -> insert any Blu-ray disc in your computer (BD drive needed) -> click on "Load BD" to import your Blu-ray disc;
Note: WinX Blu-ray Decrypter can convert any Blu-ray to M2TS video, including Blu-ray disc, BD-R, BD-RE, 3D Blu-ray, and can decrypt copy-protected Blu-ray disc encrypted (MKV 1-25, bus encryption, Image Constrain Token (ICT)), BD+, BD-Live, and ROM-Mark, etc.
Step 2: Choose Title Mode under Target Mode to decrypt and backup the main title or any selected title in your PC so that you can convert Blu-ray disc to an M2TS file;
Note: WinX Blu-ray Decrypter also supports Full Disc Mode as an alternate output mode so that you can copy Blu-ray to a Blu-ray folder to facilitate Blu-ray burning mainly. But you can also play M2TS video if choosing this mode.
Step 3: Browse to determine the place to store the output file;
Step 4: Hit "Run" button to begin converting Blu-ray to AVCHD M2TS video file. The whole process only takes about 25 minutes depending on the CPU and drive of your computer.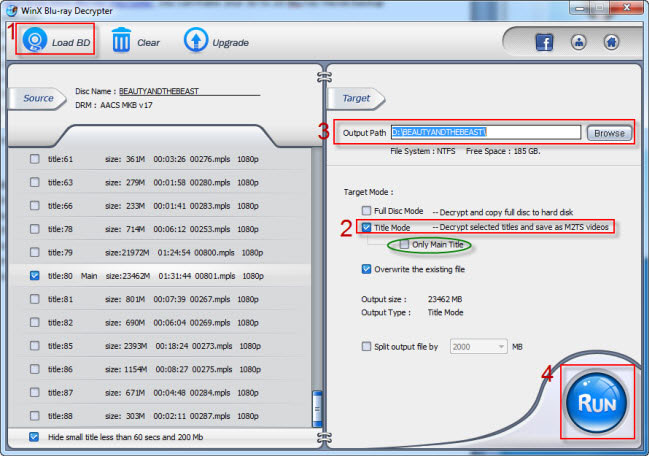 Besides, you can reduce the size of output AVCHD file in the process of Blu-ray to M2TS conversion by splitting as follows:

Why to Convert Blu-ray to AVCHD Video?
Do you know what can you do by converting Blu-ray to AVCHD video? The following things are for you to figure out:
How to Play AVCHD M2TS Video
Generally, AVCHD video file is always with the filename extension MTS or M2TS. AVCHD M2TS file can be played by Windows Media Player (including Win7 Media Player), VLC, MPlayer, DAPlayer, MPC-HD, XMBC, ALLPlayer and MPlayer, etc. M2TS files can also be played on Sony PlayStation 3s, Sony Bravia TVs, Western Digital WDTVs, Xtreamer media player, Amkette FlashTV HD Media Player and Panasonic Viera TVs supporting playback of AVCHD.
Other Uses:
You can split any unnecessary title in the Blu-ray disc during converting Blu-ray to AVCHD video. After you convert Blu-ray to AVCHD video with M2TS as file extension, you can store the AVCHD video file in your computer as a 1:1 backup copy without quality loss. Besides playing back AVCHD video by the above mentioned players freely, you can also at least:
Enjoy 1080p Ful-HD visual effect;
Jump over the part you seen before;
Build your own HTPC video library including Blu-ray videos.
Copy AVCHD video to portable devices to carry it conveniently;
Convert AVCHD to AVI, WMV, MOV or any other formats using professional video converter to resize the AVCHD video file or play AVCHD on iPhone, play AVCHD on iPad, iPod, PSP, Zune, mobile phones;
Edit, crop or trim AVCHD video file with the help of professional video editor.
Learn more about WinX Blu-ray Decrypter...
Still have trouble about converting Blu-ray disc to AVCHD video? Please feel free to Email Us >>