Take iPhone Live Photos - Transfer Moving Pictures/Live Photos from iPhone to PC
How to take moving live photos on iPhone and transfer them to PC for a backup.
Many of you may not realize a hidden funny photo feature of iPhone - Live Photos. iPhone Live Photos let users to take moving picture like a little video and make images come to life. It's a bit like a Gif but it can capture audio at the same time. It is not a video but a moving picture.
Live Photo is a 3-second iPhone moving picture that first appeared on iPhone 6S. Live Photos capture what happens 1.5 seconds before and after you press Shutter button to take a photo. You can easily take a live photo when you turn on Live Photos feature on iPhone. You capture the moving photo just like you take a traditional photo.
Transfer (Live) Photos from iPhone to Windows PC - WinX MediaTrans
iPhone live photos are double-sized over normal photos. Ever need a fast way to export the storage-occupied moving pictures, HEIC photos, or other photos on iPhone to computer? The easiest and fastest way is to use WinX MediaTrans which can transfer 1000 photos from iPhone to PC in about 1 minute. Importing photos from PC to iPhone, two-way iPhone music/video/eBook transfer are perfectly supported.
Can Your iPhone Take Moving/Live Photos?
Live Photos was introduced in iOS 9 as a special feature for the iPhone 6S and 6S Plus. iOS 9-iOS 14 based iPhone 13 and earlier 9.7-inch iPad Pro can also take moving pictures. While iPhone 6 and older iPhone generations cannot take live photos.
How to Take Moving/Live Pictures on iPhone?
With Live Photos mode turned on, you can use iPhone front camera (5MP) or rear camera (12MP) to take a 3-second moving picture which contains 1.5 seconds before and 1.5 seconds after the static photo.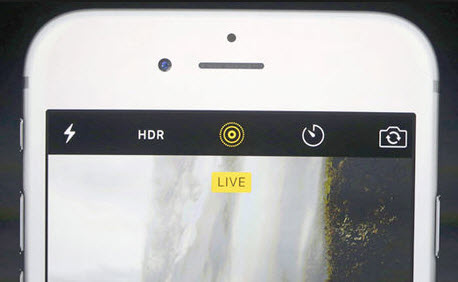 1. Open the Camera app on your iPhone.
2. Tap the target-like Live Photo button on the top center. When it turns to yellow and a yellow "Live" word appears, it means Live Photos function is turned on.
3. Hold your iPhone still and tap the Shutter icon on the bottom to capture a live photo on iPhone. You can then take cool live selfies and share with friends.
How to View Live Photos on iPhone?
Viewing a live photo on iPhone is extremely easy. Open iPhone Photos app and find the moving pictures on iPhone. Since the live photos look no different with normal photos. To check if the photo is a live photo, you can choose that photo and press it longer, and it will auto play. Just tap the iPhone live photo and press the screen firmly with 3D Touch, and you could view the 3 seconds moving picture.
iPhone 6 and older cannot take live photos, but you can view live photos on them as well as macOS El Capitan or later, Apple Watch OS 2, etc.
Note: Apple iOS applies new photo compression technology, HEIC. It replaces the JPEG image format with the new HEIC. Windows 10 and many image programs don't support HEIC yet. WinX MediaTrans enables you to easily preview HEIC photos on Windows (10) PC, and export HEIC photos from iPhone iPad to PC as JPG.
Can iPhone Moving Pictures Be Edited?
If your iPhone is running on iOS 10 or above, then you can edit live photos on iPhone.
1. Open the Photos app on your iPhone and find the moving picture you'd like to edit.
2. Tap the Edit on the top right. Then you can add a filter to the live photo by clicking the three-circle button and do other edits.
Tip: You might lose the Live Photo effect if you edit the live photo in other third-party apps.
What You Can Do with iPhone Moving/Live Photos?
1. Set the live photo as motion animated wallpaper for iPhone Lock Screen.
2. Upload and Share those fantastic live photos on Facebook and Tumblr.
3. Share Live Photos with friends via text message, iMessages, iCloud Photo Sharing, or AirDrop. If you send a moving picture to a friend using iPhone, he can use 3D Touch to view the live photo.
You May Need to Backup/Transfer Live Photos from iPhone to PC
Taking funny moving pictures on iPhone may be interesting, but live photos will occupy too much storage of your iPhone. The image file size of a live photo is double that of a standard photo. If you snap many moving pictures on your iPhone, then you may quickly run short of your iPhone storage space, especially 16GB iPhones.
If your iPhone is run out of free memory with a lot of live photos or the iPhone storage is full owing to much other data like videos, movies, music, etc. on iPhone. Here is the easiest and fastest way to export and transfer moving/live photos from iPhone to PC.
WinX MediaTrans enables you to backup iPhone data incl. (live) photos, music, video, eBooks and more to PC at a superfast speed, as well as help you transfer photos, music, videos, etc. from PC to iPhone with no data loss. You can use it as a substitute to Apple iTunes. Windows 10/11 and iOS 14 are perfectly supported.
Quick Photo Transfer Guide with WinX MediaTrans:
Free download, install and launch WinX MediaTrans on Windows 11/10/8/7 -> Connect your iPhone with PC via USB -> Click "Photo Transfer" button on the main UI, then choose the photos in iPhone and click "Export" to transfer photos from iPhone to PC at lightning speed.