Top 5 Free MP3 to iPhone Ringtone M4R Converters
Tutorial on how to turn MP3 into M4R iPhone ringtone with or without iTunes on PC/Mac.
Q - "How to convert mp3 to m4r ringtone? Hi, I have just purchased a small MP3 file to use as a ring tone. But to be able to use it on my iPhone, I need to convert it to an m4r file. Is it easy to do this WITHOUT purchasing special software? Although, having just said WITHOUT purchasing special software, I just goggled for the relevant FREE iPhone ringtone maker software and they ALL seem to be very dodgy!!!!!!"
First, stop getting obsessed with purchased iPhone ringtones, but remember that you can make your own for free in no time by extracting background music from your favorite movie videos saved in .m4r or downloading MP3 audios free online. And then, don't be so quick to decide to ditch paid apps altogether. As you can see, most freewares are very dodgy and not that handy. So cut to the chase: how to turn MP3 into ringtone free for iPhone?
Looking for an easy way to turn MP3 into iPhone ringtone?
We recommend WinX MediaTrans
Transfer music, ringtones, audiobooks of any format between iPhone and PC, be it MP3, M4R, M4B, M4P, FLAC, AAC, etc.
Bulk turn MP3 songs into M4R ringtone and export to iPhone directly
Creat, modify, delete playlist and manage iPhone music library; transfer video/photo/book/iTunes purchase, etc
Top 5 Free MP3 to M4R Ringtone Converters
Background info you need to know about iPhone ringtone making
1. iPhone (7/6S/6 and before) takes M4R as the only right ringtone format, which actually is a variant of M4A (AAC). That's why you can simply double click a M4A file and directly rename it as M4R. Apparently, MP3 is not accepted by iPhone as ringtone, leading to the need of turning MP3 into M4R.
2. Suppose you have paid for a MP3 file in a music app, you gotta understand that directly setting MP3 as iPhone ringtone never works. First you need to export it to the computer, convert MP3 to M4R, next transfer back to iPhone, and then set as ringtone, all of which can be done using iTunes.
3. Sometimes error happens while turning MP3 into ringtone using iTunes, and it requires you to restore iPhone, which gives you the latest backup of iPhone, however without your purchased iPhone.
Top 5 Free MP3 to M4R iPhone Ringtone Converters
1. WinX MediaTrans
Taking into consideration that most people require it being free, clean and easy, WinX MediaTrans is worth your while to try. Being one of the top 3 best MP3 to iPhone ringtone converters, although not totally free, it allows you to import/export MP3 music, set your favorite segment as ringtone and transfer to iPhone easily and directly.
How to Turn MP3 to iPhone Ringtone with WinX MediaTrans?
Step 1. Install WinX MediaTrans
Download WinX MediaTrans .exe file to PC (Windows 10/11 supported), get this iPhone ringtone maker installed directly, and open it up.
Step 2. Connect iPhone with computer
Connect iPhone with PC via USB cable and then the main interface will appear automatically, with 7 function buttons imbedded in.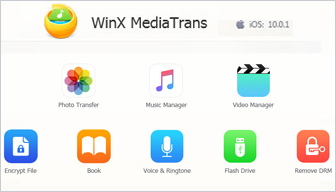 Step 3. Turn MP3 into M4R iPhone ringtone
Click "Vocie & Ringtone" button at the second line.
Then press button "Add Ringtone" to load the MP3 music, followed by clicking "Make Ringtone".
Slide the audio track to select a 40s range of the MP3 song as ringtone and click "OK".
Hit the "Sync" button in the lower right corner and MP3 to M4R conversion and transfer will be completed in seconds.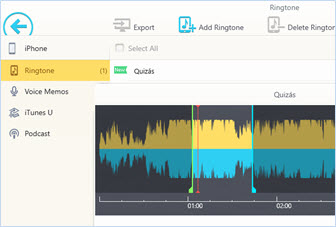 Converting MP3 to ringtone can also be done through "Music Manager" part.
WinX MediaTrans supported music file formats: .mp3, .aac, .m4a, .flac, .ape, .wma, .oga, .ogg.
This iPhone mobile manager allows you to free convert mp3 to m4r and make iPhone ringtone with limited numbers (import and export 30 per day). | Upgrade to full version >>
Still have some trouble about how to convert MP3 to iPhone ringtone using WinX MediaTrans? Please feel free to Mail Us >>
2. iTunes
Needless to say, people who want to turn mp3 songs into m4r for settings as iPhone ringtone free should use iTunes first, the tool developed by Apple itself. Well, be prepared to deal with the sort of complicated steps. Frankly speaking, iTunes is not that user-friendly for most people because of its complicated operations.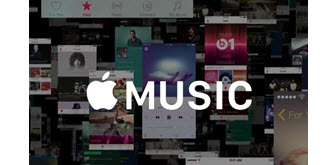 How to Turn MP3 into iPhone Ringtone with iTunes
Q - "iTunes 12 has no option to create AAC version. I made an original ringtones and imported it to my iTunes library first as an mp3. When I right-click the associated file, the 'Create AAC Version' selection in the context menu no longer appears, not even as a greyed out item. Are .m4r files still the native ringtone format for iOS?"
A: iTunes can't creat AAC version, meaning turning MP3 to iPhone ringtone is not possible any more. But actually, the "Creat AAC version" is just hidden under "File" in iTunes 12, not removed. If you are still getting stuck in MP3 to ringtone conversion with iTunes, please refer to the next step-by-step guide.
Steps to convert MP3 to M4R iPhone ringtone using iTunes
iTunes version: 12.5.4.42
iPhone Model: iPhone 7 128GB
Step 1. Connect iPhone with computer, open iTunes and find the MP3 music in the Music library you want to convert to M4R. Or click "File" -> "Add File to Library".
Step 2. Right click the song and select "Get Info" and switch to "Options" tab.
Step 3. Tick the "Start Time" and "Stop Time" boxes -> manually set a particular part (better between 30-40 seconds) -> click "OK".
Step 4. Click the music again -> move to "File" option on the top left corner in iTunes 12 -> "Convert" -> "Create AAC version" and you will see the .aac file right under the .mp3.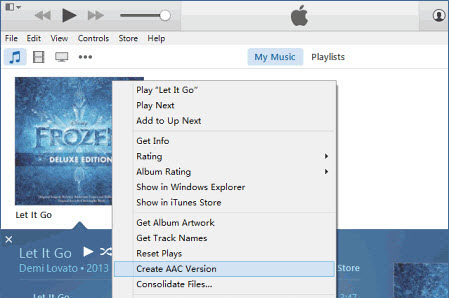 Step 5. Right click the AAC file -> select "Show in Windows Explorer" and it will be shown in .m4a -> double click it and rename it as .m4r.
Step 6. Select the short version in iTunes and delete it.
Step 7. Go back to Windows Explorer and double click the .m4r file, which will auto move to the iTunes Tone library.
Step 8. Connect iPhone with iTunes and sync the M4R ringtone to iPhone.
3. Syncios
Just as WinX MediaTrans, Syncios is not a completely free mobile manager, but iPhone ringtone making part can be used freely at no cost. It supports turning MP3 into M4R as iPhone ringtone and making SMS ringtone. But sometimes you may meet the "No device is detected" error, although your iPhone is still connected to PC.
On top of free MP3 to M4R ringtone converting feature, it features a bunch of other bonuses for you including iPhone files backup, HEIC converter, audio/video converting, and photo compression.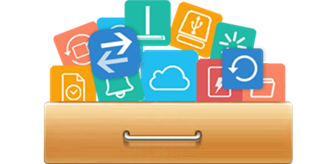 Steps to turn MP3 into M4R iPhone ringtone using Syncios
Step 1. Run Syncios Toolkit after downloading and installation > hit "Mobile Manager" on the main screen.
Step 2. Connect your iPhone to the PC via a USB cable. Make sure that there is no problem with the USB cable or else it would cause not detecting iPhone error.
Step 3. Click "Toolbox" at the upper right corner > opt for "Audio Conversion".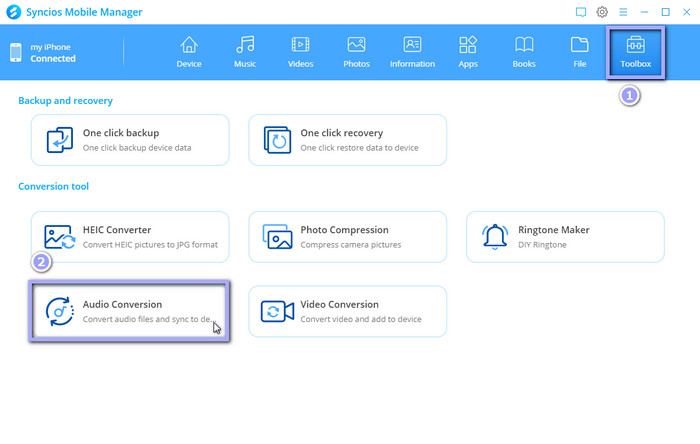 Step 4. Convert MP3 to ringtone M4R format. Click "Add Audio" > "Add Files" at the top left corner to import the MP3 music file. Afterwards, hit "Change" at the right to set the audio output destination.
Pick up M4R manually as resulting audio format under "Audio Convert Format" section. Lastly, hit "Convert" at the lower right corner to begin converting music format from MP3 to ringtone M4R. Once it's done, the state of the MP3 audio will change into "Succeeded", and the converted M4R file has already been downloaded in the target folder.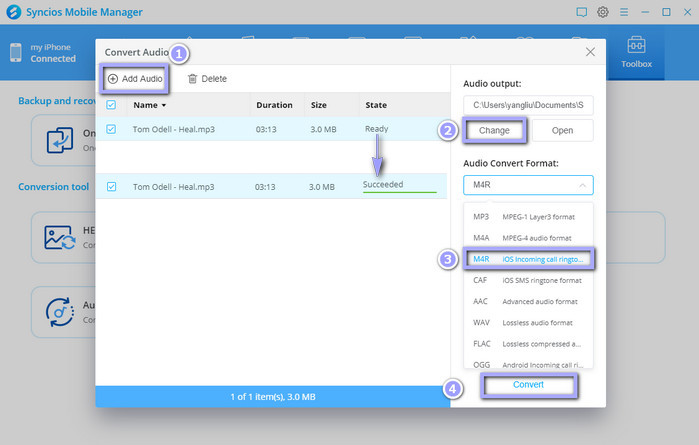 Step 5. Add the output M4R to iPhone Ringtone. Now sync the M4R ringtone to your iPhone with Syncios Mobile Manager:
Tap "Music" on the top > "Ringtones" > "Add" > "Add Files" at the upper left corner of the user interface. Choose the M4R audio you just converted and hit "Open". Once it's done, the M4R file will show up on the main interface which means it has been added to your iPhone Ringtone.
4. ringtonemaker.com
When it comes to make iPhone ringtones or convert MP3 to ringtone M4R for iPhone, online ringtonemaker.com is always worth a mention. It's quite easy to operate no matter what skill level you're in. Load your MP3 music file and it allows you to free set the start time and end time, ringtone volume and output M4R format. It's a no-frills kind of ringtone converter. It can definitely address your needs if you just have this MP3 to ringtone converting demand.
Steps to online free turn MP3 music to M4R iPhone ringtone
Step 1. Drop your MP3 music files to the place mentioned in the below picture. On top of MP3, this free MP3 to ringtone converter service also accepts AAC, FLAC, M4A, OGG, WAV and WMA formats.
Step 2. Place markers to set the range and clip duration.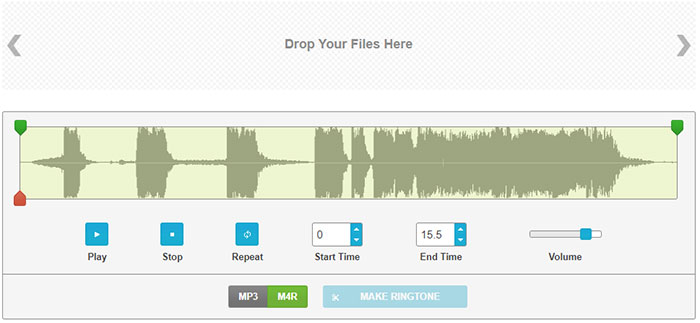 Step 3. Tap "Play" to listen to your MP3 audio clip. Select M4R as the final format.
Step 4. Click "Make Ringtone" to convert MP3 into iPhone ringtone M4R format.
5. zamzar
If your input MP3 file is within 50MB in size, you can also give zamzar a shot. This free online MP3 to ringtone converter webpage wins 4.5 stars out of 5 stars, up to 86% users voting for 5 stars. They agreed that this is a damn easy service, letting you turn MP3 to M4R with simple 3 clicks only. And to get more advanced survices like no input size limit, it still offers you a reasonable price for a subscription of one month.
Besides audio conversion, you rely on it to convert videos, documents, images, photos, eBooks, archive, etc. with umpteen formats supported.
Steps to free convert MP3 to ringtone M4R online with zamzar
Step 1. Tap the green button "Choose Files" to load your MP3 music file. Remeber the input MP3 file should not exceed 50MB.
Step 2. Choose the final format as M4R.

Step 3. Hit the "Convert Now" button to begin converting music format from MP3 to M4R iPhone ringtone.
No matter which MP3 to ringtone converter you plan to use, all of them can help you free decode MP3 to M4R iPhone ringtone like a walk in the park. Download the ringtone converter programs or resort to online MP3 to ringtone converters to create your iPhone ringtone easy as pie.
If you think the post useful, please kindly share it!