AVIF Image Converter to Convert AVIF to JPG, HEIC, PNG, WebP
AVIF is a new and high-efficient codec for image compression grounded on the AV1 video format. This image format is open-source and royalty-free, and is 10 times smaller than JPEG in file size with the same image quality. Better still, AVIF supports not only Standard Dynamic Range (SDR) images but also High Dynamic Range (HDR) and Wide Color Gamut (WCG). It can store both image items and image sequences. Notwithstanding AVIF is widely accepted by more and more devices and platforms, the compatibility gap betwen AVIF and JPG or HEIC is still widening.
That's the reason why you need a top AVIF converter to convert AVIF to jpg, png, heic, webp, tiff, etc. other image formats. Currently, there are umpteen AVIF image converters available in the market. It's unrealistic for you to try them one by one and then to test which one is better. To save your time and energy, here this post gathers the top free AVIF image converters to convert AVIF image format online easy as ABC.
WinX MediaTrans – Transfer & Convert AVIF to iPhone HEIC/JPG
If you want to open and view AVIF on iPhone, you can use WinX MediTrans to auto transfer and convert AVIF to iPhone supported JPG, HEIC, or PNG format during image sync process. It can also bulk transfer movies, videos, music, iTunes purchases, audiobooks, eBooks, etc. between iPhone iPad and PC/Mac. Auto convert M4V to MP4, M4B/M4P to MP3 without any 3rd party app help.
Part 1. Cloudconvert (11 Image Formats Supported)
Convert from AVIF
Cloudconvert is not strange to most users since we have mentioned it several times when it comes to online converting AV1, HEVC, MP4, MKV, etc. videos or converting MP3, AAC, WMA, etc. audio formats. On top of video, audio or documents files, this online file converter service also enables you to free convert AVIF to JPG, PNG, WebP, TIFF, ODD, GIF, etc. 11 image formats. Unluckily, it doesn't support HEIC output image format, currently.
As a compensation, this service provides you with image quality & size settings. Thus, you can control over your AVIF image quality and width & height to customize your specific needs.
Pros:
Easy to use; 100% free
Support 5 paths to load input AVIF image file, including computer, Google Drive, URL, Dropbox, OneDrive.
Free change AVIF image quality and file size.
Cons:
Input AVIF size is limited to 100MB for free account.
HEIC image format is not supported, yet.
Tutorial: How to Free Online Convert AVIF to JPG on Cloudconvert
Step 1. Load your AVIF image file from computer, URL or cloud storage service.

Step 2. Choose the final image format you need, like JPG, PNG, WebP, GIF, etc.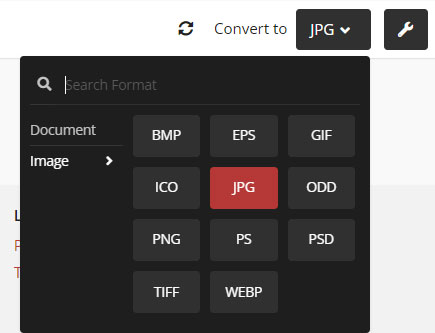 Optionally: tap the Setting icon (next to the output format) to open the settings window, where you can change the resulting image size via 3 options (Max, Crop, Scale) and image quality from 1 (lowest) to 100 (best quality) grounded on your demand.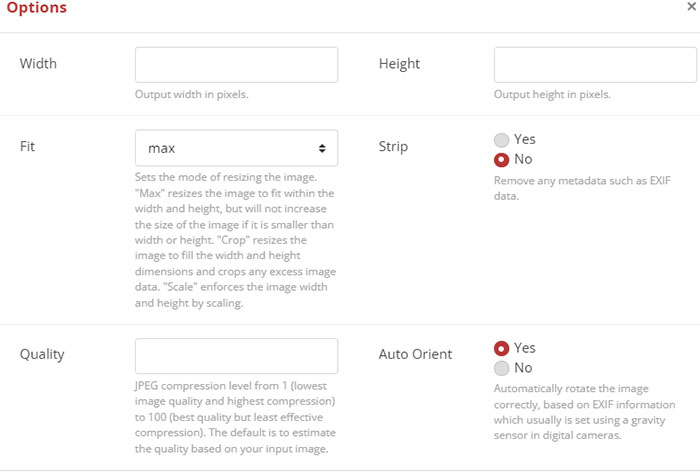 Step 3. Tap Convert (the red button) to begin converting AVIF to JPG online.
Providing you need to convert AVIF to HEIC, try the below online AVIF converter service.
Part 2. convertio.co (68 Output Image Formats)
Convert from AVIF & Convert to AVIF
Cloudconvert claims to support converting AVIF to HEIC, but the truth is not. Fortunately, convertio.co indeed converts image format from AVIF to HEIC or vice versa online so that you can view AVIF images on Windows 10/11 without having to download AV1 Video Extension on your Windows 10/11.
On top of HEIC, this free online AVIF converter also supports you to free convert AVIF to HEIF, HDR, YUV, RGB, etc. more professional image formats except for the common image formats like JPG, PNG, WebP, GIF, SVG, FTS, etc. Bulk AVIF files conversion is available, as well. You can convert a batch of AVIF image files and save to your Windows 10/11 or Google Drive/Dropbox cloud services as you wish.
Pros:
2-direction image conversion: convert files from/to AVIF.
The most output image formats supported, up to 68 image formats.
Save output AVIF files directly to google drive or dropbox.
Cons:
Only load AVIF files from local computer.
No quality & size settings for customization.
Tutorial: How to Free Online Convert AVIF to HEIC or Vice Versa on convertio.co
Step 1. Add your AVIF image file or files to convertio.co.
Step 2. Choose HEIC as your final image format after the loading is finished.

Step 3. Choose the destination folder for saving your AVIF file. Sign into your google drive or dropbox account if you need to save the output AVIF image file to the cloud services.
Step 4. Hit the red button "Convert" to commence converting AVIF to HEIC format online. After the conversion, download the output HEIC file to your Windows 10/11. Then, the job is done. The same also applies to convert image to AVIF, like jpg to avif, png to avif, heic to avif, etc.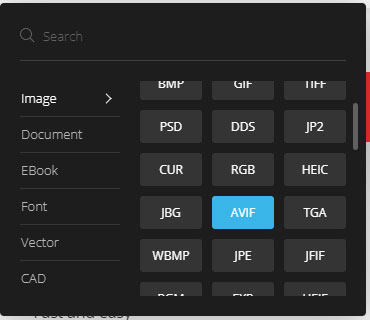 Part 3. avif.io (Reduce Image Size by 20-90%)
Convert to AVIF
As its name implies, this online free AVIF converter is born for AVIF image format. Compared with the above toolkits, this one has more attractive features. It allows you to free convert image to AVIF format without sweat. Beyond that, its built-in powerful size compression ability helps you reduce image size roughly 20% - 90% while keeping the highest possible quality.
That's not the whole story. In terms of image quality, it embraces HDR and 12-bit color depth to maximumly optimize your image visual effects, brightness and saturation. Another key point - speed is also well considered. It takes full advantage of the latest GPUs to hardware decode AVIF during AVIF image converting. This would quicken your image converting speed at least 2x faster.
Pros:
A wide range of output image formats supported, HEIC included.
Resize AVIF image size by 20-90%.
Highest possible quality guaranteed thanks to HDR and 12-bit color depth.
Cons:
Only support AVIF image file from local computer.
Unable to convert AVIF to jpg, png, heic, etc. image formats.
Tutorial: How to Free Online Convert JPG to AVIF on avif.io
Step 1. Import your image file like JPG, PNG, HEIC, WebP, etc.
Step 2. The output format will auto select AVIF and the home webpage will show the destination file size and compression ratio.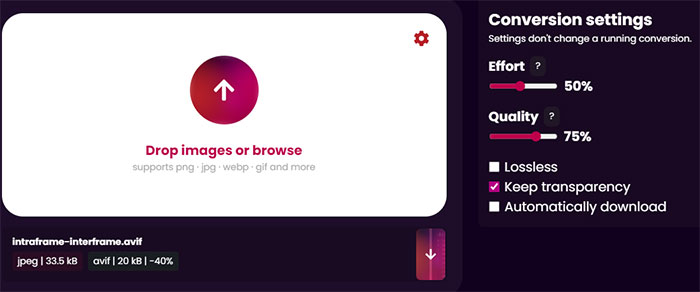 If the default file size and compression ratio are not what you need, tap the Setting icon to adjust effort (processing power, longer time, better compression), quality and style mode (Lossless, keep transparency or automatically download).
Step 3. When everything is okay, tap the download button (the downward arrow) to convert and download the converted AVIF file to your PC.
To sum up, as you can see, the review rank doesn't mean anything. Each online AVIF converter has its own merits and demerits. Cloudconvert supports converting from AVIF while avif.io does the opposite service. And convertio.co does both, converting AVIF to other image formats and other image files to AVIF format. Meanwhile, some of them supports image quality & size adjustment while some don't. Therefore, you don't have to vote for a winner. Instead, you just pick up the one you need at this moment.