Top 10 Torrent Sites 2016 for Movies/Music etc.
Torrent websites are places using peer-to-peer (P2P)[1] file sharing protocol as to every user holds the downloaded file, thus the large file can be held with more seeds so that users can download it more rapidly. P2P file sharing tech is quite widespread worldwide and totally legal while some content transferred through P2P are copyrighted.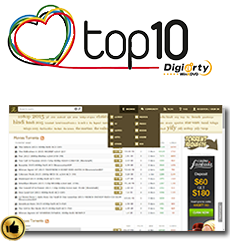 #1 Top Torrent Sites 2016 - KickassTorrents
Global Rank: 88
Torrents Content: Movies, TV Shows, (Lossless) Music, Games, Apps, Anime, Books, XXX
KickassTorrents, also named KAT, was built in 2008. And after several years' developing, it took the NO.1 place among the most visited peer-to-peer torrent sharing sites worldwide in November, 2014. Although KickassTorrents claims that all of its torrent files follow the DMCA rules, no infringing torrents at all, it still receives many copyright infringement punishments. For example, UK and Belgian ISPs blocked its access in succession in 2013, Google starts to move its search results since July 2015, and Chrome/Firefox browsers also blocks direct access to KAT site for it contains harmful malicious ads. We have to say those measures really have influences on KAT, but it still ranks higher than other sites. Bad news is KickassTorrents was shut down by US goverment in July, 2016.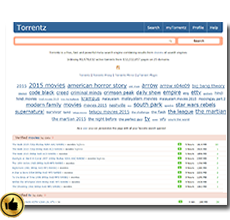 #2 Top Torrent Sites 2016 - Torrentz
Global Rank: 187
Torrents Content: Movie, TV, Music, Games, etc.
Beside the above mentioned four torrent categories verified by date on the web, it also shows user hot searched torrent keyword like Big Bang Theory, Hindi movies, Star Wars, American Horror Story, as well as the Fresh popular and Week's top torrents at the bottom. As the second most popular torrent site in 2012/2015, Torrentz also ranks the third place here. It acts much better as a powerful torrent search engine rather than a pure torrent source site like KickassTorrents, where you can search and find various .torrent files from many torrent sites. Paramount studio once sent DMCA claim to Google to eliminate Torrentz index which features links to its copyrighted content, but nothing changed at last. | Torrenz Movie Download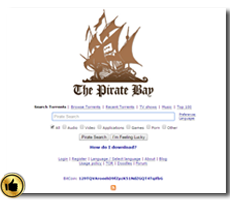 #3 Top Torrent Sites 2016 - The Pirate Bay
Global Rank: 232
Torrents Content: Movies, TV Shows, Music, Apps, Games, Porn
As all avid torrent downloaders know, The Pirate Bay (TPB, established in 2003) is often down and under the attack by several copyright firms because of bringing copyrighted content available online. Through years of legal struggles, The Pirate Bay is now facing an enormous challenge for it may be forced to go off the grid after the shutdown of Popcorn Time and YIFY torrent. It ranked the 5th place months ago, and soon takes the 3rd place of RARGB. >> Fix The Pirate Bay Down Now | Top Anime Sites Review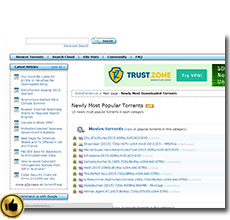 #4 Top Torrent Sites 2016 - ExtraTorrent
Global Rank: 401
Torrents Content: Movies, TV, Music, Anime, Games, Books, Software, Pictures, Mobile, Adult/Porn
Directory based ExtraTorrent.cc is the 2th best torrent sites 2016. It's banned in many countries including India for its large amount of pirated contents. With live chat feature and no pop ads, it's of course the best place to browse and free download torrents of various kinds safely. It suffered DoS attack by hackers and was down for some time in the early 2015. But through efforts by the site's operators, it soon moved its resources into a new data center in December and came back online. You can download free torrent much safer and faster now.