Home > Resource > World Cup Stars Kaka and Robinho
Stars: Kaka and Robinho Who Omitted from 2014 World Cup Squad - Free Download Kaka & Robinho Videos from YouTube
It informs that World Cup stars Kaka and Robinho omitted from 2014 World Cup squad and shows how to free download Kaka and Robinho videos from YouTube.
The 32 national teams participating in 2014 FIFA World Cup published their squads successively and the final squad of 23 players each team was officially released on FIFA website on June 5, 2014. Brazil team, host national team and one of the most favorite team, gains much attention. The moment Brazil 23-men squad was published, it was surprised that previous World Cup stars Kaka and Robinho, both of whom are supposed as the probable selected players, omitted from this list. Until June 2, teams have chances to make changes, but it seems that Kaka and Robinho will not appear on the list. When talking about omitting from 2014 World Cup squad, Kaka and Robinho replied that they accepted Luiz Felipe Scolari's choice and hoped that Brazil team can perform well in this World Cup. Whatever, it was absolutely a bad news for Kaka, Robinho and their fans.
Hot Searches: YouTube Downloader, HD Video Converter, Free Download We Are One (Ole Ola), Free Download Shakira Song Dare La La La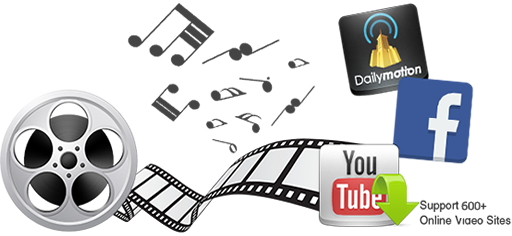 How to Free Download Kaka & Robinho Videos?
WinX YouTube Downloader - Free download Kaka & Robinho videos from 1000+ sites.

WinX HD Video Converter Deluxe - Download/convert any video to iPhone/iPad/Android at will.

It can save (and convert, natch) videos from the likes of YouTube, and output presets for every portable device from Android to Windows Phone.
- Rick (CNET Editor)
Kaka Biography
Kaka (Full Name: Ricardo Izecson dos Santos Leite) was born on April 22, 1982 in Gama, Brazil. He is one of the most famous football players in the world and currently plays for football club A.C. Milan.
When he was 8 years old, Kaka played for a local club and started his football career. In 2003, Kaka joined in Milan and reached his heyday while at Milan. He won Ballon d'Or and FIFA World Player of the Year awards in 2007. In 2009, he transferred to Real Madrid with the second highest transfer fee of €65 million. Because of injuries, Kaka cannot be always at his best as before but he still performed very well. In 2013, Kaka returned to A.C. Milan.
From 2002, Kaka played World Cup as Brazil national team player. This time, he wasn't selected into World Cup Brazil squad and stopped his World Cup journey temporarily.
Robinho Biography
Robinho (Full Name: Robson de Souza), born on January 25, 1984 in São Vicente, Brazil, started his football career in 2002 by joining in Santos FC with his first professional contract. Once, he and his partner, Diego was considered as the most potential Brazil football players. For the way he played football is similar to legend Pele, he was often called Second Pele among fans and critics.
So far, Robinho joined in 3 clubs, Real Madrid, Manchester United Football Club and current A.C. Milan. It is said that he will return to Santos FC this summer but there is no certain answer. Robinho played 2006 and 2010 World Cup and was expected to participate in this World Cup. But eventually he omitted from World Cup squad.
Free Get Kaka and Robinho Videos
Yes, you can get Kaka, Robinho and other famous World Cup stars video on YouTube, for example, greatest goals, talk show or other events they attend. But you should bear ads before video and long-time buffering. Therefore, it is better to free download World Cup stars videos from YouTube for playback on PC/Mac or mobiles without any interruptions or collecting to be convenient for reviewing in the future. Here, I recommend a powerful free YouTube World Cup star video downloader, WinX YouTube Downloader, which can free download Kaka and Robinho videos from YouTube in formats MP4/FLV/WebM and various resolutions at a high speed.
World Cup Stars Kaka and Robinho Video Download Guide: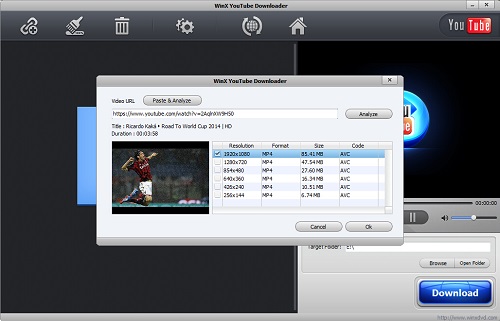 Step 1. Hit "Add URL" icon to access the smaller video information analysis window. Search for World Cup star videos from YouTube. Copy and paste this URL to address bar and click Analyze.
Step 2. Waiting for several seconds, you can get analysis result, incl. title, duration, mulitple options with different resultions, formats, sizes and codecs. Choose one option and Click OK.
Step 3. Click Browse to set target folder for saving downloaded world cup star videos and hit Download.
WinX HD Video Converter Deluxe, the upgraded version of WinX YouTube downloader, also enables you to free download Kaka and Robinho videos from YouTube. What's more, it is capable of converting YouTube to other popular video formats, AVI, MOV, WMV etc, and to portable devices, such as YouTube to iPhone/iPad/Android phone & tablets. You can even create photo slide show video, crop/trim/merge video and add subtitles for video with this all-in-one video downloader and converter.
Still have some trouble about how to free download Kaka and Robinho video? Please feel free to Email Us >>
WinX HD Video Converter Deluxe - Free download FIFA World Cup stars Kaka and Robinho videos from YouTube and convert them to AVI, MOV, WMV, iPhone/iPad/Andriod for playback on the move.