How to Download Music Video of Lady Gaga - Til It Happens To You
The music video of Til It Happens To You, as a "sombre, socially conscious curveball", is believed by Dan Solomon of Fast Company to be an "important statement" from Gaga and would arouse further attention to 2015 documentary film.
The song, Til It Happens To You had leaked onto the web through an unofficial recording at the film's premiere in 2015 Sundance Film Festival. Luckily, the music video has not. It is available on iTunes charts, Google Play and YouTube uploaded by LadyGaga VEVO. Published on Sep 17, 2015, it has attracted over ten million visitors within 10 days.
Downloading the free Til It Happens To You music video for personal recreation drives at watching the MV on different devices in different ways even without Wi-Fi/3G/4G network connection. It goes like ripping the YouTube video/music (say, from Soundcloud), saving the Lady Gaga's new MV and song to a computer and then optionally transferring to Android tablets, smartphones, iPhone, iPad, iPod and the like through the specific USB or data line.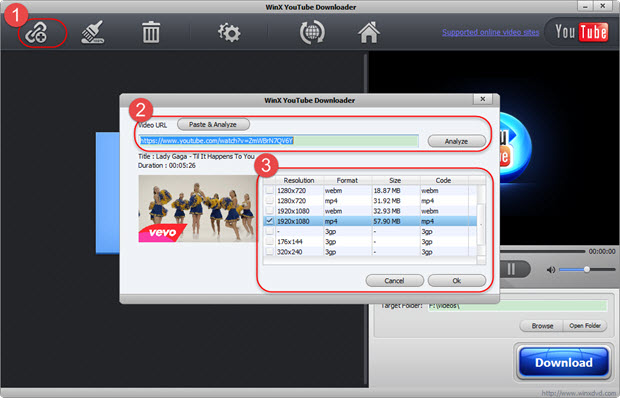 WinX YouTube Downloader makes the whole download thing possible and easy:
Step 1. Click to add the video of Til It Happens To You
Download, install and boot the free online video downloader on your PC. It is compatible with all Windows OS, including Windows 7, 8.1 and 10. After that, click the first button with "+" on the top left or the biggest item showing "Click to add YouTube video URL", the two being no different.
Step 2. Load and analyze the video
Open a browser, search for a video related to Til It Happens To You or Lady Gaga. Open a search result if it is uploaded from a regular video sharing sites, like YouTube (VEVO), Facebook, Yahoo, MTV, Vimeo, Dailymotion and Break. Click on the video URL to copy, for example, the YouTube VEVO video of Til It Happens To You and paste it on the pop-up window, and then click "Paste".
WinX YouTube Downloader supports as many as 300+ online video and music sites, far more than YouTube itself. Please check the list of online video sites embraced.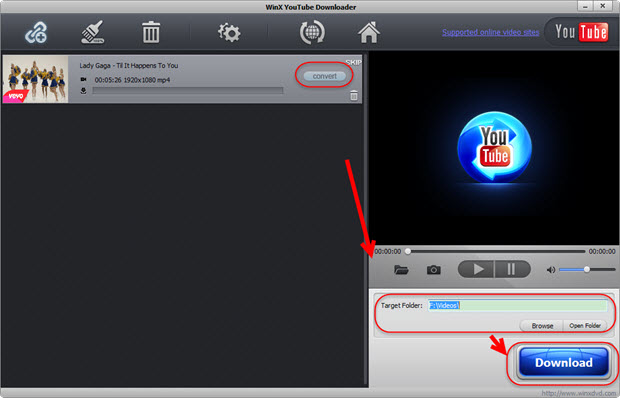 Step 3. Select an output format
The free YouTube download software supports all the video formats built in the video itself, from MP4 to 3GP to WebM, for example. You can choose any of it based on your needs on the video resolution (related to quality), file size and so on. Here we select the 5-minute 1920x1080 (1080p) mp4 for instance and click "OK".
Step 4. Save the video to a folder
Optionally, click "convert" button, if you want to play back the MV of Lady Gaga - Til It Happens To You on more portable devices without worrying about the incompatibility and inconformity of format, aspect ratio and resolution. It offers hundreds of options to your output gadgets and players. Also, you can choose a music format, and the output file will be an audio file (the song only) with the file extension of .mp3, .aac, .ac3, etc.
"Browse" and choose a target folder on your hard drive (but disk C is not suggested) to save the output video file that can be easily found by you. All are set, and then you can hit "Download" option and go.
More about Lady Gaga - Til It Happens To You
Instrument and Chords of Lady Gaga - Til It Happens To You Song
During recording, Gaga was singing in a D note, over the F note of the music that was being played, but Nile Rodgers, an American musician, producer, and guitarist, suggested instead inverse the chords into thirteenth. Finally, the official version of Til It Happens To You comes as a emotional tune covered in orchestral production and soaring strings. The free audio video downloader is also capable of downloading free the music file of Lady Gaga - Til It Happens To You from Soundcloud and the similar music sites.
Lady Gaga - Til It Happens To You Lyrics (Extract)
You tell me "it gets better, it gets better, in time"
You say I'll pull myself together, pull it together,
"You'll be fine"
Tell me what the hell do you know,
What do you know,
Tell me how the hell could you know,
How! could you know
Till it happens to you, you don't know
How it feels,
How it feels.
Till it happens to you, you won't know
It won't be real
No It won't be real
Won't know how it feels
……
(Read more at metrolyrics.com)
Other news about Lady Gaga: Lady Gaga is on the cover of Billboard Magzine. When Elton discusses his fight against AIDS through his foundation, Gaga reveals her depression and opens up about saving troubled teens, "I've suffered through depression and anxiety my entire life, I still suffer with it every single day,' the blonde crooner admitted. 'I just want these kids to know that the depth they feel as human beings is normal. We were born that way.'