Important Things You Should Know about KeepVid and Soundfrost
KeepVid and Soundfrost: Things You Need to Know
Guys who like downloading free music and video files online are all too familiar with keepvid and SoundFrost. Actually, keepvid and SoundFrost are the same kind of product. Maybe they are developed by same provider because they have same interface design except for software name. But before using them for free music download, there are top four things you should know about keepvid and SoundFrost. Read the following article to learn something important about keepvid and SoundFrost, which will help you download music in a safe way.
Last update on March 22, 2018: KeepVid.com will no longer offer video/audio downloading service, so you have to switch to KeepVid alternative.
Hot Searches: Free YouTube Video Downloader, HD Video Converter, KeepVid No Audio Problem, Free Get Shakira La La La
Top Four Things You Should Know about keepvid and SoundFrost
1. keepvid and SoundFrost are not completely free.
Some people may think that they are totally free, but actually not. keepvid doesn't have clear limitations, but SoundFrost gives clear explanation for free, professional and ultimate versions. SoundFrost free version allows people to download music to MP3 and video to AVI, download 10 items per day, play 100 online songs per day and enjoy 1 month of license. And there's no data protection and backup license for free edition.
2. SoundFrost virus/malware infection.
Many SoundFrost users complain that they have encountered SoundFrost virus after installing SoundFrost. When they google search something or click certain button, they are redirected to a website which is definitely unwanted. Sometimes, users keep getting popups when random some websites. That is really annoying. Once SoundFrost malware is installed, the adware program will collect user information, and change browser setting to display targeted ads.
How could SoundFrost malware access to your computer? Sometimes, you volunteer to download and install SoundFrost to free download music, only to find your computer infected by virus. Maybe, it gets into your computer when you downloading and installing third-party software, torrents or websites. Same kind of issues may also happen to keepvid software. In case of virus or malware attack, you should know how to remove SoundFrost and keepvid virus beforehand or turn to a clean free online music downloader as keepvid and SoundFrost alternative.
3. How to remove SoundFrost malware/virus?
There're two methods for you.
Solution 1. Use anti-malware software (say, Malwarebytes) to remove malicious files and CCleaner to repair internet browser settings and uninstall related adware and third-party software.
Solution 2. Uninstall SoundFrost using a traditional way: enter into Control Panel > find Programs > hit Uninstall a program/Add and remove a program.
Unfortunately, some users reports that the aforementioned solutions are still useless to remove SoundFrost adware. Maybe it will work if you uninstall your browsers. If both keepvid and SoundFrost doesn't work for you or are suddenly down, you need to find some good keepvid alternatives or SoundFrost substitutes which are totally free and clean.
4. Recommended keepvid and SoundFrost alternative to download music
In fact, there are tons of free music and video downloaders that can replace keepvid and SoundFrost to free download online music or video from YouTube. Among all free YouTube downloader, WinX YouTube Downloader is highly recommended.
WinX YouTube Downloader is a totally free and clean YouTube music/video downloader excelling in downloading any YouTube video (including music and songs) in any video resolution to FLV, WebM and MP4. It is free from any adware, malware, spyware or virus. Moreover, there're no limitations. By testing, it can free download YouTube videos in perfect quality at very fast speed. You can free download Jennifer Lopez hit songs, John Legend songs and other popular songs effortlessly.
How to Free Download Music and Songs with keepvid and SoundFrost Alternative?
WinX YouTube Downloader is the best keepvid and SoundFrost alternative. It is free, clean, powerful and easy-to-use. With this free music downloader, everyone can achieve music downloading in three simple steps. Free download and install WinX YouTube Downloader on your Windows and begin music downloading by performing these steps. If you are a Mac user, please turn to WinX HD Video Converter for Mac to free download music and songs on Mac operating systems. Here, let's take free download PSY Hangover as an example.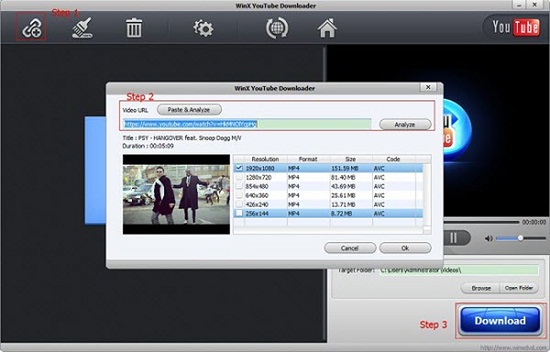 Step 1. Copy the music or song URL in YouTube, and then paste it for later analyzing.
Step 2. Analyze the URL and choose your desired output format, resolution, size and code.
Step 3. Hit Download button to begin downloading music or song(s).
Tips: You're allowed to download music files in a batch mode by repeat the first two steps before moving to step 3.
Compared with keepvid and SoundFrost, this alternative is much easier to process and it will be never down. If you need audio file formats, like MP3, instead of videos, you can convert YouTube music videos to MP3 with ease.