Free HD Video Player on PC - Play All HD Videos with Free HD Video Player for PC
Play All HD M2TS AVCHD MKV Videos with Free HD Video Player Software for Windows 7/8/10
What is HD Video? High-definition video or HD video refers to any video system of higher resolution than standard-definition (SD) video, and most commonly involves display resolutions of 1280 x 720 pixels (720p) or 1920 x 1080 pixels (1080i/1080p).
Generally speaking, HD video is wildly used in television broadcast (HDTV), video recording formats (HDV and AVCHD) and the optical disc delivery system Blu-ray Disc. And with great improvement on video decoding/encoding technology, some computer based HD video format can also deliver up to 1080p visual effect. MKV is a good example. So far 1080p HD video brings the most impressively vivid pictures, which take full advantages of your computer's display. The pixel density is so high, and your eye will be unable to distinguish individual pixels.
HOT Search: HD Video Converter, Free Video Converter, HD Players for Mac, Play AVCHD/MTS Video, Free Windows 10 Video Players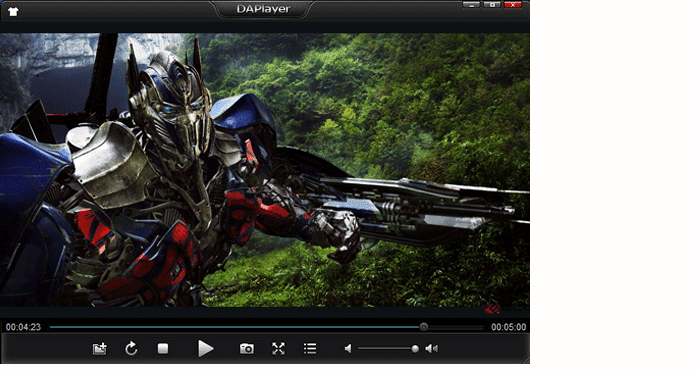 The Best Free HD Video/Movie Player for PC - DAPlayer
Do you want to experience full HD movie viewing on your computer? Don't be hurry. You need to download a free HD Video for Windows 7/8/10 beforehand.
DAPlayer - Free HD Video Player
* Play MKV, M2TS, AVCHD videos
* Play all Bruray Disc videos
* Support 450+ Video Audio Decoders like MP4, H.264, M4V, WEBM, MPEG1/2
To pick up a potent HD video player soft, three points you need to consider about:
* 1. Firstly, your HD media player should restore and refine most crystal-clear image from 1080p High-def video. You should NEVER choose one HD Video Player that will degrade the original HD video quality.
* 2. And then, it is better to support playback Bluray/DVD. Once you have 3-in-1 Blu-ray/DVD/HD Video Player software, it could save time to find extra media players. This convenience will facilitate you for at least half a decade.
* 3. Last but not the least, your HD Player should be compatible with comprehensive HD sources, like HDTV video, AVCHD JVC camcorder shootings, HD MKV file downloaded from internet, just name a few.
Related: M2TS to MKV, MKV to M2TS, MKV Player for Windows 8.1
DAPlayer is open-source, non-profit HD Video Player software free-to-use by everybody. When playback 1080p HD media source, efficient codec built-in makes DAPlayer consumes minimal CPU usage while perform most incredibly ever. Apart from play HD video content, DAPlayer is also Free Blu-ray DVD Player software. Regardless Blu-ray region code and unlock Blu-ray protections, somehow this Blu ray Software just can replace these professional Blu-ray Players.
Equipped with 450+ all-around video/audio codecs, DAPlayer will take you though out any videos you get. Extra features like fully supports Multi-track video/audio and subtitles and TrueColor System are guaranteed to deliver the highest quality viewing and listening experience on Windows PC. All High Techs brought by free Bluray Player - DAPlayer - are made for one thing only: Gives you true HD Video Viewing Feast you always dreams to.
Want to convert/transfer your commercial and camcorder HD videos to iPhone 6/6 Plus? Please turn to WinX HD Video Converter Deluxe
DAPlayer has the following astouning features:
1. Free HD Video Player for PC - Play All HD Videos with Free HD Video Player Software
Support playing back all your HD Video content on Windows 7/8/10, such as M2TS, AVCHD (AVCHD camcorder recording), TP, MPEG-TS, EVO (HD DVD video format), MKV (most popular and universal HD media container format), AVC, MOD (JVC HD camcorder shootings). Also support the HD video mixed-in subtitle tracks.
2. Play Blu-ray Free with Free Bluray Player
Support both commercial and homemade Bluray with region free. Compatible with BD+ protected Bluray disc. Even play Bluray from hard disk backup files and virtual driver.
3. DAPlayer gives you High Quality Audio System
Support UP to 8 Channels Audio System, mix audio to 2 channels headphone and surround sound. Support Multi-channel DTS, TrueHD, AC3/Dolby. DAPlayer is based on BASS Audio System, which makes your movie watching just like seated in Theatre.
>> HD Video Player for PC Free Download
>> HD Video Converter Free Download
If you still have any question about free HD video/movie player for Windows PC or how to play HD videos, please feel free to Mail Us >>
If you want to convert/transfer your commercial andcamcorder HD videos to iPhone 6/6 Plus/5S, iPad Mini and iPad air, Samsung Galaxy Note 4/Edge, HTC One M8, WP8, Amazon Kindle Fire HD, Chromecast, MP4, AVI, MPEG, MOV and so on devices and formats, please turn to WinX HD Video Converter Deluxe!