How to Play DVD on Windows 10 for Free – Best 2 Free Methods
It's an inescapability to upgrade to Windows 10, especially Windows 7 support came to an end in early 2020. While many newly upgraded Windows 10 users feel confused that when they put a DVD into DVD drive, the DVD disc wasn't played automatically like it used to before. Inversely, they were redirected to Windows Store and asked to buy a DVD player. Set aside whether it's worthy or not to spend $15 for an app that should be free, DVD not playing error on Windows 10 PCs still happens from time to time on Windows DVD Player, causing errors like "video couldn't be decoded", DVD drive not reading discs, region error while playing a forgien DVD disc etc.
Why can't I play DVD with Windows Media Player on Windows 10? Why my DVD discs not playing on Windows 10? How can I play DVD on Windows 10 for free without any hassles? Scroll down to find the answers.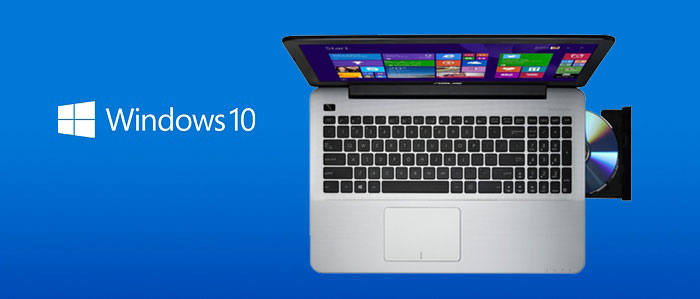 It will cost you about 5 mins to read through this article, you can skip to:
Part 1: Why DVD Won't Play on Windows 10?
There may be only one way to success, but countless ways to failure. This can be applied to DVD playback as well. DVD won't play on Windows 10 owing to various causes, from Microsoft's official move to DVD codec support, DVD driver comaptibility to disc or DVD drive condition, region code to other DVD encryptions.
• DVD playback feature was removed in Windows Media Player officially by Microsoft on Windows 10.
• No compatible DVD codec installed. For that, you can download DVD codec for Windows 10 like K-Lite Codec Pack to fix it.
• DVD driver goes out of date. An outdated DVD driver will result in stuttering DVD playback and even make DVD unplayable since the heavy DVD decoding task would be turned over to CPU from GPU.
• DVD drive/disc is corrupted. This could be the culprits of DVD read errors, such as DVD drive not reading discs, Xbox won't recognizing discs.
• The region code is different among DVD drive, disc and DVD player. This region lock may bring troubles when playing DVDs in other geographical regions, for example, region 2 discs won't play in region 1 drives, and PAL discs can't be played on a NTSC standard player.
Part 2: How to Play DVD on Windows 10 for Free?
2.1: Play Ripped DVDs without DVD Drive
As today's ultrathin laptops and tablets don't even have DVD drives, a new trend is emerging in DVD playback, that is, watching DVD with digital copies rather than physical discs. All you need is to rip or make a digital copy of DVD with an optical drive for once, then you'll never need it and you can play the ripped DVDs on Windows 10 laptops, Chromebook, Xbox, or HDTV without DVD drive.
WinX DVD Ripper is a nice option to do that, as it could digitize any types of DVDs, from new discs, 99-titles, damaged, regional, Japanese, workout DVDs to non-standard discs, to MP4, H.264, AVI, MOV, Windows PCs, HDTV, mobiles and 350+ preset profiles. It could decrypt any DVD encryptions, including stubborn DVD region code to be playable limitlessly. More importantly, by using this free DVD ripper, you're able to rip a full DVD to MP4 (HEVC/H.264) in 5 minutes only and shrink the DVD size up to 80% smaller than orginal with 1:1 quality ratio.
How about the Performance of DVD Ripping with WinX DVD Ripper?
As for the specific performance, WinX DVD Ripper won't cost you too much time for a 2-hours long full DVD ripping, with optimal quality and minimal file size.
Speed: 5 minutes only to rip a DVD with level-3 hardware acceleration enabled. It offloads visualization processes onto Intel/NVIDIA/AMD graphic crads, together with multi-core CPU utility, hyper-threading technologies to achieve fast-ever DVD ripping speed.
Quality & file size: Up to 80% smaller size & 1:1 quality ratio for HEVC/H.264 output profile preseted through high-quality engine and compress-engine. It adopts interframe, intraframe coding algorithms, and advanced entropy encoding to reach a delicate balance of output quality and size. Certainly, you can also tailor output quality and size by flexibly tweaking resolution, frame rate, bitrate, codec and more in parameters setting panel.

Quality-Size-Speed tradeoff for DVD ripping
[Tutorial] How to Rip DVD to MP4 for Playback on Windows 10?
Step 1: Insert the DVD disc to the DVD-ROM or external DVD drive.
Launch WinX DVD Ripper and click "DVD Disc" button on the top left. It will auto load the DVD and detect the right main DVD title for you.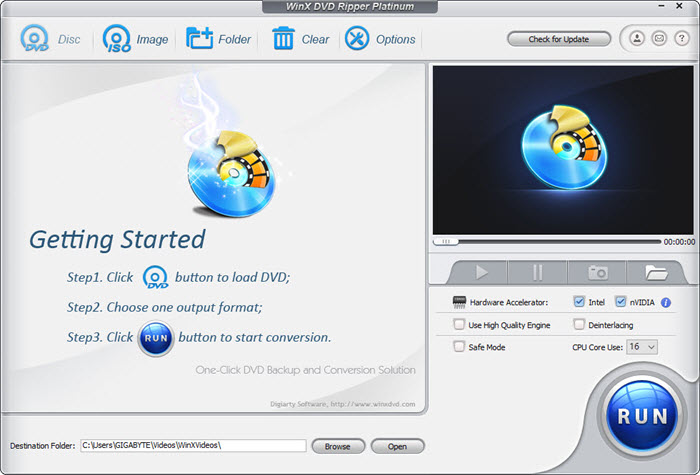 Step 2: Choose output format. For playing DVD on Window 10, this top DVD ripper allows you to rip DVD to MP4, WMV, MPEG, H.264, etc., which are all Windows 10 computer supported video formats.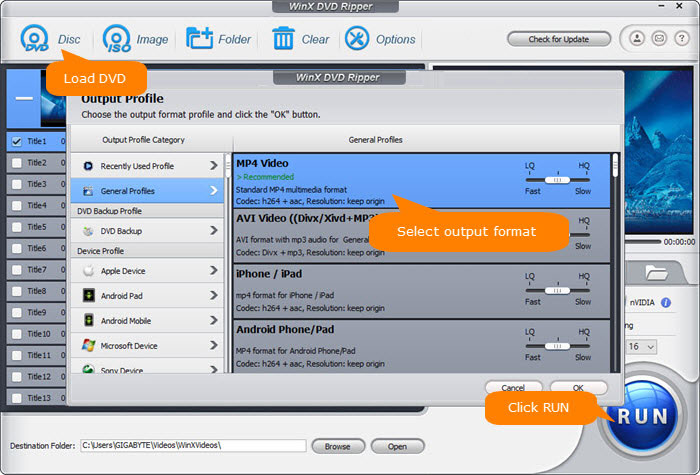 Step 3: Start ripping DVD for free. Hit "Start" button to begin to rip DVD to MP4, WMV, etc. with the free Windows 10 DVD ripper for later DVD movie free playback on Windows 10 computer.
You can click here to learn toback up DVD discs for safekeeping and viewing on the go
Disclaimer: Digiarty Software does not advocate ripping/copying copy-protected DVDs for any commercial purpose and suggests referring to the DVD copyright laws in your countries before doing so. And do not use WinX DVD Ripper to rip DVD rentals.
2.2: Try Third-party DVD Player Options
If you're running a computer with DVD drive (inclu. external DVD drive), third-party DVD players for Windows 10 will do you a favor. Here are two programs that's able to play DVD smoothly and for free: 5KPlayer and VLC media player.
5KPlayer - Best Recommended DVD Player
5KPlayer can play any DVD movie on Windows 10 flawlessly, incl. latest Disney movie DVD, newly released discs, homemade or burned DVDs without third-party DVD decoder required. Many people love it because it's versatile and very easy to operate for its extremely simple and beautiful design. Besides, it's also a free video/audio player, free (YouTube) video downloader, movie/music streaming software, video converter, which works perfectly on Windows 10/8/7 or Mac computer.
Step 1: Insert the DVD disc to the DVD-ROM (if your computer doesn't have a DVD drive, connect it with an external USB DVD drive in advance).
Step 2: Hit "DVD" button, your DVD will be played smoothly with original quality.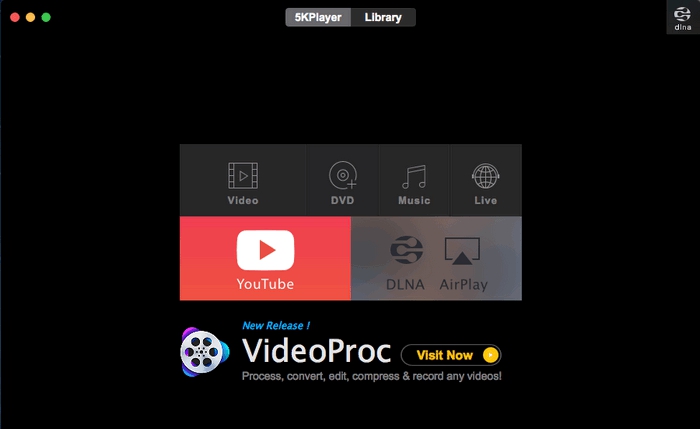 If you're using a pre-built, boxed PC from Dell or HP, your computer may already have a free commercial DVD playback solution installed. If not, VLC could be a better alternative to Windows 10 DVD Player. It is a free and open source cross-platform multimedia player and framework that plays DVDs and most multimedia files. Besides, VLC 3.0 added the ability to cast videos and music to Chromecast devices, that's to say, you can even play DVD on TV from VLC media player.
Step 1: Download and launch VLC. Insert your disc to DVD drive.
Step 2: Select Media > Open Disc, or press Ctrl + D with VLC as the active window.
Step 3: In the new pop-up menu, under "Disc Selection", choose DVD and press Play at the bottom.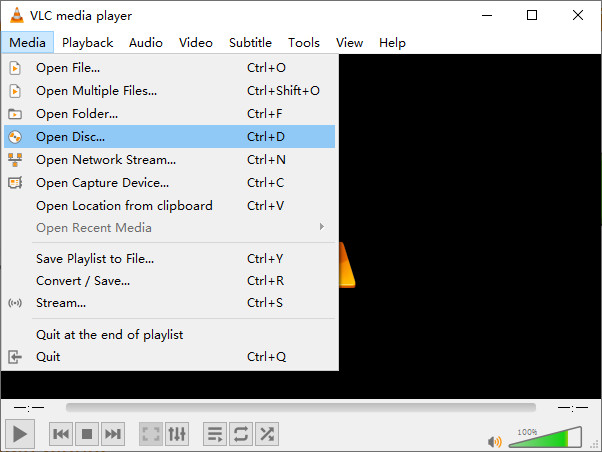 Learn More: What if VLC not playing DVD on Windows 10? Click here for quick fixes >>
Part 3: FAQs for Playing DVD on Windows 10
Why does my DVD not play on Windows Media Player?
Microsoft has removed the DVD playback feature in Windows Media Player on Windows 10, thus WMP won't play DVD on Windows 10. If you're running on Windows 8/7, that's probably because no compatible DVD decoder was installed for Windows Media Player.
How can I play a DVD on my laptop without a DVD drive?
There are several ways available: Buy an external DVD drive, which are cheap. Learn to rip DVD to your computer. Or invest a flash drive to save your DVD digital copies.
How to change DVD region in Windows 10?
a. Press the Windows key + R to open the Run box ang type in devmgmt.msc and press Enter to open Device Manager.
b. Expand DVD/CD-ROM drives. Right-click on your DVD player and then select Properties.
c. Click on the DVD Region tab. Select the region in which you want to change to and click OK.
What's the minimum system for playing DVD on Windows 10?
1 gigahertz (GHz) or faster compatible processor or System on a Chip (SoC); 1 gigabyte (GB) RAM for 32-bit or 2 GB for 64-bit; 32GB or larger hard disk; Graphic cards that's compatible with DirectX 9 or later with WDDM 1.0 driver; 800x600 display.
How to update Windows 10 drivers?
a. In the search box on the taskbar, enter device manager, then select Device Manager.
b. Select a category to see names of devices, then right-click (or press and hold) the one you'd like to update.
c. Select Search automatically for updated driver software.
d. Select Update Driver. >> Also learn how to install hardware drivers on Windows 10
What are the best laptops with DVD drive for DVD playback?
HP Notebook 15.6-inch, HP Notebook 15.6 Inch Touchscreen laptop, HP Envy 17
Dell Inspiron 17 5770, Dell Inspiron 15 5000
Acer Aspire E 15 (E5-576-392H), Acer Aspire E 15 E5-576G-5762...
Any suggestions for external DVD drive?
LG electronics ultra slim DVD drive (GP65NB60), ASUS ZenDrive U7M, Dell USB DVD Drive-DW316, Samsung external DVD drive (SE-218CB/RSBS), Amicool USB3.0/TYPE-C external CD DVD drive...
Video Tutorial on How to Play DVD on Windows 10 for Free
Still have some trouble about how to play DVD on Windows 10 for free? Please feel free to Mail Us >>