VOB to MP4 Converter: How to Convert DVD Folder VOBs to MP4 on Windows 10 PC
This article will show you details on why convert DVD VOB to MP4, and how to rip/transfer VOB files in DVD (VIDEO_TS) folder into MP4 on Windows 10 PC using best VOB converters.
VOB (.vob), full name Video Object, contains the main content of DVD-Video, including video, audio, subtitles, menus and navigation. Since a VOB file can only be equal to or less than 1GB in size, there're usually multiple VOB files here in a VIDEO_TS folder to hold full-length DVD movie.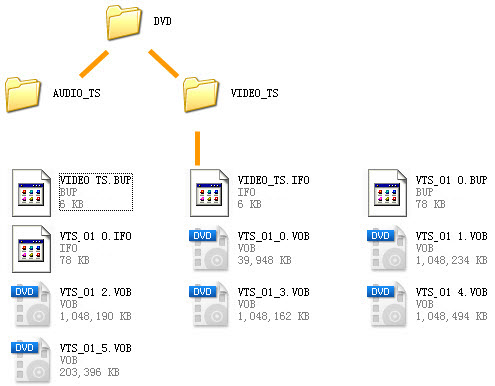 Together with .BUP and .IFO, DVD .VOB files can be played perfectly on HDTV via specialized DVD player, or on Windows PC via Windows DVD Player app (pay $15 for in on Win 10), VLC player and alike programs. But how to play DVD VOB on any devices without those player helpers? Of course the best way to have DVD VOB acceptable by various screens once and for ever is to convert VOB to MP4 - the absolutely most-welcomed digital format.
Then how to convert DVD VOB to MP4? Don't fret. Let's take a look at something else also useful in advance. DVD file often lies in three types: DVD disc, DVD folder, and ISO image file, only from the former two of which can you see VOB files built-in. When you insert your DVD disc into DVD drive of computer and right click to open it, you will find VOB files located in VIDEO_TS (video transport stream) folder.
Generally, if the DVD content is unprotected and made personally, or is just copied from an encrypted DVD by technical DVD copy software, the entire VIDEO_TS folder can be duplicated and pasted to other hard drive for playback, or converted to MP4 by using freeware like HandBrake, VLC Media Player and WinX Free VOB to MP4 Converter. But if it is commercially encrypted, the freebies will have no idea so that you have to ask help for professional DVD ripping software.
How to Fast Convert Protected VOB to MP4 on Windows 10
Currently, almost all new DVDs on sale are shipped with different copy protections, like CSS, DVD Region Code, UOPs, Sony ARccOS and Disney DRM . To recognize, analyze, and circumvent the complicated decryptions perfectly for personal use, a good DVD Ripper must be constantly updated to cater to the changeable DVD market.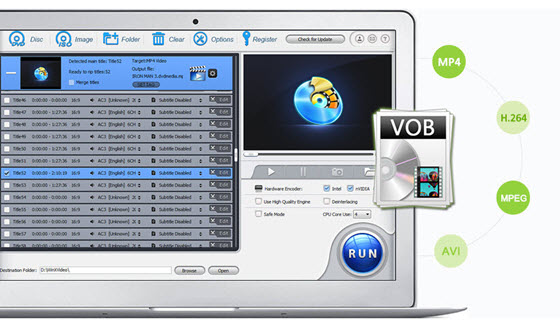 WinX DVD Ripper Platinum just comes to fit the bill for ripping locked-DVD VOB to MP4. From 99-title movie/TV series DVDs, to protected exercise DVDs (e.g Beachbody P90X3 workout ones), to music/Japanese special/unplayable DVDs, WinX DVD Ripper Platinum can handle them all surefootedly.


>> Get Free License Key to Enjoy Full Features
Step 1. Click "DVD Disc" or "DVD Folder" to browse and select DVD into program.
Step 2. Choose "MP4 Video (H.264/MPEG4+AAC)" as target video format.
Step 3. DRM tech and the right main title information of DVD will present in a small dialog box. Jump over it and do some video editing if necessary.
Step 4. Press "RUN" to start the DVD VOB to MP4 ripping process.
How to Free Convert Unprotected VOB to MP4 with Best 3 VOB Converters
There are a wealth of free online video conversion sites that can help convert VOB to MP4, like ZAMZAR, Convert.Files and ACONVERT.COM. Put the dazzling UI and annoying ads aside, we can also see their own disadvantages compared to desktop software. For example, Convert.Files is unable to load a whole DVD (VOB) folder or any unique VOB video at all; ZAMZAR can recognize VOB file from DVD folder, but it will soon email to inform you "There was a problem converting your file" after you upload it and start the conversion; ACONVERT.COM does everything OK while it cannot convert VOB to MP4 in bulk...
So in order to assist you to transfer VOB to MP4 at one go, we've cherry-picked the best VOB video converters below for your reference. No matter which camps you finally fall into, you will not be disappointed.
▶ Free Convert DVD VOB Files (in VIDEO_TS) to MP4 with WinX Free VOB to MP4 on Windows 10
WinX Free VOB to MP4 Converter is a piece of clean and safe freeware specially designed for converting VOB to MP4, as well as AVC, MPEG and other formats. Rich and easy-to-handle video editing features offer you opportunity to trim/crop video content, disable/add subtitles, and choose audio channel/resolution at will.

Download WinX Free VOB to MP4 to Install on Windows 10
Steps 1: Click "+ Video" to browse and select all (Ctrl+A) VOB files in one local VIDEO_TS folder, then tap "open" to load all of them into converter completely. If you only want to convert a standalone NTSC/PAL VOB to MP4, just add it only.
Steps 2: After all VOB files are loaded, choose "MP4 Video" at output profile windows;
Steps 3: Check "Merge (Output Video)" and "RUN" button at the right hand UI in turn to switch multiple DVD VOB clips into a single MP4 video.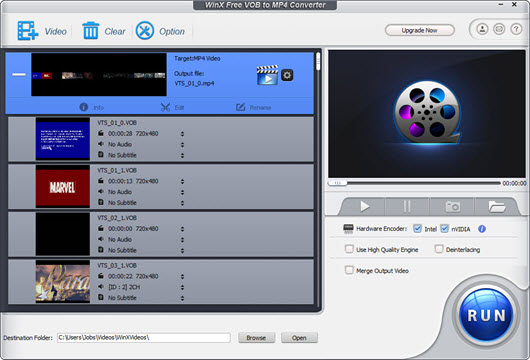 ▶ Free Convert DVD VOBs to MP4 with HandBrake on Windows 10
Open-source software HandBrake supports loading and transcode DVD video folder containing VOB files to MP4 in H.264/H.265/MPEG-2/MPEG-4 codec.

Download HandBrake to Install on Windows 10
You only need to click "Open Source" to load the source DVD disc or folder, then choose "MP4" as output container. After that, you can set output saving folder while naming the MP4 file, as well as adjusting video, audio, resolution, subtitle and more according to your needs. When preparation works are all done, tap "Start Encode" to change VOBs to MP4 immediately.
Here we have to remind you that if you try to open a single VOB video file from DVD folder with HandBrake, it will fail to load it by a "No valid source or titles found" message shown here.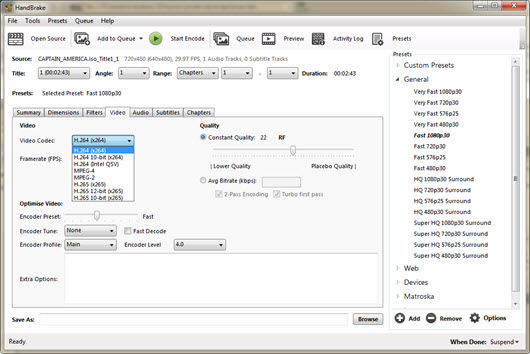 ▶ Free Convert DVD VOBs to MP4 with VLC on Windows 10
As the most powerful and acclaimed media player, VLC can not only play VOB and more files lightly, but also do many video transferring and editing jobs, including converting DVD VIDEO_TS VOBs into MP4. Although VLC is left behind by other video converters in more complex steps and slower conversion speed, it's still an ideal choice if you just need to convert DVD folder to MP4 once in a while.


Download VLC to Install on Windows 10
Step 1. Open VLC and click Media -> Convert/Save. Alternatively, you can directly enter "Ctrl + R" shortcut key.
Step 2. Click to "Disc" panel, browse and select VIDEO_TS folder. (You may notice the first File panel allows you to select local media file/files by clicking "Add...". But unfortunately, only until GUI in VLC 3.0.0 would it support batch converting.)
Step 3. Click "Convert & Save" button at the bottom to enter into "Convert" window.
Step 4. Choose an MP4 format under the profile lists, like "Video - H.264 + MP3 (MP4)".
Step 5. Define destination location and file name for MP4.
Step 6. Tap "Start" to wait for the VOB to MP4 finished.