Fixed: Choppy Video Playback from Local & Streaming on Windows 10
As the end of Windows 7 support, many users are forced to upgrade to Windows 10. That's nothing to be struggled. What makes users annoyed is the choppy video playback after Windows 10 upgrade. Many users experience some disturbances on Windows Media Player, VLC, and other video players while trying to play videos locally, or get stuttering video playback from browsers or streaming services.
There are various causes for video lagging on Windows 10, from the software issues to hardware cofiguration failure. Maybe your video player is out of date, your browser caches stop you from watching videos, the graphic cards on Windows 10 is outdated, your system is infected by malware, or the video file is corrupted etc. Different cause requires different solutions, but the effective solutions are nothing more than the followings:
Quick Fixes for Jerky Video Playback on Windows 10
Method 1: Update the Video Player to the Latest Version
If your video lags when you're trying to play it after Windows 10 upgrade, video player compatibility is an issue that should be considered. Make sure the video players you've installed on Windows 10, common ones like VLC, Windows Media Player, Adobe Flash Player, DivX Web Player, 5KPlayer etc. are updated to the latest version.
Method 2: Update the Graphics Drivers
Graphics drivers can also be the causes of video stuttering or not playing problems on Windows 10. There is a big possibility that your Nvidia or AMD graphics drivers go out of date or get faulty owing to Windows OS Update. Given this, you can upgrade the graphics drivers with the following steps:
1. In the search box on the taskbar, enter device manager, then select Device Manager.
2. Look for an entry in the list that's related to your graphics card. It could be "Intel Graphics","AMD Radeon", "NVIDIA GeForce", or another brand name under the Display adapters.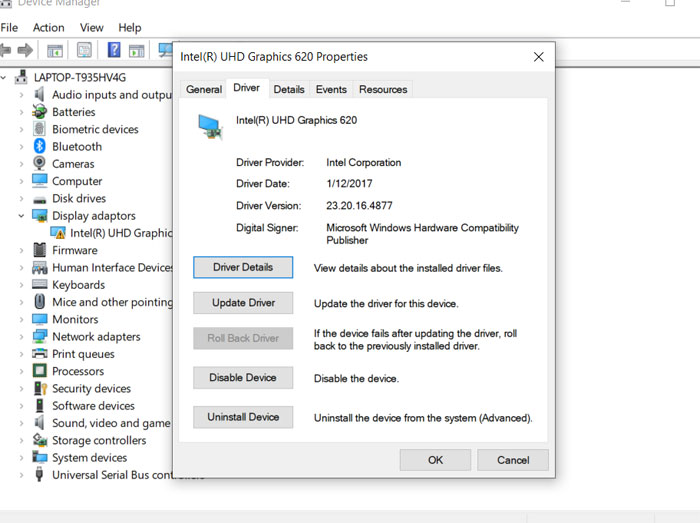 3. Double-click on the graphics card entry. There's a separate Driver tab; click on that to see the options. Click on Update Driver.
4. Select Search automatically for updated driver software. That could find an update for you.
>> More about updating graphics drivers on Windows 10
Method 3: Clear the Browser Caches
Make sure there is nothing wrong with your browsers caches, which will result in video stuttering on Windows 10 when you're streaming videos from online. Clearing the browser caches, history, cookies and Temp files would work to fix video lagging issue while redering video. Take Google Chrome as an example, press Ctrl+Shift+Delete on the keyboard, tick on the box of cookies, history and caches, then click Clear data button.
Method 4: Convert Videos to Windows 10 Compatible Formats
It also could be that the video you fail to play properly is damaged or encoded with Windows 10 incompatible codec/format like HEVC codec, MKV video with DTS audio etc. For that, converting videos would make them compatible with Windows 10, or fix the slightly damaged video files.
WinX HD Video Converter Deluxe is a nice option to convert any 4K/HD videos to Windows 10 compatible formats, such as MKV to MP4, AVI to WMV, VOB to MP4, HEVC to H.264 and so on. Better yet, it won't cost you much time. With the GPU acceleration enabled, you're able to achieve 4K/HD video conversion fast without losing quality.
Step 1: Launch the video converter for Windows 10, and click +Video to load the unplayable video.
Step 2: Choose output format from the automatically popped up window. 420+ preset profiles are available, just select the ones your Windows 10 computer accept, such as MP4 Video (h264+aac).
Step 3: Tap the blue RUN button to start video conversion right now.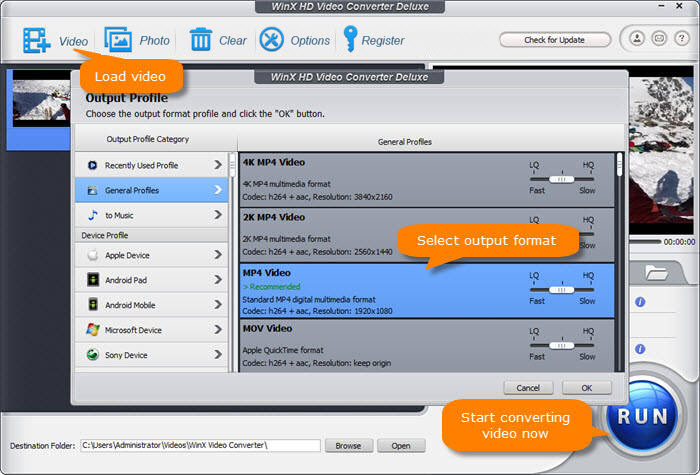 Method 5: Temporarily Disable the Anti-malware Software
It's said by users that some anti-malware software will result in video stuttering from local and streaming on Windows 10. This was confirmed by some antivirus software developers, like Bitdefender. So if you've tried updating your graphics drivers and video player with no luck, you can temporarily uninstall the anti-malware software to check whether the choppy video playback issue persists.
Method 6: Install Windows 10 Creators Update
Of course, jerky video playback can also happen when your Windows 10 update installation get wrong. Maybe you've installed an earlier Windows 10 version with some bugs, or encountered some errors during installation. Whatever the cases, you're recommended to install Windows 10 Creators Update, which fixies many known bugs for the previous Windows build, video issues included.
1. Open Settings.
2. Click on Update & security.
3. Click the Check for updates button.
4. After you've completed the above steps, your device will begin downloading . Just click the Restart Now button to accomplish the installation.