Free Download 4K Videos from YouTube and More Is So Easy
WinX YouTube Downloader has been a powerful 4K YouTube video downloader since the 4K's first show on YouTube. In order to cater to more (4K) video downloading needs, making a clean sweep of possible 4K movie/music/gaming/360 degree (adult) videos, this freebie has extended its supported sites from unique YouTube to more than 300 ones.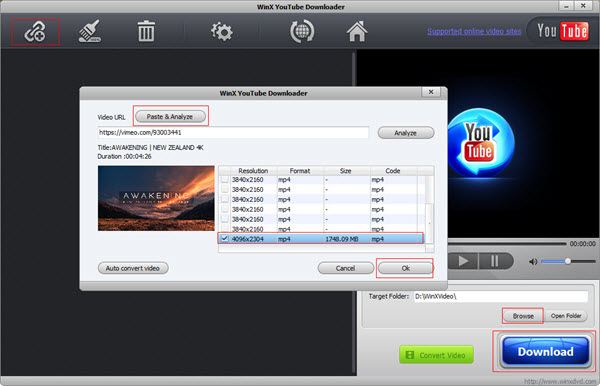 Step 1. Copy the entire URL address of 4K video (with https://) when visiting YouTube or other sites.
Step 2. Open WinX YouTube Downloader, and click either "+ link" icon in the main interface to pop up a smaller 4K downloading dialog box.
Step 3. Click "Paste & Analyze" (Or ctrl + v the link to the address field -> "Analyze") to load the video title, duration, resolution, format, size and code in seconds.
Step 4. Check the one in 4K resolution and click "OK" to proceed. If you want to download multiple 4K videos at a time, you only need to repeat the steps 1 - 3 to add the other videos into the downloading list.
4K resolutions: 3840 x 2160, 3840 x 1600, 4096 x 2160, 4096 x 1716, 3996 x 2160
Step 5. Set the "Target Folder" to save downloaded 4K video by tapping "Browse" to select.
Step 6. Press "Download" to begin downloading the file(s), and wait for the download to complete.
Q: 4K Video Downloader vs WinX YouTube Downloader, which one is better?
A: Through real tests, although 4K Video Downloader claims to feature downloading videos in 4K quality. It often gets stuck in "Can't download/parse this link" of 4K video problem, and advices users to send the link to its support team to deliver a solution. But WinX YouTube Downloader can analyze any new and old 4K videos from YouTube, Vimeo etc. by downloading a dynamic analyzer.
Q: Numerous (4K) videos were uploaded to the web every day. Why WinX 4K Downloader performs better than others in analyzing and downloading?
A: Each 4K downloader software has a URL analysis engine built in to recognize and load the video data via an URL before downloading. The developer of WinX YouTube Downloader takes it as a convention to update the engine regularly to identify any latest videos, boosting the free piece into a paidware-caliber product.
>>Download the newest WinX YouTube Downloader v4.0.7 [100% clean]

Hardware Acceleration Is Crucial for 4K Video Processing
Hardware acceleration is essential for video procesing, especially when handling with large 4K videos. That's why more and more video converters and editors use GPU hardware accelerator to do the video processing more effeciently, while freeing up more CPU storage to do other things. WinX HD Video Converter Deluxe, the only video converter reaching level-3 hardware acceleration, takes the full advantage of Intel QSV and NVIDIA CUDA/NVENC to quicken (4K) video decoding, processing, and encoding to the fastest ever. With it, you can free download and compress any 4K video without quality loss at one go.